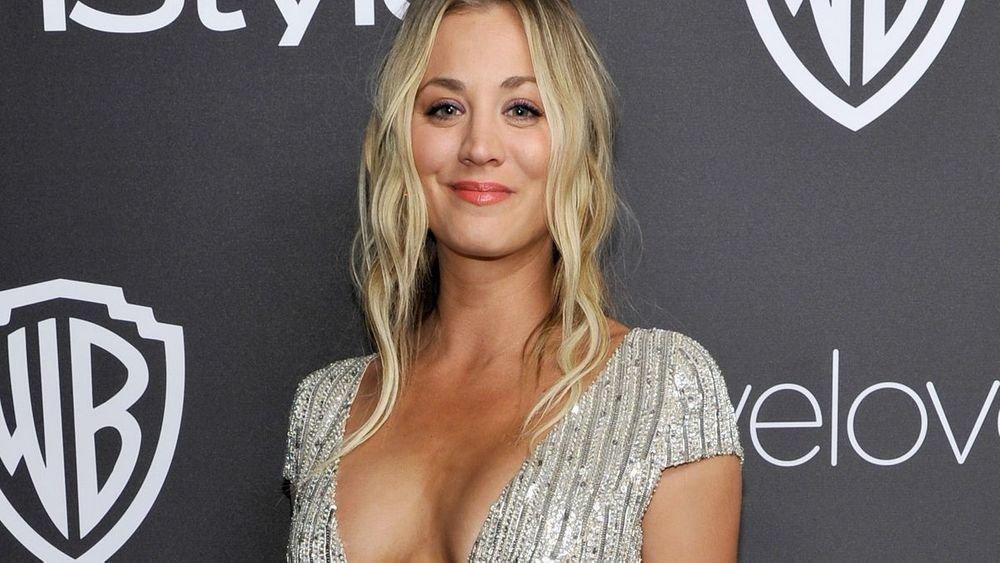 Kaley Cuoco Rocks Pineapple Bikini For Lizard Cuddles
Kaley Cuoco is literally in a pineapple bikini and with her lizard. The Big Bang Theory alum, big-time into repping the animals over Easter weekend, was quick to post to her Instagram stories on Sunday, with a throwback video of the sitcom star in swimwear seeming to be the gear-up for a giant bunny PSA. Kaley, followed by 6.6 million, made it pet central from her reptile to her bunny, with the swimwear action coming rare for the star who tends not to make her Instagram about the bikini body.
Article continues below advertisement
Pineapple Time
Scroll for the action. Kaley, who has largely made headlines of late for the immense success of new HBO Max series The Flight Attendant, proved she can wind up in the news for other reasons. The video showed the actress poolside and shot close up while in shades and wearing a very fun and eye-catching pineapple-print bikini. The blonde was holding a tiny lizard, with fans seeing him quite at home in Kaley's arms.
Kaley quickly shared a fan video, one similarly showing a lizard, but over in the star's garage, it was a different story.
Easter Bunny PSA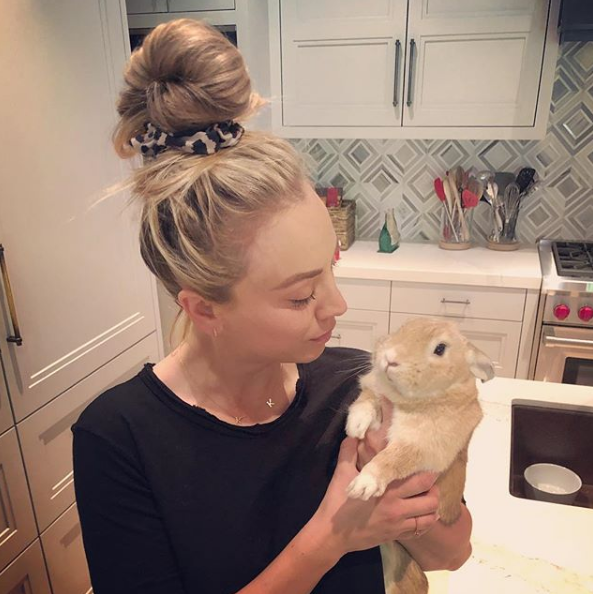 Kaley, whose rabbits Lenny and Simon live inside the garage of her $12 million Hidden Hills estate, then updated in a long salmon-pink t-shirt dress as she alerted fans to the dangers of taking on a bunny just for Easter.
"Happy Easter everyone," the girl behind Penny stated, adding that she was here to do her annual "bunny PSA."
"Simon's just here to tell us to, uh, don't go buy your kids or your family bunnies or go to breeders," Kaley continued, promising to post some "great bunny rescues."
Article continues below advertisement
Bunny Love Runs Deep
Kaley actually has an Instagram account for one of her bunnies. @simon_silly_rabbit is less-followed than the star's chihuahua Dumptruck Dumpy, but fans do get him enjoying the AC unit with his owner, plus her long blonde hair blowing in the wind.
Kaley is also a pet mom to a wide range of pooches with 2018-married husband Karl Cook. "I'm not allowed to say how many I have, because I am afraid they will come knocking, saying that it's an illegal amount," she's said. See more photos below!
All Those Bunnies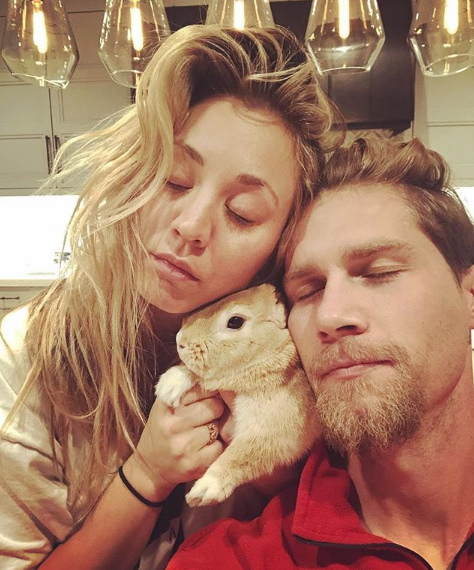 Kaley and Karl, who also raise horses, donkeys, and have made headlines for welcoming squealing piglets, are housing their veritable farm of animals on the estate they moved into in March 2020, with the move marking the end of their "unconventional marriage." The two had not lived together despite having been married two years.
The pandemic has welcomed a third face into the couple's home. Kaley's 32-year-old sister Briana Cuoco has spent much of quarantine with her sister, also traveling with Kaley to NYC to shoot the last of The Flight Attendant.