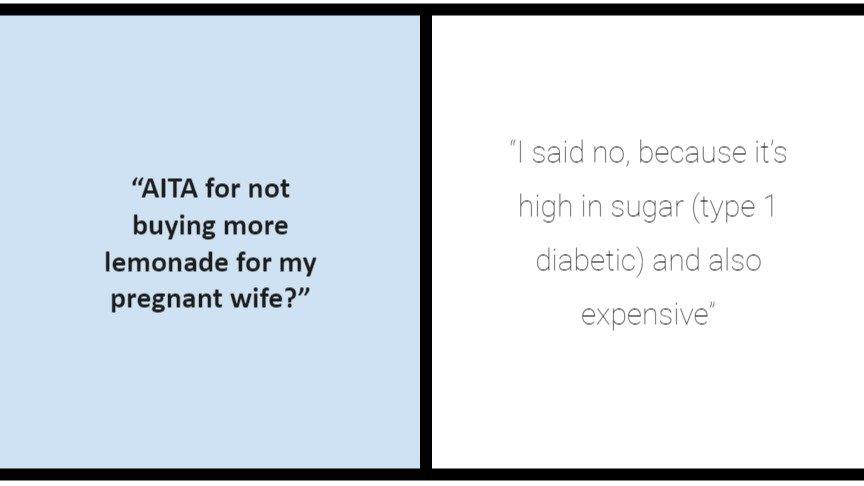 Husband Gets Slammed For Refusing To Buy Lemonade For His Pregnant Wife
Pregnancy is no picnic! The woman's body goes through many changes - morning sickness, fatigue, mood shifts, and weight gain, to name a few. With 9 months of discomfort, it is just right that they get treated to whatever food they are craving. Husbands who deny their wives this simple request will be labeled as a jerk, as one perplexed man learned.
A dad-to-be who is known on Reddit as Adventurous_Bat8695 was slammed after he shared that he didn't allow his wife to have more lemonade - a drink that she has been craving. To make it worse, he gave the bottle of lemonade his wife was saving to his sister.
His actions made his wife upset, so he is asking the community:
"AITA for not buying more lemonade for my pregnant wife?"
Article continues below advertisement
His Pregnant Wife Developed A Taste For Pink Lemonade While On Vacation

He Refused To Buy More Lemonade, Reasoning It Was High In Sugar And Expensive

Article continues below advertisement
His Refusal To Give In To His Wife's Craving Made Her Upset

Why Pregnant Women Have Cravings
It is common for pregnant women to have dramatic changes in their appetite. There are some foods that can suddenly become so desirable, while there are others that may be completely abhorrent.
Experts can't really pinpoint the exact reason why pregnant women develop food cravings. But, according to a study, it is a common phenomenon. As many as 50% to 90% of pregnant people in the U.S. experience food cravings. The most commonly craved items are sweets, starchy carbohydrates, dairy, and fast food. Cravings for savory substances seem to be strongest during the first trimester and the desire to eat salty foods appear later on in the pregnancy.
Every pregnancy is unique, which makes the journey so special. It is important that women feel supported and loved during this time, especially by their partners. Treating them to foods that they have been craving can help lower their stress and make them feel extra loved. Ultimately, pregnancy, and all that comes with it, should be enjoyed.
"Food cravings and eating during pregnancy in general should be about feeling good, feeling strong, staying healthy, and nurturing your growing bundle of love. If you are struggling with eating in any way, help is out there. You deserve to enjoy this time—and all the yummy delicacies your heart desires," says Very Well.
Article continues below advertisement
Redditors Agreed That It Was A Jerk Move To Say No To His Wife

This Person Pointed Out That The Lemonade Had A Healthier Alternative

This Commenter Explains How Difficult Pregnancy Can Be