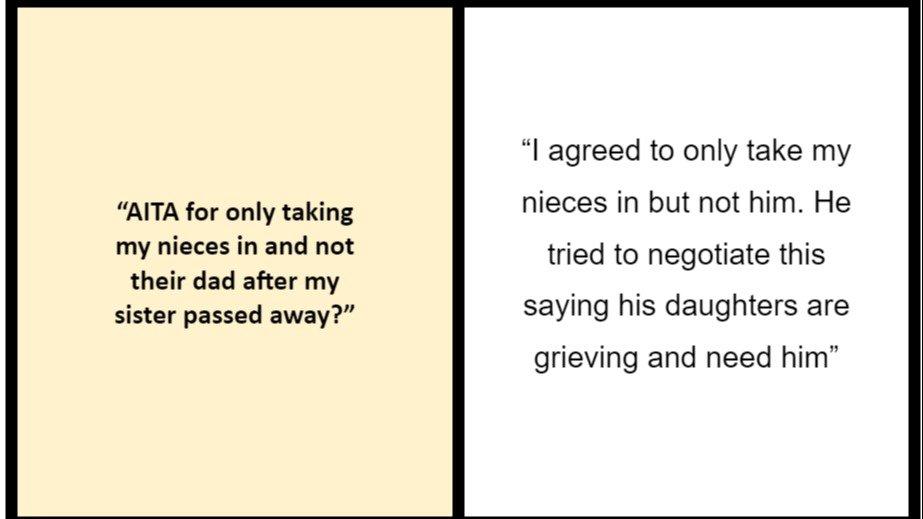 Redditor Sparks Debate For Taking In Her Nieces But Not Their Father After Her Sister Died
Who is family? It's always tricky to deal with family, especially extended members who come in through marriage. One thing about family is you hate to love them when they get on your last nerve. There's always a sense of responsibility to support each other physically, emotionally, financially, and in every way possible.
Forbes statistics say that 70% to 80% of Americans consider their families dysfunctional. There's no such thing as a perfect family, so we decide to make things work or cut off toxic kin.
This Reddit post leaves fellow users in limbo because there's no clear-cut judgment, and you'll see why when you read the story.
Article continues below advertisement
She Won't Compromise But Is Worried About Hurting Her Nieces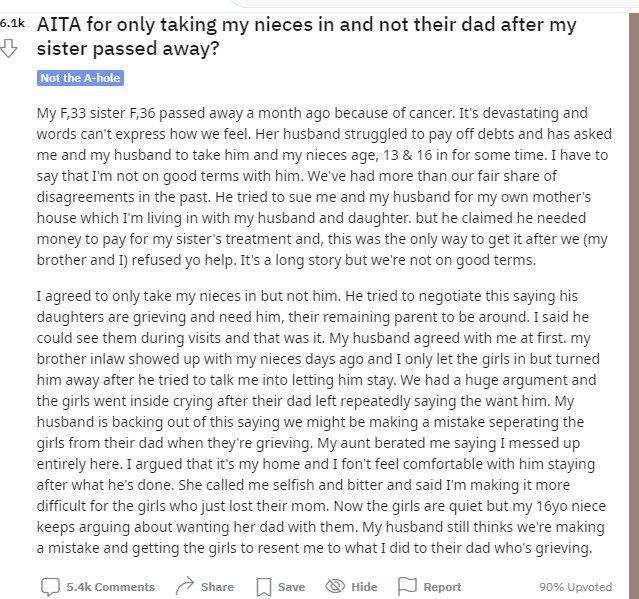 OP Won't House Her Brother-In-Law
Phew! That was heavy. Let's get into it.
The Original Poster is about a 33-year-old married woman fostering her late sister's daughters, aged 13 and 16, following the death of their mother due to cancer. However, she's been through intense disagreements with their grieving father, including a legal battle over her current house.
Here's the dilemma - the grieving father asked to stay with the OP alongside his daughters, but she refused since he attempted to take "her house" from her through the court. The Redditor added that he's in debt and can barely survive hence her stepping in to care for the nieces.
She also admitted his debt came from paying medical bills because everyone knows cancer treatment is expensive. This lady wants to see if she's an a-hole for refusing him accommodation.
Article continues below advertisement
Why Is The Redditor Hiding Details About The Lawsuit?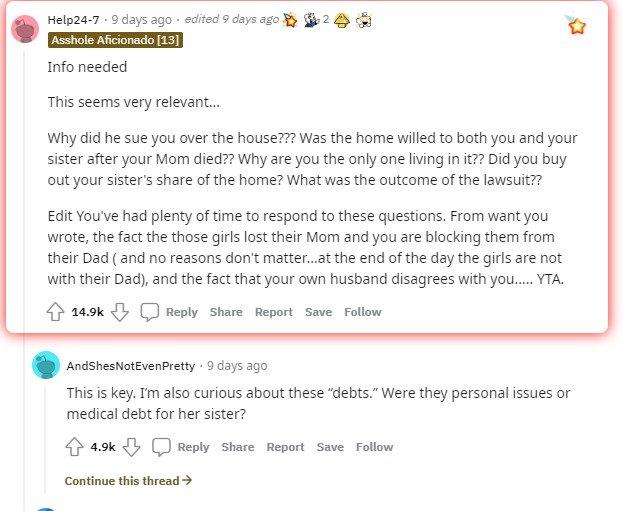 Find A Middle Ground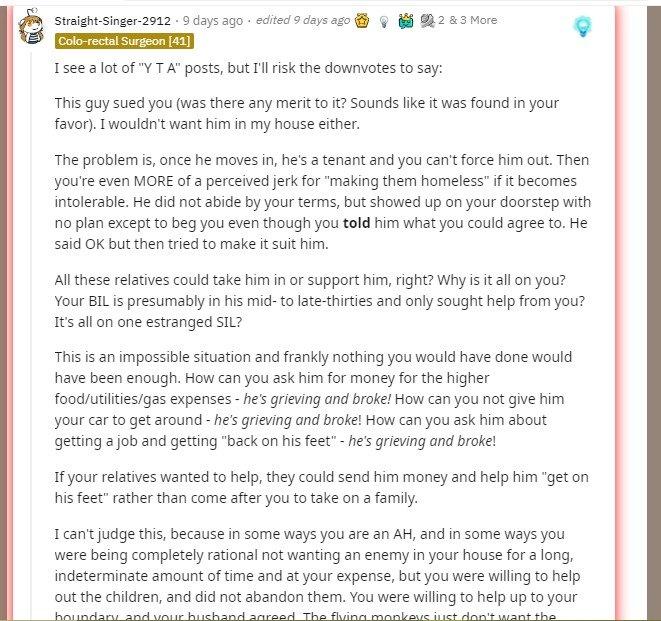 The Redditor didn't answer any probes about why the brother-in-law sued her for the house she lives in. As you can see, there are two views to this situation but let's go with the second because it's more objective.
We'll be on the fence for the first time as we don't have all the variables.
We only know that it belonged to her and the late sister's mother. So, commenters speculated the inheritance was supposed to be for all the children (including a brother).
According to U.S. Tenancy Laws, the OP can't send her brother-in-law out without following protocols if they clash once he becomes a tenant, and it seems her refusal was to avoid the said situation. After all, he has a track record of taking the legal route to solve disagreements.
So herein lies the problem. We can't ignore the daughter who is also grieving and need their father. The best solution is to find a middle ground - set the father up elsewhere and make it easy for his daughters to move back with him so they can grieve together.
Meanwhile, he should be allowed frequent visits to see his children even if they don't live under the same roof.