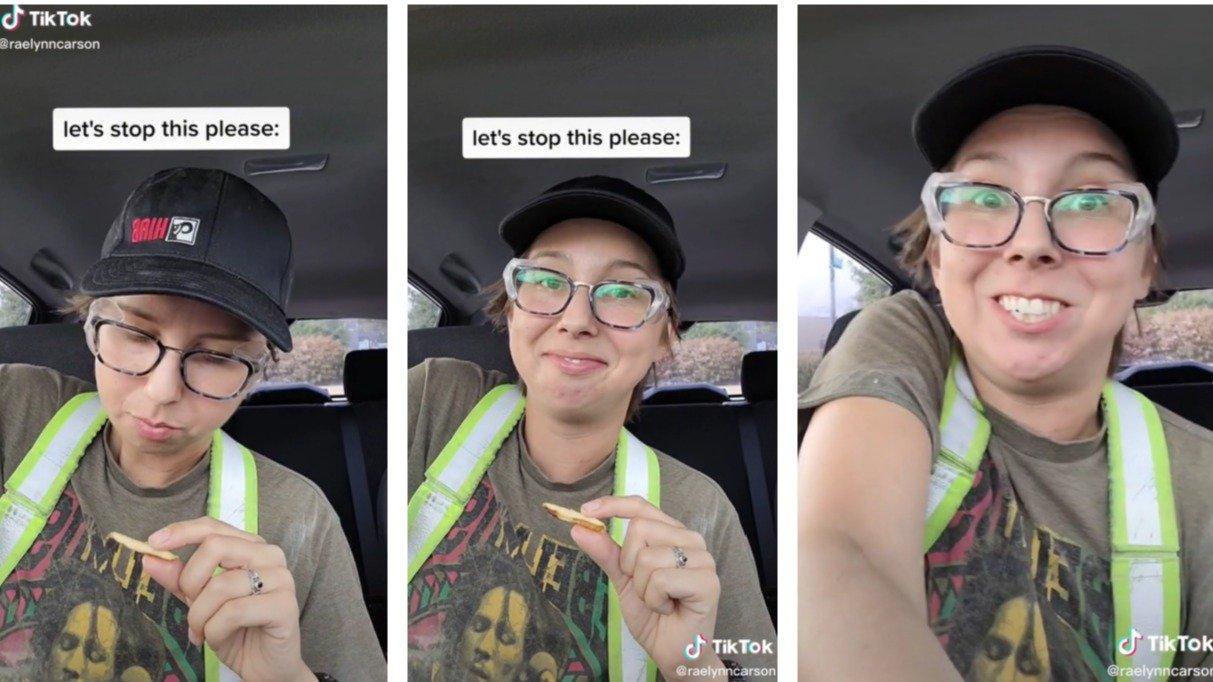 Hardware Worker Epically Shuts Down Man Who Tries To Mansplain HardiPlank To Her
Let's be honest—working in customer service isn't always the most glamorous job in the world. You deal with many angry people; sometimes, you just can't win. People are rude, and sometimes things just don't go your way—like this TikTok user's story about an irritable customer who mansplained a HardiPlank to her.
This TikTok user is going viral for her hilarious take on dealing with an irritable customer.
The woman, who goes by the name of Rae Lynn Carson (@raelynncarson) on TikTok, works at a home improvement store. In her video, she recounted a story of an encounter with a customer who was looking for HardiPlank. The video racked up over 300,000 views, with many people relating to her story.
Article continues below advertisement
"Look, I understand life is hard. I'm living it. I'm consumed by it," user Rae Lynn Carson starts her video. "Let's just stop bringing this energy to other people when you're having a bad day," @raelynncarson continues.
So, here's what happened.
'I Work Here'
According to @raelynncarson, a customer came by the store searching for a "HardiPlank." HardiPlanks are fiber cement sidings made by James Hardie Building Products. Stores don't keep HardiPlanks in stock, as these are special order items. However, stores do have HardiPlanks leftovers from customers who didn't end up using them all.
In the video, @raelynncarson asked the customer what size he wanted, to which he got enraged and allegedly scoffed at her, saying, "There's only one size." Even though she knew he was incorrect, @raelynncarson tried to assist the client anyhow.
But @raelynncarson had the perfect response.
So, she took him to leftovers and showed him that there were, in fact, various sizes of HardiPlanks. She even helped him find the ones he needed.
"I work here. I know what's here. And if I don't know, I will 100% tell you I have no idea," @raelynncarson notes.
Article continues below advertisement
Customer Service Workers Deserve Respect Just Like Every Other Job. Period.
This story just goes to show that you can't always judge a book by its cover. Just because someone works in customer service doesn't mean they're dumb. In fact, many times, they know more than the customers they're assisting. So, the next time you're angry with someone in customer service, try to remember that they're just doing their job—and they might even know a thing or two that you don't.
Commenters Share Their Own Stories
Many commenters shared their own customer service woes in the comments section.
"Lady was mad I didn't let her return a cinnamon bun she got 3 days before because it was 'not very fresh' MAAM, it's not my fault you didn't eat it," @blahbigail wrote.
@whatwasthat65 added, "I got accused of keeping the 'good' toasters in the back. What??"
"Had a guy get mad at my golf store last week; he was mad I didn't know my products well when he asked for a 'jabber.' Later found he needed a stamp," @austin11228 chimed in.
At the end of the day, we can all relate to struggling with an angry customer. But kudos to Rae Lynn Carson for keeping her cool and helping the man find what he needed—even though he was clearly in the wrong.