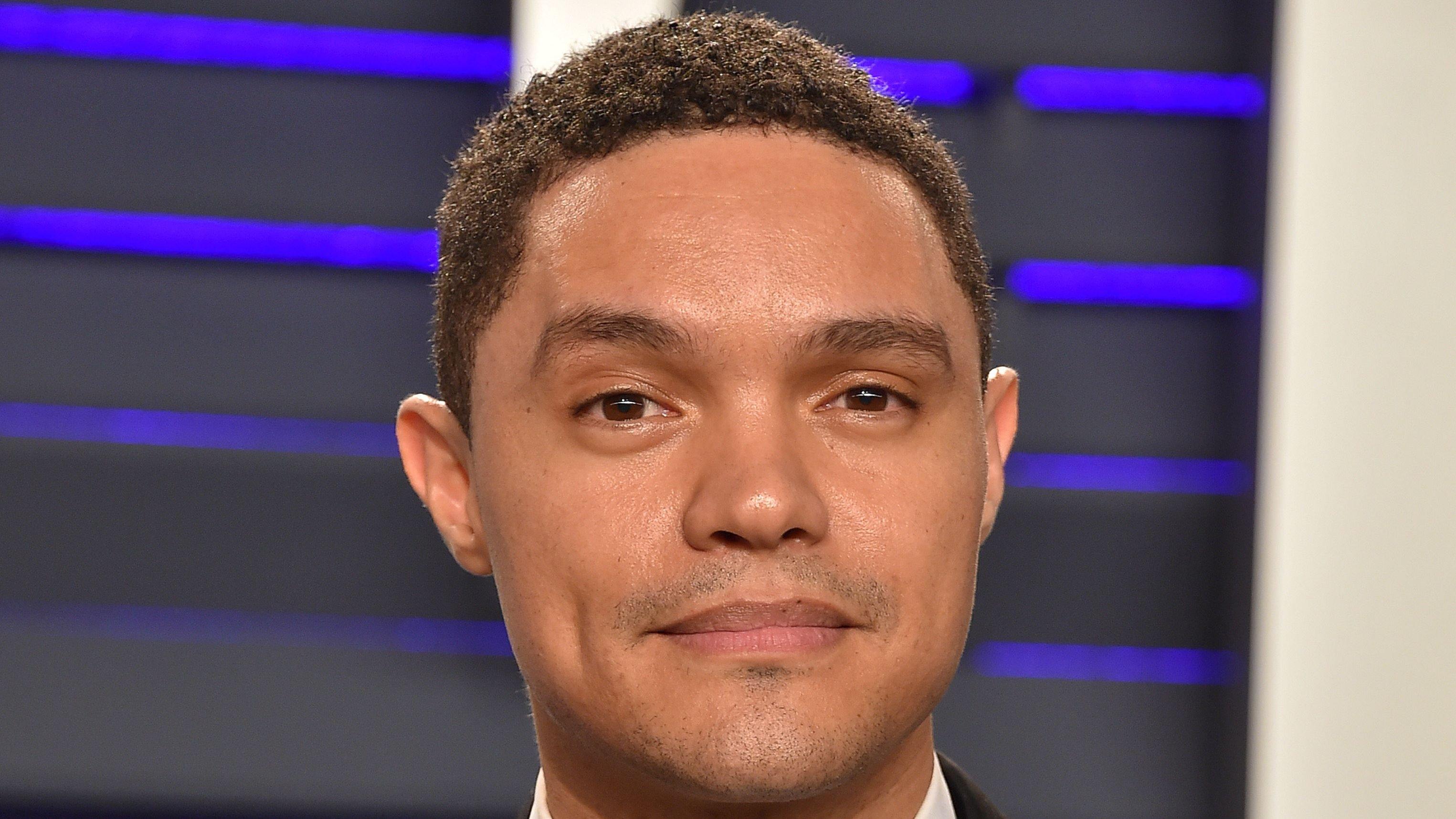 Trevor Noah Pays Tribute To His Grandma On The Daily Show
The last episode of The Daily Show was a tribute to the host's grandmother, Frances 'Gogo' Noah, who died on May 12. It featured a compilation of clips where Trevor wished Frances a happy birthday and discussed her sense of humor and growing up in South Africa with her.
One of the clips was from 2018, when the comedian and television personality flew to his native South Africa with his team and visited his grandma in her home.
Keep scrolling for more details of the interview.
Article continues below advertisement
How To Greet An African
On getting to his grandmother's home, Trevor explained how to greet on a visit to an African's house.
"First things first," Trevor said as he walked up to his grandmother's house in Soweto. "Whenever you come into an African person's house, you greet." Then he called through the doorway, using a Zulu term for grandmother. "Gogo! Gogo! Hello, Gogo!"
Trevor's talk with his Gogo ranged from her exact age at the time to Nelson Mandela ("Madiba!") and the racist legislation of South Africa's Flying Squads of white police officers.
Frances's Thoughts About Going Back To The Old South Africa
Trevor mentioned that some people believe it is best to go back to the way things were because life is hard in South Africa, and some do not have work. His grandmother quickly replied, "No! No, thank you. It wouldn't be better . . ."
Whistling and shaking her head, she explained that Black people were forced to work on farms for no payback then. She explained that if one was picking potatoes and one of the individuals picking potatoes beside them died of tiredness, they would have to dig a trench, bury the corpse, and then continue picking potatoes.
Article continues below advertisement
Naughty Trevor
When Trevor asked about his involvement in the anti-apartheid movement as a child, his grandma laughed and said, "You were born a crime. How could you fight apartheid?" But I told them that I was an apartheid hero, Gogo, "I wasn't?" Trevor asked.
Frances giggled, then talked about how naughty Trevors was as a child. "When you were here, oh Trevor, you gave me a tough time," she said. When asked why, she answered, "Because you wanted to play in the street! And I knew the Flying Squad was going to take you."
Trevor's Heartfelt Instagram Tribute
The comedian didn't only give a tribute to his grandma on his show but also gushed over the memories he had of her on his Instagram page. In the emotional post, Trevor described who she was as a woman.
"This morning, our family laid to rest the oldest member of our clan Frances Noah, or as most of us referred to her, Gogo," he wrote. "My grandmother was born in 1927, and even though she was 95 years old, she still had the best memory of us all. Every moment spent with her felt like a magical journey through time where she would recount all of the family's greatest joys, losses, achievements, and milestones…," he wrote.
Trevor's tributary episode for his grandma left his viewers feeling emotional with a deep love for the iconic "Gogo."