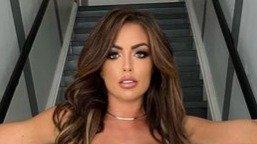 Mandy Rose Enjoys Donut In Swimwear
WWE NXT Champion, Mandy Rose, launched her DaMandyz donuts with best friend, Sonya DeVille on Uber Eats this summer. The athlete clearly knows a thing or two about promotion because "What better way to convince people that your product is the best?" than self-promotion! Rose enjoyed a coated snack on her way to the beach and had her own Summer Slam party.
Check out the moment below
Article continues below advertisement
A Sweet Treat For A Champion
Rose confessed that sometimes, "you need that yummy yummy," as she treated herself to a sweet donut ring from her confectionary shop. She wore a bright orange backless halter-neck one-piece swimwear with a thong bottom and plunging neckline. The athlete's fit body stood out in the skimpy maillot as she leaned against a baseball net bar.
She tied her long brown hair into a top knot leave-out with an orange, scrunchy, dark-framed sunglasses.
Not Letting Up On Her Reign
After enjoying her donut, Rose promised to bring all the heat to the NXT Heat Wave, and she did! The athlete debuted a new bikini gear with bright orange stones and a complimentary fringe leather jacket.
The defending champion listed all her defeated challengers and then asked, "Who's Next?" Clearly, she's not ready to let go of her title yet. The Mandy Rose hate club wouldn't like this, but she doesn't care.
Article continues below advertisement
The Toxic Reign Continues
Before her epic win, NXT asked,
Will the Toxic reign continue at The NXT Heatwave?
-
and one enthusiastic fan replied,
That's the one question the WWE Universe might ask. But the other, will Zoey Stark shock the system and restore order once and for all?
-
It turns out that "order wasn't restored," and more fans had a lot to say about her winning post. They kept suggesting names to challenge the champion, saying she had a reign of terror.
Workout Plan With Tino Sabbatteli For A Fit Fall
In other news, Rose and her partner Tino Sabbatelli joined forces to present a workout routine for fans interested in looking like them. There's no doubt, Mandy, is one of the hottest and fittest wrestlers worldwide, and her fans never let her forget it in the comments.
After eating DaMandyz donuts and gaining calories, the athlete encourages consumers to burn the weight gain by engaging in intense workouts. In addition, she and Sabbatteli released an exclusive VIP Waitlist for their upcoming program collaboration.
Here's a glimpse of what the result may look like.