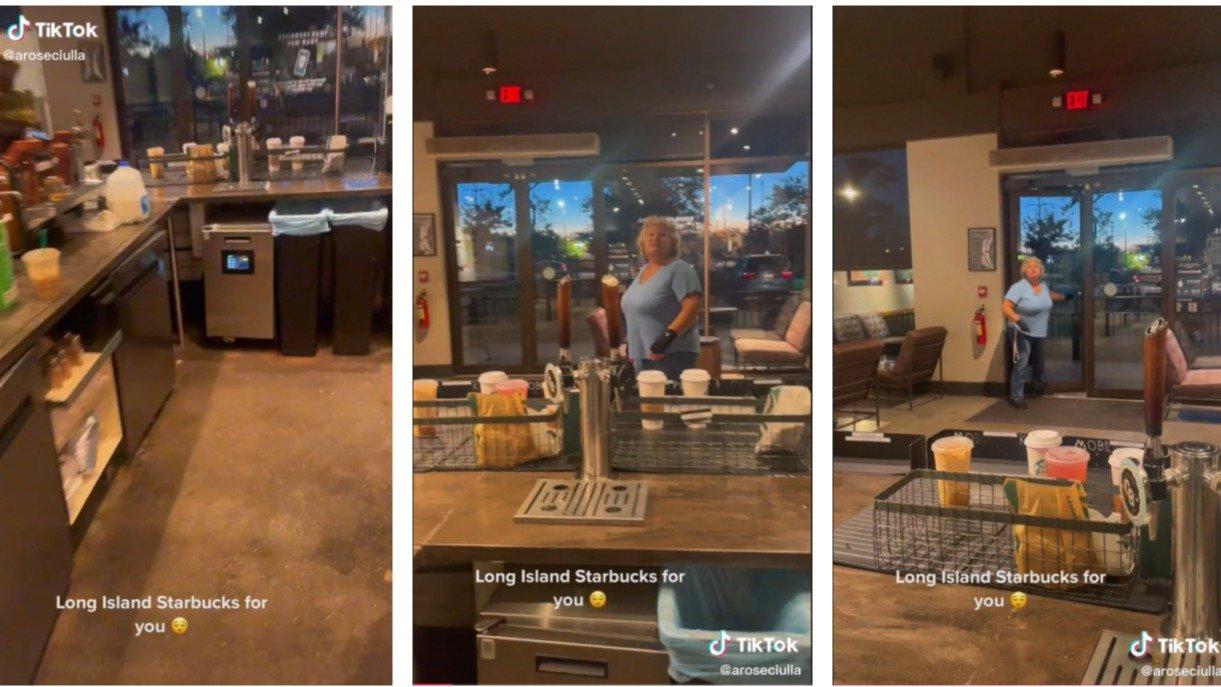 'Long Island Karen' Caught Screaming At Starbucks Employees
Working in the service industry is no easy thing. Aside from being underpaid, service workers also have to deal with difficult customers, who often resort to throwing insults, racial slurs, and violent confrontations. Unfortunately, service employees being treated badly is a common occurrence.
A Starbucks employee, who works in their Long Island branch, captured a customer who was screaming at the staff for unknown reasons. Dubbed the "Long Island Karen," the woman was visibly angry and started yelling "F**k yourself" at the employees. The video was recorded by user @aroseciulla and quickly went viral on TikTok, sparking a discussion over what some employees have to go through to deal with rude customers.
Scroll down to see the viral video.
Article continues below advertisement
'Long Island Karen' Screams At Starbucks Staff
At the start of the video, the aggressive customer can be heard saying "This is what you're teaching, this is what you're teaching them..." An employee in the back responded with "Teaching what??" but the response was cut off by @aroseciulla, who was recording the video.
She said "Don't give in, don't give in..." reminding her colleague to not engage in the squabble. The customer got even angrier and started cursing at them, screaming "F**k yourself" at the top of her lungs.
Trying to keep her cool, the TikToker countered with "Have a great day!" over and over again. The video ended with "Karen" storming off, still upset and yelling.
Starbucks Employees Hold Historic Strike
While Starbucks is known to be the largest coffee chain in the world, with over 30,000 stores around the globe, its track record for employee relations is far from perfect.
A couple of months ago, employees at a Brookline Starbucks in Massachusetts went on strike for 64 days. Unionized workers complained of a manager for unfair labor practices and for saying "harmful and offensive rhetoric with respect to the race, gender, and orientation."
After two months of picketing, the partners returned to work. It wasn't clear what changes were made but workers felt their efforts were not in vain. "We got the things we wanted and we're returning to work," barista Taylor Dickerson told a news outlet. "I don't know how you can claim that's not a victory."
Article continues below advertisement
TikTokers Think Long Island Karen Was Expected
Fellow TikTokers flocked to the comments to say their piece about "Long Island Karen." Many said that the woman's reaction didn't surprise them, as Long Islanders have been known to be confrontational.
"Anytime I see a Long Island video, I expect it to look exactly like this," someone commented.
"this is so lawng island," another one said.
More Reactions From The People
Many commenters praised the employee for being patient and not "giving in" to anger. There were also several who were intrigued and wanted to know more about the backstory of the viral moment.
"Best words of advice: DONT GIVE IN," a commenter said.
"I need to know what in the actual shot the backstory is...please! Can't leave me hanging like this. 😂"