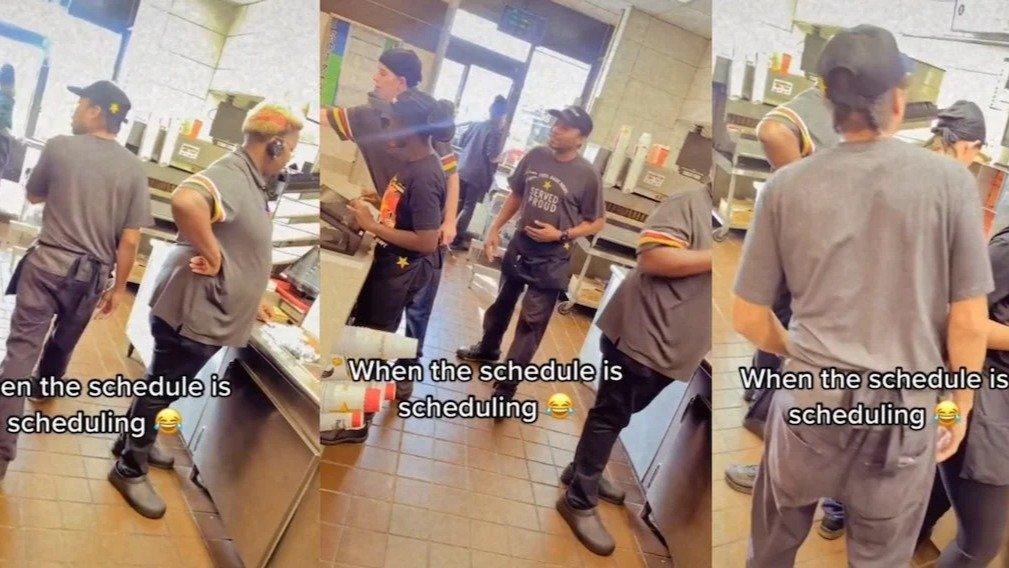 Hardee's Employee Exposes Overstaffed Kitchen, Starts Heated Debate on Over-Scheduling
There is a need to balance the number of workers scheduled on different days as some business days are often busier than others. The practice of haphazard scheduling of employees can be exasperating to both workers and customers alike. Social media got to see how strenuous such could get after a TikTok clip from Hardee's went viral.
Article continues below advertisement
Hardee's Employee Shares Overcrowded Kitchen Area
A Hardee's employee took to TikTok to share a clip of an overstaffed kitchen. The video, which showed Hardee's staff standing around in the kitchen area, sparked heated debate over scheduling. The video, shared by TikTok account @hardees615tv, captured the crowded kitchen area of the Tennessee store where five different employees were working in the kitchen.
The Hardee's kitchen staff were dressed in their work uniform, consisting of black tees, baseball hats, and aprons. A number of them appeared to be preparing meals for customers, but a couple seemed to have nothing much to do.
Too Many employees On Staff
The number of workers in the kitchen was seemingly unnecessary as a few appeared to have nothing to do. The work area was cramped by the number of people in the room. The video posted by TikTok account @hardees615tv on Sept. 20 uses audio that says, "too many of y'all standing around and not enough work being done. Labor is already high. Imma have to send one of y'all home early." The text overlay reads, "When the schedule is scheduling." The poster added a caption that read, "When there's a lot of people on staff 😭😩"
Article continues below advertisement
TikTok Users React
The video sparked much debate as TikTok users took to the comments to discuss the scheduling practices. Many users objected to over-scheduling employees, as many believed businesses had the habit of scheduling more employees on days when it is unnecessary and less when it is needed.
"Then everybody quits and y'all have to run a shift with 3 people," one user wrote. "Be having like 7 cashiers on a Tuesday morning but 2 on Saturday," another commented. "Swear they send mfs home when it's not too crazy then when it starts jumping it's like 2," an additional user added.
Under-Scheduling On Busy Days
Over-scheduling employees on days when it is not necessary and under-scheduling on days when it is can lead to customers having to wait longer for their services on busy days and workers not having enough work on slow days.
In the comments, other TikTok users shared experiences of workplaces under-scheduling on "important" shifts, leaving only a few employees to handle the busier hours and closing. "Always scheduling Hella people on the slowest days," a commenter vented. "THEY LET EVERYONE LEAVE WHEN ITS SLOW AND THEN 3 PEOPLE LEFT ON RUSH," another said.