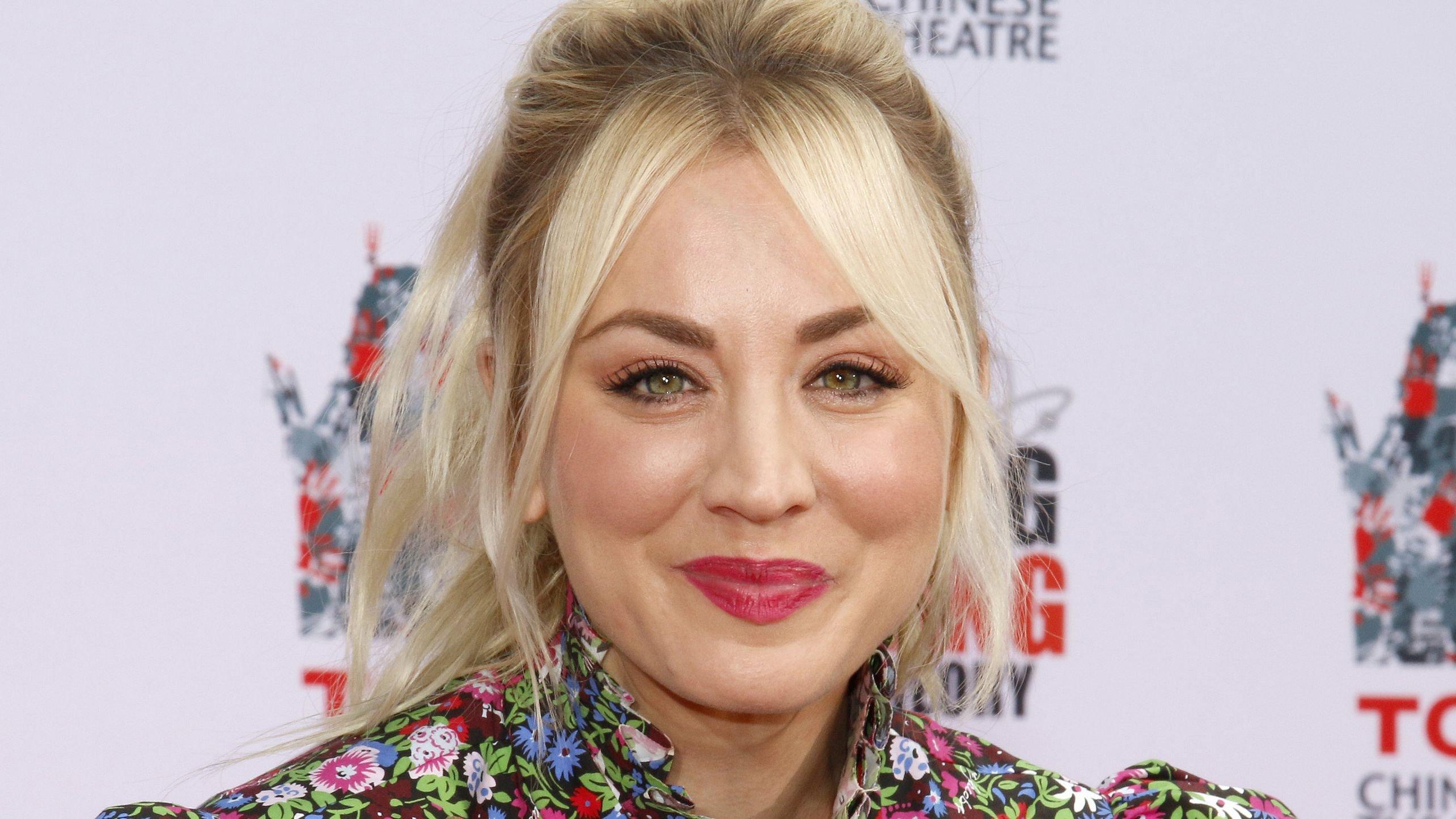 Inside Tour Of Kaley Cuoco's New Exquisite LA Home
She's just said goodbye to her marital home and now Kaley Cuoco is the proud owner of a breathtaking ultra-modern house in Agoura Hills, California. Formerly owned by Twilight's Taylor Lautner, Cuoco plunked down a cool $5.25 million for her new digs, with Dirt reporting that she was willing to go a quarter-million over the original asking price just to snatch up the place.
Tour her exquisite new home below!
Article continues below advertisement
Modern Oasis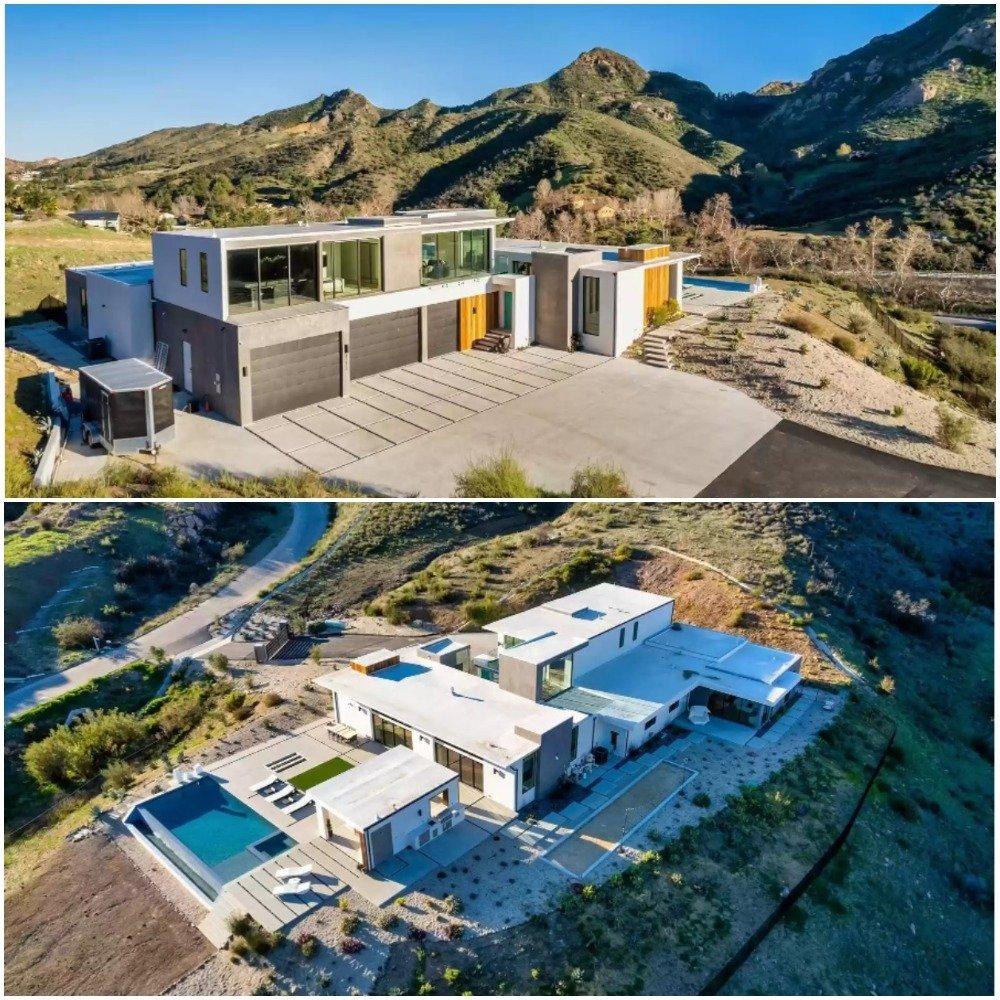 Scoring a hefty $4.5 million profit with the sale of her marital home, Cuoco had no problem bidding up the buying price for the new spread. Lautner also got a sweet deal out of it, earning a quick $1.5 million over what he paid for the property two years ago.
Nestled in a small gated community of about a dozen homes, the estate is a modern concrete and glass oasis amid a jagged landscape of fire-scarred foothills and craggy mountains. It's also quite the upgrade from Cuoco's former residence as it sits on an expansive 9-acre plot six times the size of her previous abode.
Open Floor Plan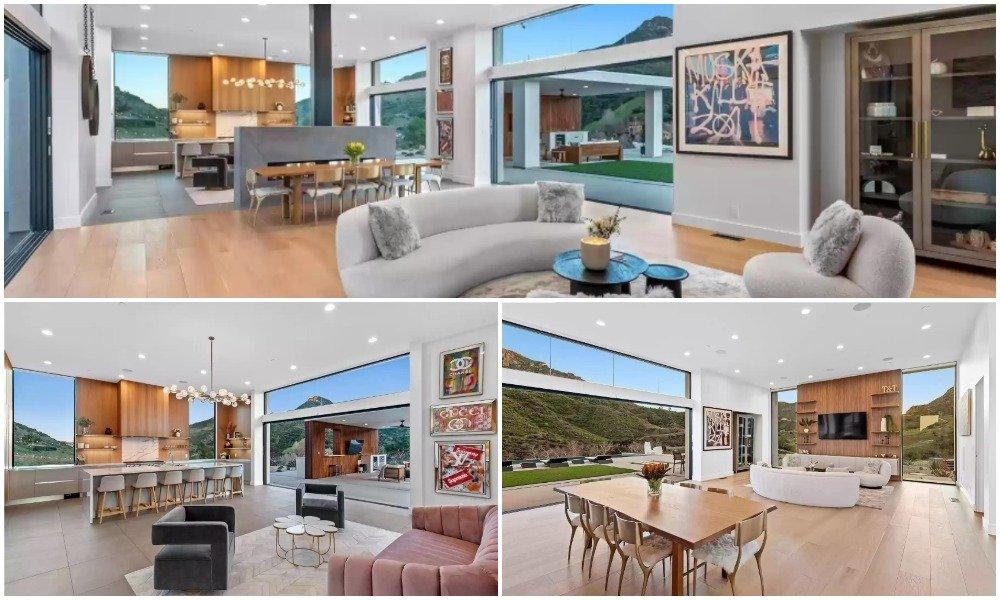 Located some 40 miles west of downtown L.A., and just 25 miles east of Cuoco's hometown of Camarillo, the two-story house spans five bedrooms and four bathrooms sprawled over 5,647 square feet of living space. Boasting incredible views all around, it comes with massive windows and huge glass doors that vanish into the walls, making it perfect for indoor-outdoor living, as well as ensuring that nature is the main attraction no matter where you are inside the home.
With an "amazing" open floor plan, the first level is designed for entertaining guests and features a vast great room with an elegant dining area and a cozy lounge space separated by a dual-sided freestanding fireplace. The space spills into a "breathtaking modern" kitchen equipped with a marble island and imported Italian cabinetry.
Twelve-foot ceilings widen the space even more, while 10.5-inch wide French oak floors add a sleek, modern touch.
Keep scrolling for more photos!
Article continues below advertisement
First-Story Master Suite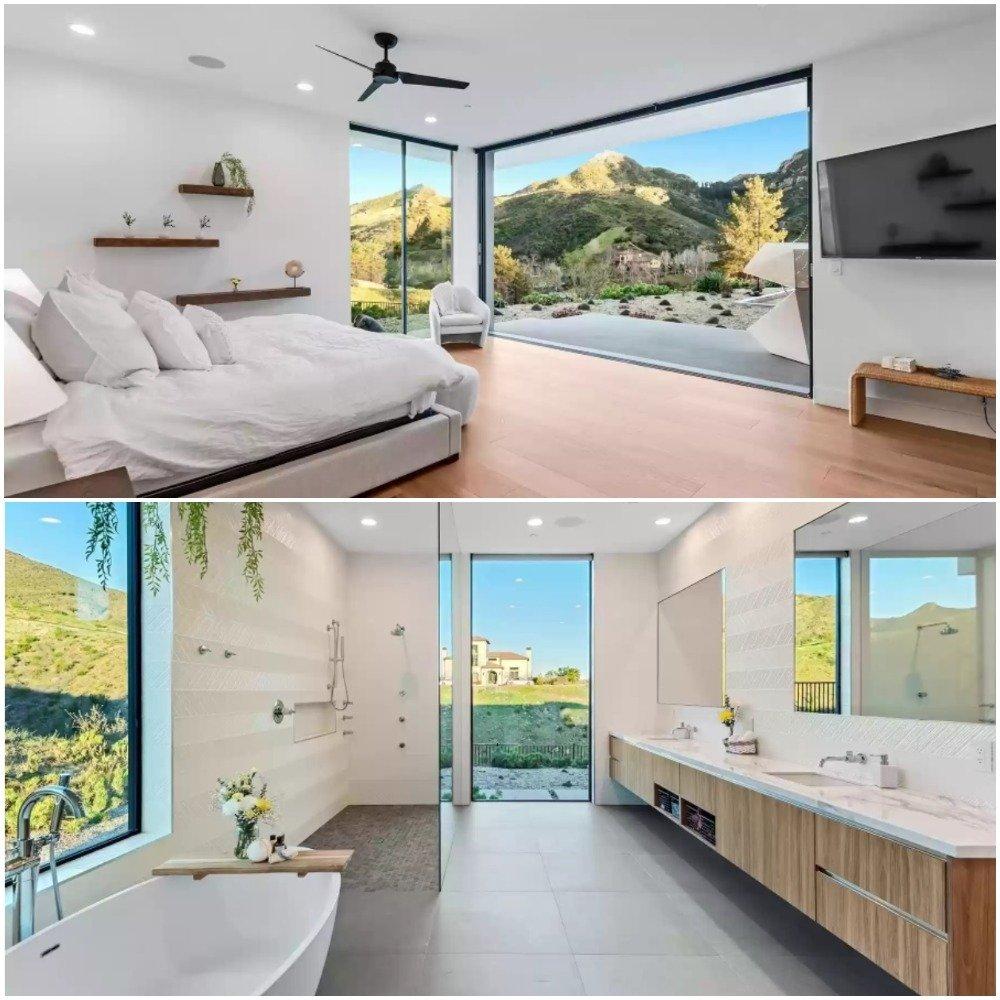 Offering a refreshing change of pace from the usual upstairs placement, the master suite is found on the first floor. With floor-to-ceiling windows and a massive glass door opening into the patio, it includes a spa-style bath with a walk-in shower. There's also a freestanding tub beneath a spacious window, perfect for taking in the specular views with a relaxing soak.
The primary suite is adjoined by two other bedrooms, including one with a telescope.
Scroll for more photos of the interiors!
Home Office & Sports Room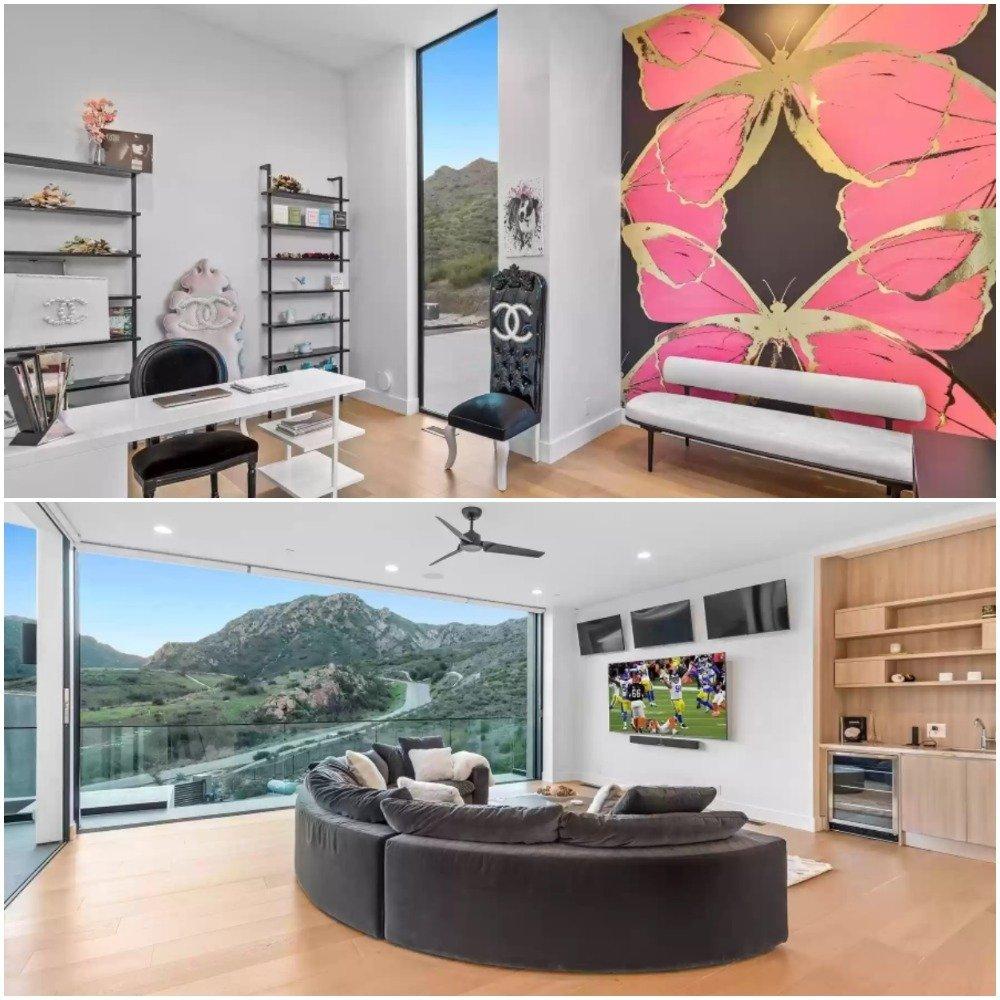 Also on the main floor is a gorgeous home office furnished with high-end designer pieces that include antique-looking Chanel chairs. The grandiose first level is accessed through a sleek courtyard entry equipped with a fire pit and a glass wall revealing the floating staircase that leads upstairs.
The second level encompasses exciting features such as an "awesome" sports lounge complete with four wall-mounted televisions and a wet bar, as well as "a unique one of a kind 'speak easy' lounge" that can double as a fifth bedroom.
Check out the grounds below!
Infinity Pool & Cabana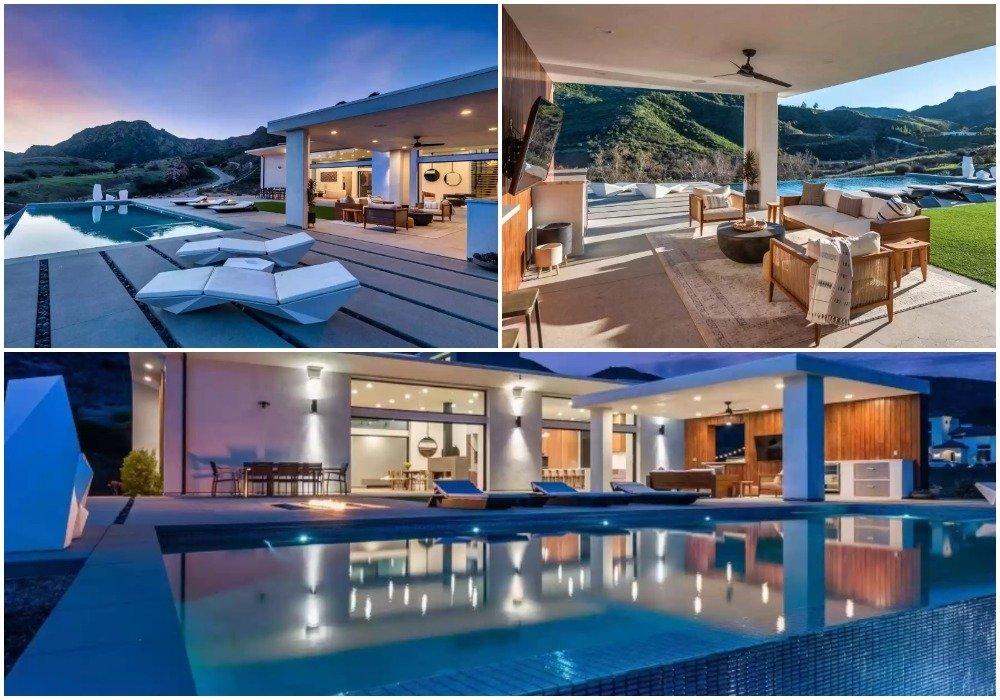 Just as spectacular as the interiors, the grounds are a haven for entertaining. Among the numerous comfortable facilities is a 45-foot-long infinity-edge pool with a spa, as well as a bocce ball court, and an outdoor shower. Perhaps the most eye-catching feature is a poolside an open-air cabana outfitted with a TV and its own kitchenette.
Designed for al-fresco dining, the patio is anchored by a small patch of evergreen faux-grass and comes with a built-in barbecue and multiple lounge areas, of which two have firepits. The listing also mentions "flat usable pads for possible horses," which Cuoco, a passionate equestrian, can surely put to good use.
Run by a fully automated system, the smart home includes a private gym and a six-car garage, in addition to RV/ boat parking.