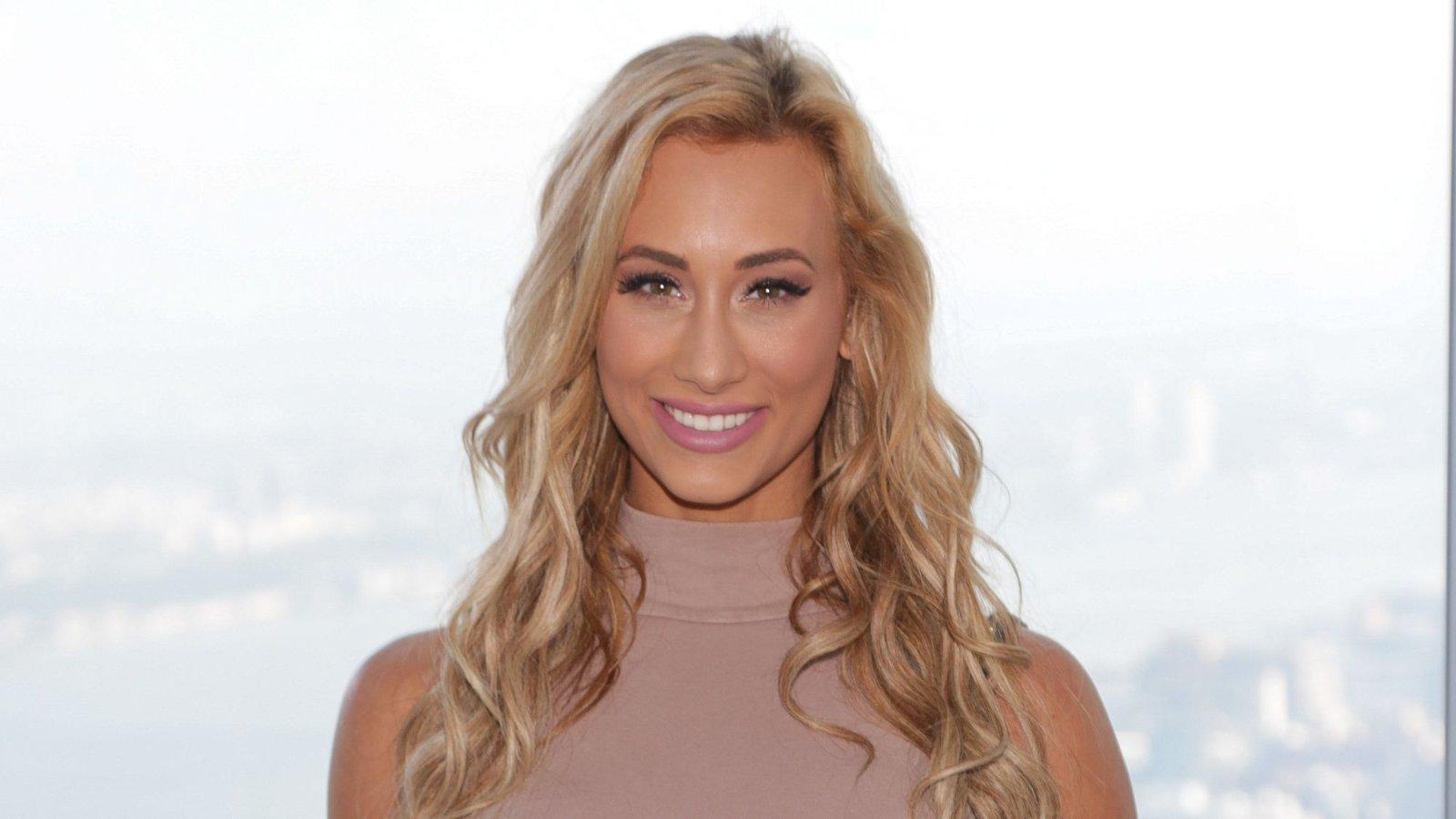 WWE Carmella In Bikini Says "Xpensive"
WWE Superstar Carmella flaunts her super-toned body wearing the sexiest outfits. The 34-year-old wrestler shared a couple of steamy shots featuring her WWE fiancé,Corey Graves, to promote their Bare With Us Podcast. Before the Valentine's Day shoot, Carmella returned to the Royal Rumble in style.
She battled it out with 29 other women, and although she lost to Ronda Rousey, it was a pleasure seeing the superstar in the ring.
Article continues below advertisement
A Power Couple
Carmella and fiancé Corey Graves look like a power couple in this steamy photo shoot. The WWE star sits atop a single chair behind her boo in a mini cut-out dress. Her full, bouncy curls frame her sculpted face highlighting her plump lips despite the black and white filter.
Corey holds Carmella's left thighs as she perches her feet on either armrest flaunting her toned legs in pointed-toe stilettos. The couple teases something to come on Feb. 28, captioning the date only with no extra clues.
Expensive In Animal Print
Carmella's abs stood out in her leather print bikini sportswear with the cross-neck openwork bra cupping her ample cleavage perfectly. Her studded pants hugged her slim hips as the extra-thin straps dug into her skin, highlighting her slim waist.
The ex-NFL cheerleader paired her look with matching elbow-length gloves and thigh-high stockings, painting her fingernails black. Carmella looked expensive, as she said in her caption.
Article continues below advertisement
She Came To Serve
Carmella adds a shimmery black faux-fur bolero to her ensemble, saying, "We came to serve hunnay." The add-on elevates her outfit and draws more attention to her long blonde curls as they fall in waves to her shoulders. A closer look shows that she's wearing skin-colored fishnet stockings.
Because of her success as a wrestler, people often forget she was an NFL cheerleader for three seasons. Her years of dancing professionally prepared her for the wrestling world and helped maintain her banging body.
Stay Tuned
Carmella asks us to stay tuned as she straddles her fiance in her Valentine's Day-themed underwear. The polka heart print bra with a long bow cups her boobs while her partner tugs at the waistband of the red lace panties.
The couple celebrated Lover's day with a cozy dinner as Corey invited an artist to paint them as they dined. Although Carmella and Corey remain vague with their clues, we're guessing the surprise drop on Feb. 28 would be a clothing brand. Until then, we'll keep watching.