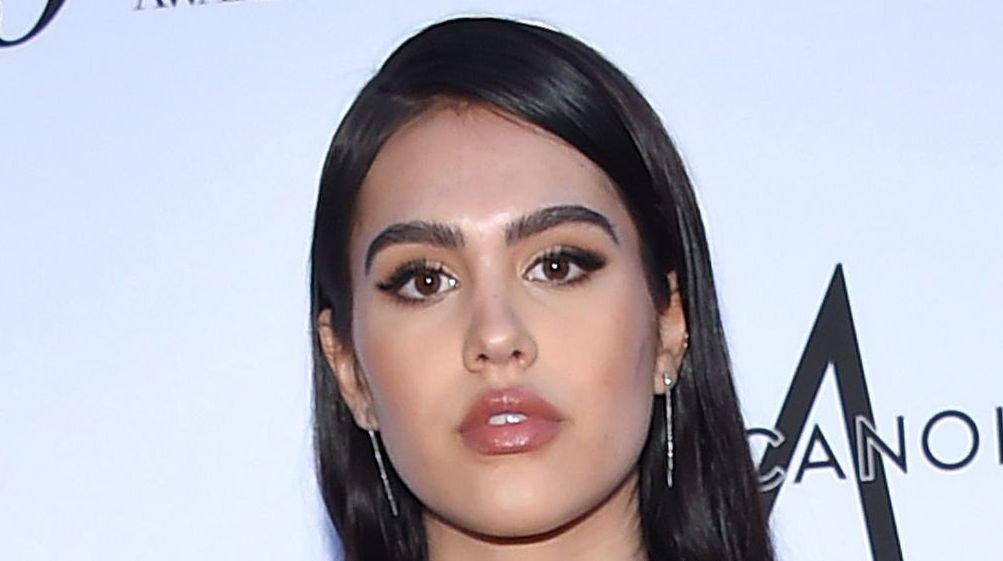 Amelia Gray Hamlin Stuns In Minidress While In Pool
Young model Amelia Gray Hamlin pushed the boundaries in her latest Alexander Wang campaign photoshoot, fusing her wittiness with the concept. The 20-year-old used her real-life situation as an inspiration for the campaign giving fashion a new twist and a Gen-Z touch.
This year has been a successful one career-wise for Hamlin as she's stepped up her game and walked for notable names in the industry, including Alexander Wang, and posed for Versace. With a packed calendar, the model is really "drowning in work," which she showed in her campaign.
Keep reading to see the post.
Article continues below advertisement
Drowning In Work
Hamlin wore a black mini shirt dress, swimming goggles, and green strappy stiletto sandals while seated on a chair in a blue pool. She poised her laptop on her knees and tapped away as the camera clicked before bending backward further into the pool in the second slide. Her caption about "drowning in work" fit the bill seamlessly.
Choosing Her Spring Uniform With Michael Kors
In another campaign for Michael Kors, Hamlin showed off her Spring Uniforms, including a mini white lace dress with a high round neck and long sleeves, a matching silver handbag, and white-framed dark lens sunglasses strappy brown block-heeled sandals.
Hamlin paired her looked with a sleeked-down bun parted down the middle and wore nude makeup with peach lipstick. She wrote in her caption that the moment was a dream and declared the lace dress her Spring Uniform.
Article continues below advertisement
Out And About In NY
Amelia spotted a giant spread featuring herself from the Alexander Wang comeback fashion show, and she stopped to take a picture. The model wore a casual, loose-fitting dress with a black ribbed sweatshirt worn halfway and a leather Balenciaga hand purse.
Hamlin threw her head back to take in her full frame, then shared more pictures of her daily activities, including a table full of cherries and a mirror selfie showing her bleached eyebrows.
More shots included scenes from NYC (an Ice Cream Truck) and a sportswear picture.
A Dream Come True
Walking for Alexander Wang has been Hamlin's dream according to the lengthy message she posted on Instagram. She rote,
...This has been my dream show since day 1…. thank you for making this happen.. I love you I love you I love you!
-
Luckily for her, the love wasn't one-sided because Wang replied,
We ❤️ you Amelia! You are beyond a beauty but a HUGE heart.
-