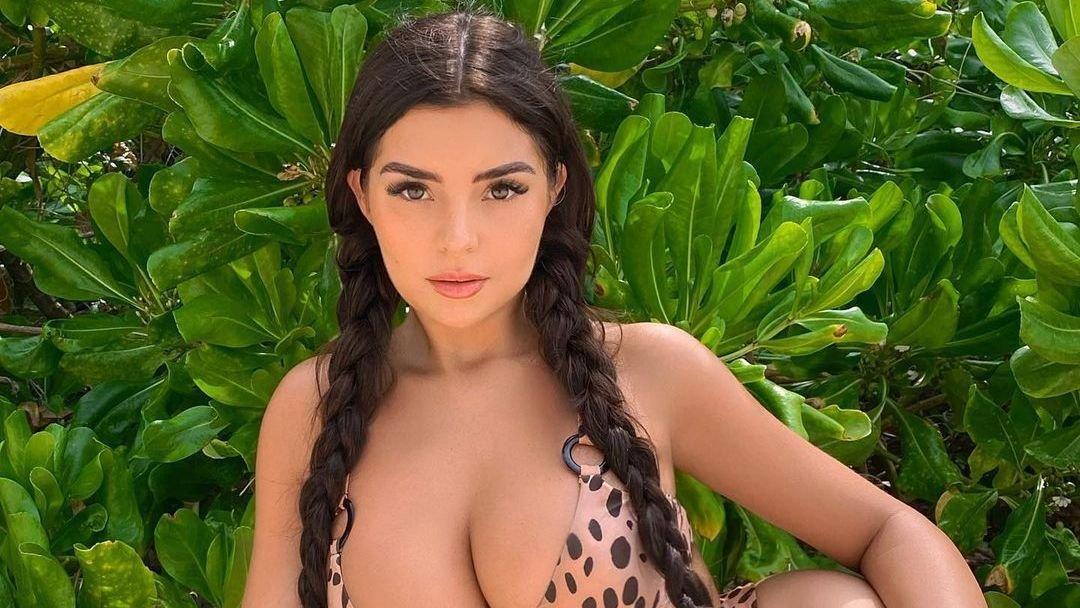 Demi Rose Flaunts Bombshell Curves In Steamy Instagram Selfie
Brunette bombshell Demi Rose thrilled her 16.1 million Instagram followers with her latest share, a steamy selfie she captured outdoors.
The photo was taken while she was abroad in Ibiza, Spain, as the geotag indicated, and she appeared to be in a breathtaking spot. Several towering trees were visible behind her, and she stood on what looked like a paved patio area with a view of a gorgeous lake and various greenery.
A large outdoor decorative lantern was positioned on the patio area near her, adding some visual interest to the space.
Article continues below advertisement
Bombshell Curves
Her ensemble was from the brand boohooMAN, and Demi made sure to tag the label in the caption of the post as well as in the picture itself, in case her fans wanted to grab it for themselves.
She showcased her curvaceous upper body in a simple white string bikini top. The garment had triangular cups that could barely cover her ample assets, and though she had the strings tied around her neck, the second set that would normally extend around her back were left undone.
Instead, the strings merely dangled down in front of her.
Sexy Selfie
The bikini top showcased a serious amount of cleavage as well as a tantalizing portion of underboob. It also flaunted Demi's toned stomach.
She opted to pair the swimwear with some lilac and cream-colored tie-dye print sweatpants that added a more casual vibe to her look.
The bottoms featured an elastic waistband that settled right at her natural waist, accentuating her hourglass shape. The printed fabric draped over her toned thighs and shapely hips, highlighting the curves of her body without clinging too tightly.
Article continues below advertisement
Seductive In Spain
She hooked her thumb into the waistband, tugging it down slightly on one side in a move that seductively showcased a hint of extra skin.
Demi's long brunette locks were parted in the middle, and the silky tresses tumbled down her chest and back in an effortless style.
She held her cell phone in one hand, and added no embellishments beyond a delicate ring on her middle finger.
She kept her gaze focused on the camera as she captured the snap, and revealed her favorite season in the simple caption.
Bikini Babe
Her fans couldn't get enough, and the post racked up over 2,973 comments in just 19 hours of going live.
"Looking amazing demi," one fan wrote, followed by a trio of heart emoji.
"You're my favorite season," another chimed in, referencing Demi's caption.
"Beautiful and gorgeous," a third fan remarked.
Whether she's in casual gear or skimpy swimwear, Demi loves to delight her fans. Earlier this month, as The Inquisitr reported, she stunned in a patterned bikini that left little to the imagination and put her curves on full display.