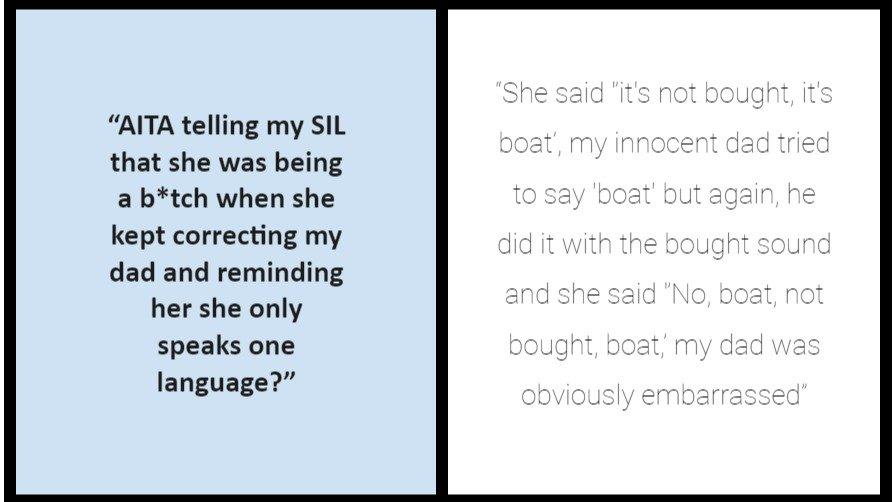 Redditor Goes Off At Sister-In-Law Who Kept Correcting Her Dad's English - Should She Apologize?
Languages are a complex but beautiful part of being human, and just as cultures are to be respected, languages deserve reverence. When there seems to be some condescending attitude to another person's language or accent, this could breed conflict, and as such cause a rift that could have been avoided all along. According to a Reddit user addressing the AITA platform, her family is currently deliberating on an issue that arose after she had a clash with a family member over language and accent. The Redditor made it known that it has been between her and her sister-in-law.
Article continues below advertisement
From the build-up of her story, the Redditor, a 22-year-old female, noted that her family was Spanish and as such they are bilingual. She relayed that her big brother married a woman whose first language was English as she noted that her sister-in-law was monolingual. While there were no issues with the multi-language family, the sister-in-law seemed to have a thing for correcting other people's pronunciations and spoken English. However, it seemed the lady mostly directed her multitude of corrections to the OP's parents. Things however came to a head one day when the couple came over.
The OP's SIL Had A Penchant For Correcting Other People's Spoken English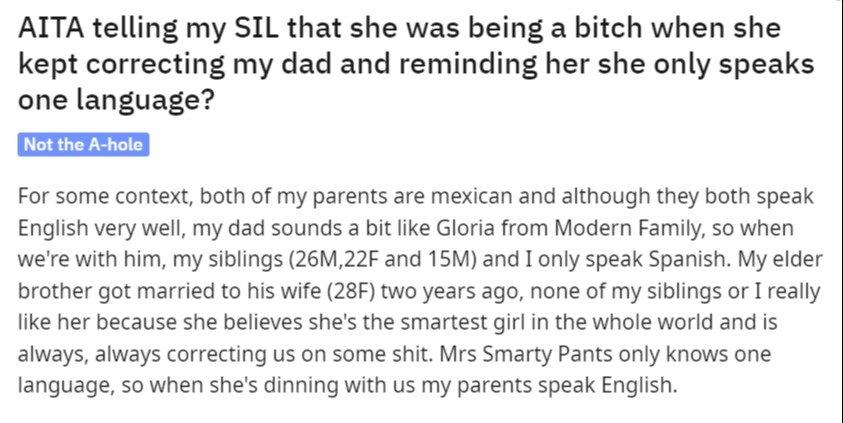 Article continues below advertisement
Per Usual, She Tried Correcting her Father-In-law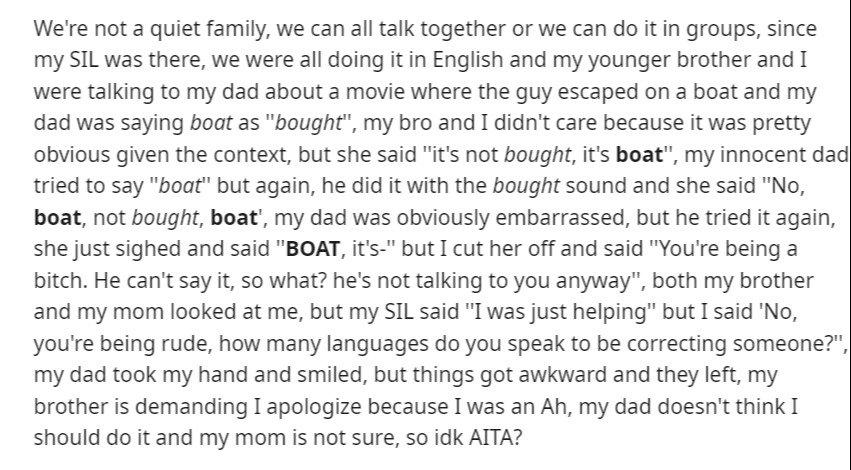 The OP Got Irritated
According to the original poster, her mom made a nice family dinner and invited everyone over including her brother and his wife. However, when the couple got there, the sister-in-law resorted to her usual perfectionist self and started correcting her father-in-law's pronunciations. The narrator relayed that while they were at dinner, she and her dad, and other sibling talked about a movie they recently saw, and it was all about a man that escaped in a boat.
The OP noted that due to language interference, her dad pronounced the word boat as "bought" and this had her sister-in-law constantly correcting him. In his bid to get it right, the older man followed her pronunciation but still didn't get it. However, the sister-in-law persisted while forcing the OP's dad to pronounce the word.
At this point, he felt embarrassed, and the OP was so fed up. She noted that she ended up lashing at her brother's wife while referring to her by the "b" word. The OP accused her of being condescending despite speaking only one language. This led to an awkward situation, and the OP's brother angrily left with his wife. He would later contact her asking her to apologize for being an AH to his wife. However, the Redditor stood her ground noting that her sister-in-law was being mean to their dad. Although her parents think she should not tender an apology, OP got confused about what she should do. Here's how Redditors shared their two cents.
Article continues below advertisement
NTA- SIL Was Condescending

NTA- SIL Should Have Been A Graceful Guest

OP's Brother Should Apologize To The Family