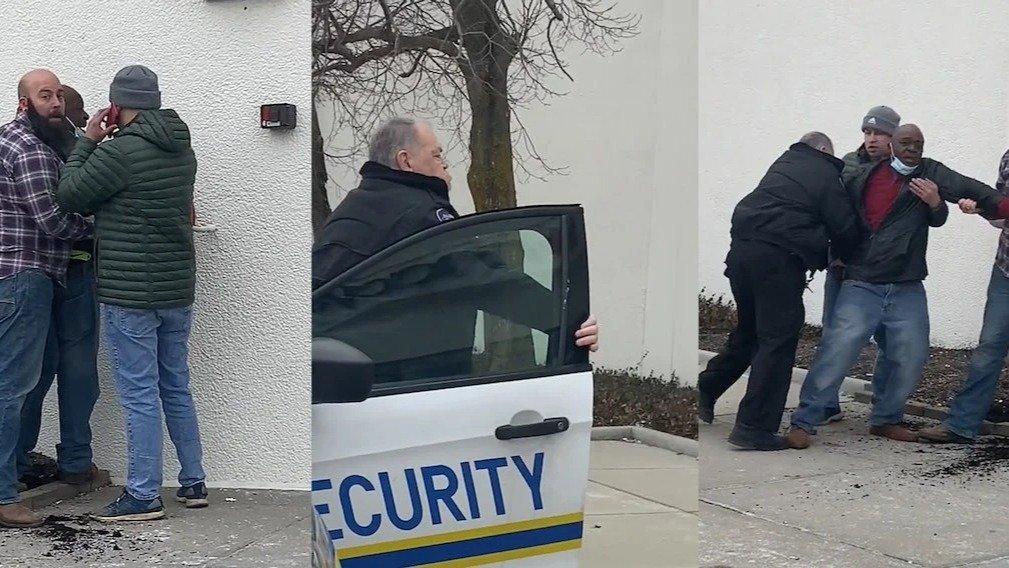 'We Don't Have To Show Him A Badge': TikTok User Captures Macy's Guards Bullying A Black Man
A TikTok video uploaded by a woman named Maraya Mashae has gone viral because of its content. Maraya shared a video of what she alleged to be excessive force used against a suspected shoplifter at Castleton Square Mall in Indianapolis, Indiana.
In the video she shared a week ago, two unmarked security agents are seen holding a man. The video has now received over 231,000 views and 1,800 comments. The detained man in the video was heard pleading his innocence and asserting that he had not left the store. However, the two security officers argued that the information was useless.
According to Maraya, she reported the incident to Macy's departmental store.
See more details about the video below.
Article continues below advertisement
The Security Men Insulted Maraya For Intervening
In the video's caption, Maraya claimed she saw a man screaming while being kicked and punched and felt compelled to record and intervene since his apprehenders were not identified as either security guards or police officers. She was reportedly on her way to a mall for retail therapy when she witnessed the incident. Maraya also claimed that the unknown security called her a "black b*****" for not minding her business once she stopped recording.
The Man's Apprehenders Failed To Identify Themselves
While still trying to ascertain if they were actual police officers, given that they were not in uniform, Maraya asked the men if they were police officers. However, they chose to keep silent while ignoring her. She then requested that they show the alleged shoplifter their badges or provide proof of identification. One of them then pulled an ID card out of his pocket but still refused to identify himself as a police officer or a security guard.
Article continues below advertisement
A Police Officer Eventually Intervenes
Noticing that the men were not making any move to let the alleged shoplifter go, Maraya asked if they were not going to call an actual police officer. One of the men replied, "Do you want to call them for me?"
Maraya declined, explaining in a later video that she didn't feel secure stopping her video until she was certain that other individuals were also recording the incident.
Shortly after, a security guard in his full gear showed up and made an effort to drag the supposed shoplifter away. However, the man declined, stating once more that he had legitimately purchased all of his goods.
It was later confirmed that the shoplifter was innocent as he purchased all his items legally.
Other TikTok Users Express Their Shock
Other TikTok users who were shocked by the incident expressed their shock in the comment area. They were also thankful that Maraya was there to make an effort to intervene.
"My first question is why did they drag him out and not hold him inside? If I were him I'd sue the pants off of Macy's and press charges on those men," one person commented.
"They got interrupted," another person wrote of the security guards. "Thank you for being brave, Maraya."
"Thank you sis for intervening. There's no telling what would have happened to him," wrote another commenter.
Maraya deserves all the accolades she is getting at the moment as she has proven to be the hero in the incident.