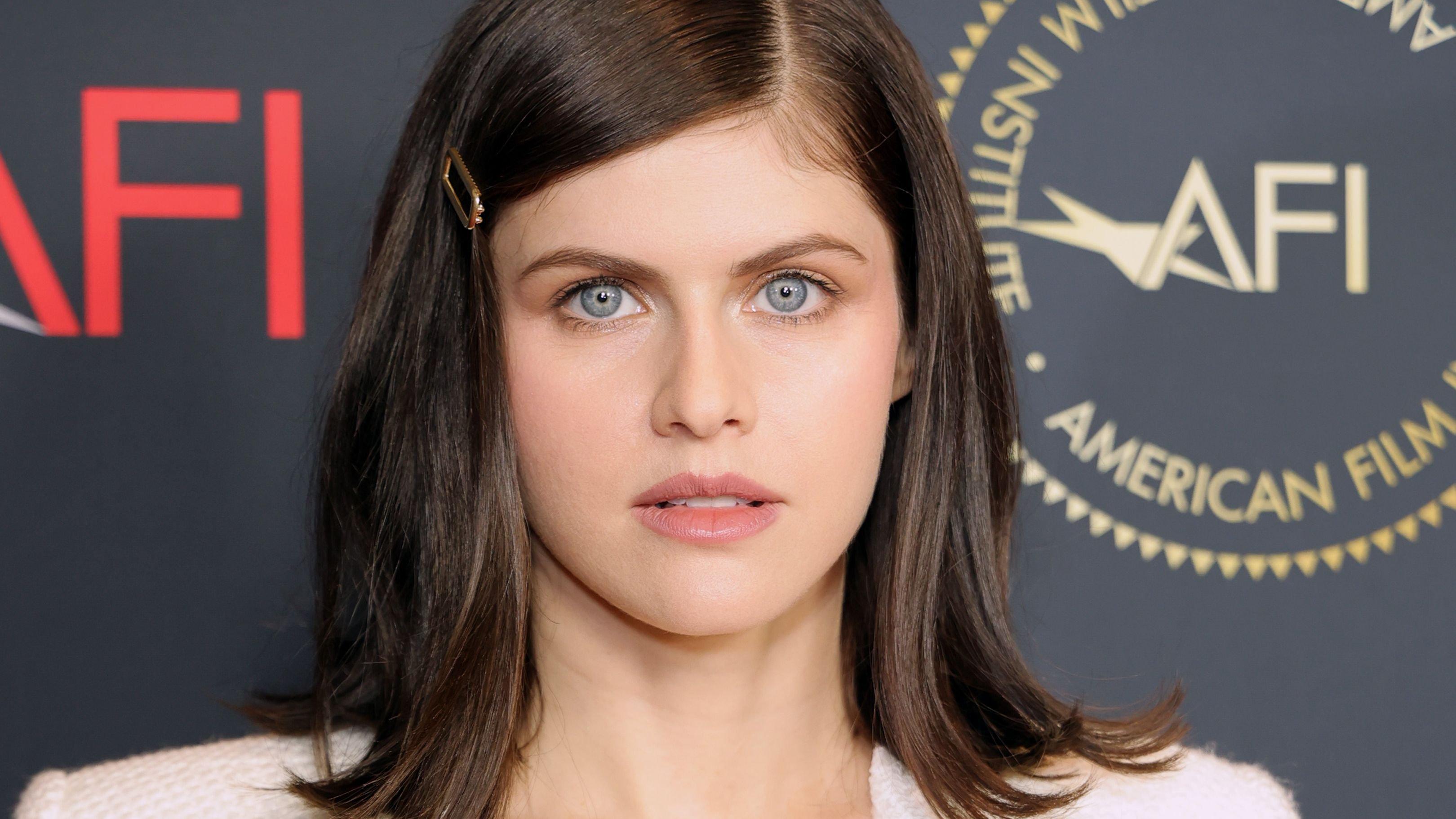 Alexandra Daddario Does The Dishes In Dolce & Gabbana
Alexandra Daddario embodied a modern-day Cinderella for a kitchen photoshoot in which she posed in a stunning Dolce & Gabbana ballgown next to a sink full of dishes. Going strapless in a corset-style number with an ample skirt, the Baywatch star, who turns 36 today, swapped her evening gloves for a set of yellow rubber ones, earning close to 1.5 million likes on Instagram.
Article continues below advertisement
Dazzling In D&G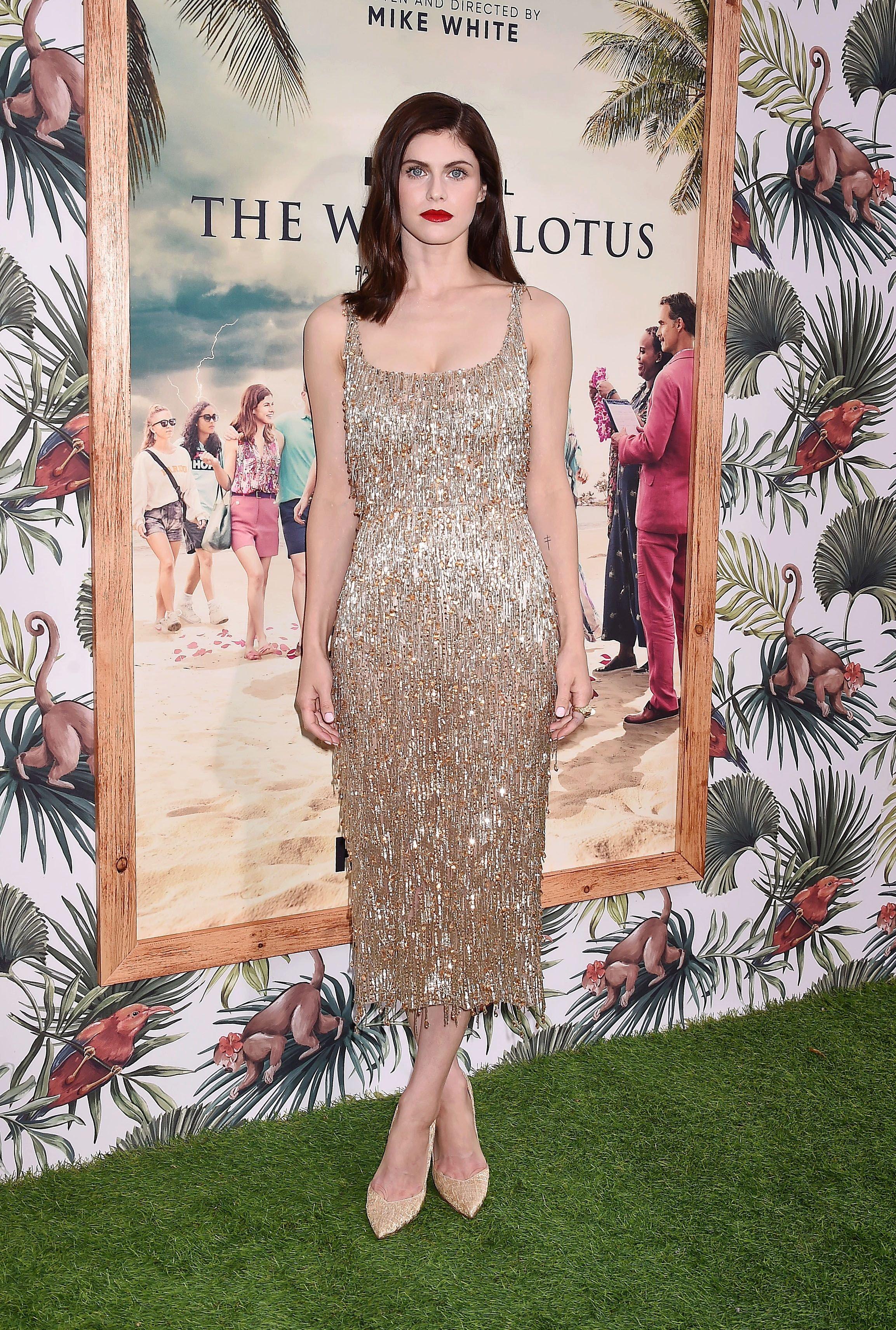 Shot by the talented Storm Santos, Daddario posed in a retro-style kitchen whose chic teal-and-white decor gave prominence to her dress. Having famously rocked sparkling-beige D&G at The White Lotus premiere, the actress opted for a similar shade, going skin-toned in a cream gown, with her kitchen gloves being the only pop of color.
Leaning on the sink counter with her back to a sunlit window, she held up a sponge with a graceful gesture, her gaze locked off-camera in a pensive expression that set the tone of the artistic photo.
Modern Princess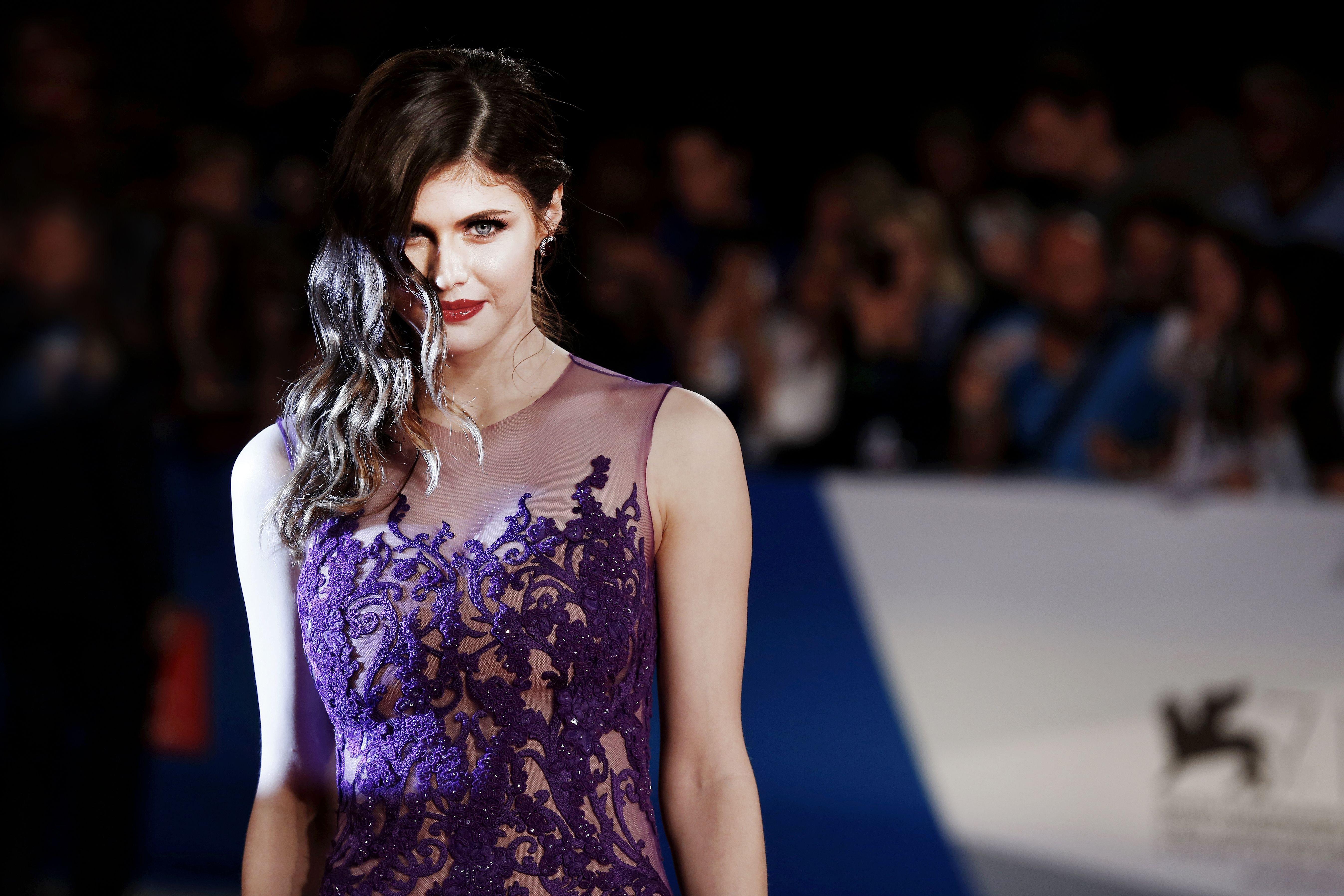 Nearly popping out of the princess dress, Daddario served up an eyeful of cleavage in the low-cut corset, which had defined half-cups and narrow busks highlighting her svelte waist. A dramatic glam look in a rich sienna-brown shade emphasized her porcelain complexion and beautiful facial features, which she showed off with a romantic hairstyle.
Pulling up her luscious tresses into a messy bun, she sported rebel tendrils grazing her neck and shoulder. The look was complete with chic jewelry, which included heart-shaped statement earrings from Retrouvai and a layered necklace with a heart pendant.
Article continues below advertisement
Bonus Snap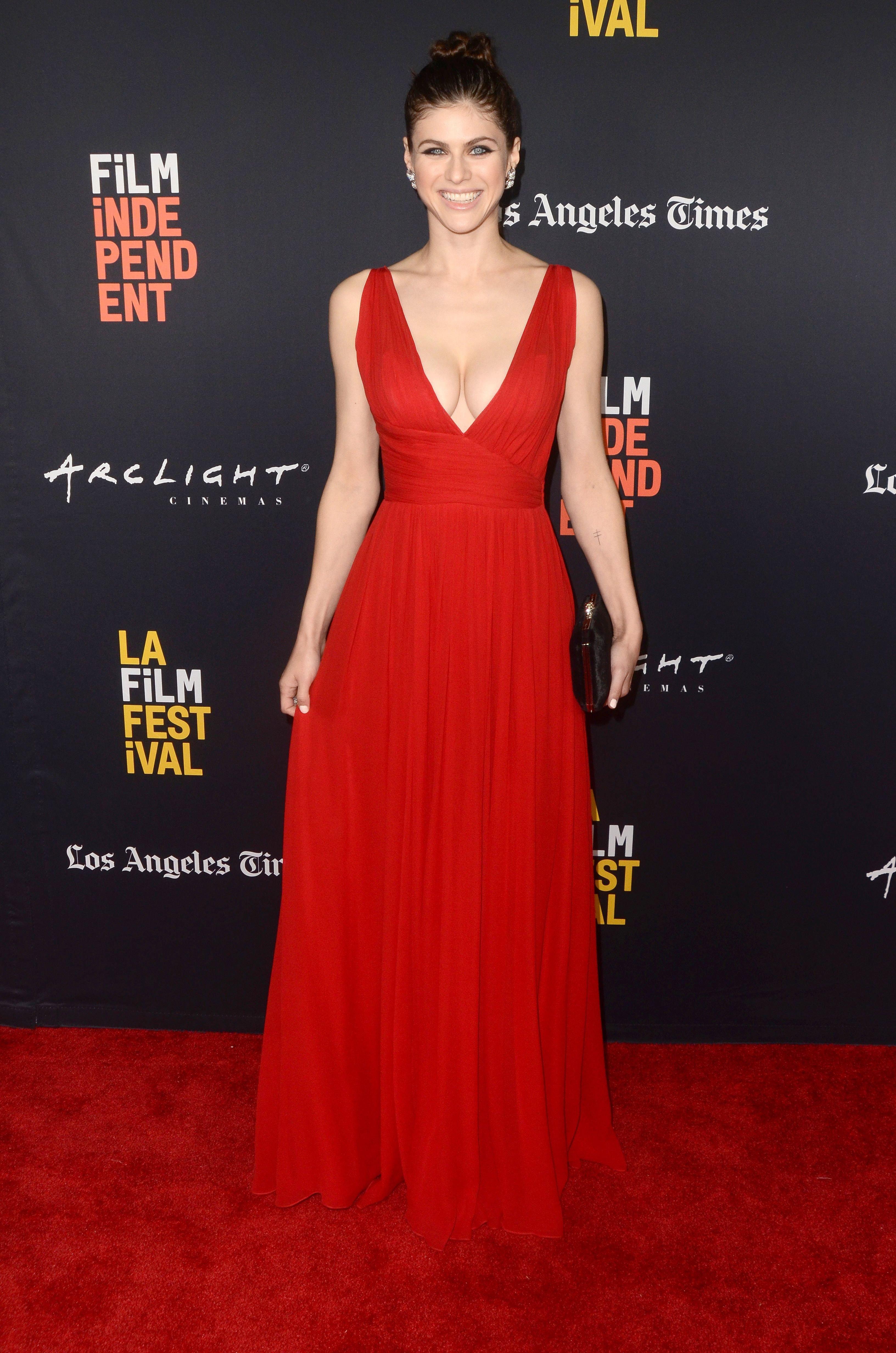 In a behind-the-scenes snap posted a month prior, Daddario showed off her voluminous tulle skirt while cuddling with her now-fiance, Andrew Form. The couple was standing in front of a living room cabinet, which matched the palette of the kitchen counters and was decked with elaborate miniature houses.
The San Andreas star thanked KLM Royal Dutch Airlines for the elegant decorations in her caption. "Please give us extra when we fly again," she wrote, suggesting the shoot took place at her and Form's luxurious Hancock Park home.
Also featured in the picture was Gerry's owner, Nalley, who had her back to the camera and was looking at the couple. Quoting her former roommate and Lost Girls and Love Hotels co-star in the caption, Daddario said about Form: "the way he looks at me, well, I could just melt."
Scroll for more photos from the shoot!
More Photos Below!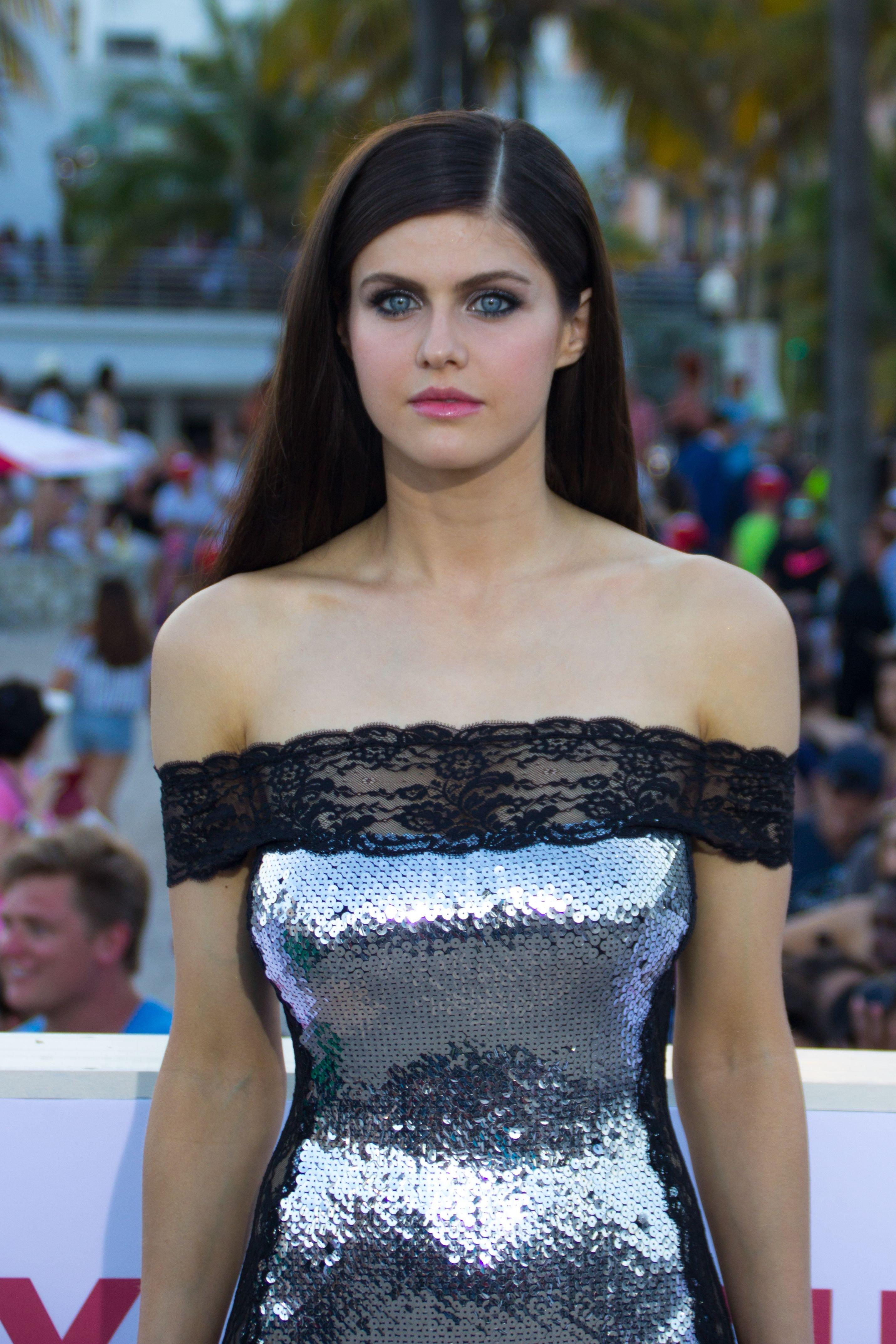 Daddario's enchanting D&G look was styled by Serra Geris, who also did her Dior look for The Dior Beauty J'Adore Holiday Party in December. Sharing more photos from the shoot to her personal Instagram page, the fashion stylist said Daddario made "holiday clean up [sic] look good" as she uploaded a picture of the glamorous actress showing off her chiseled shoulders while holding up a foam-covered sponge. In the image, she leaned on the chrome kitchen faucet, allowing the vintage china in the sink to be seen.
Likewise, the photographer also posted the shoot on social media, quipping: "I came over for @alexandradaddario but stayed for the real star….Gerry." Scroll through the embed below to see two bonus snaps!