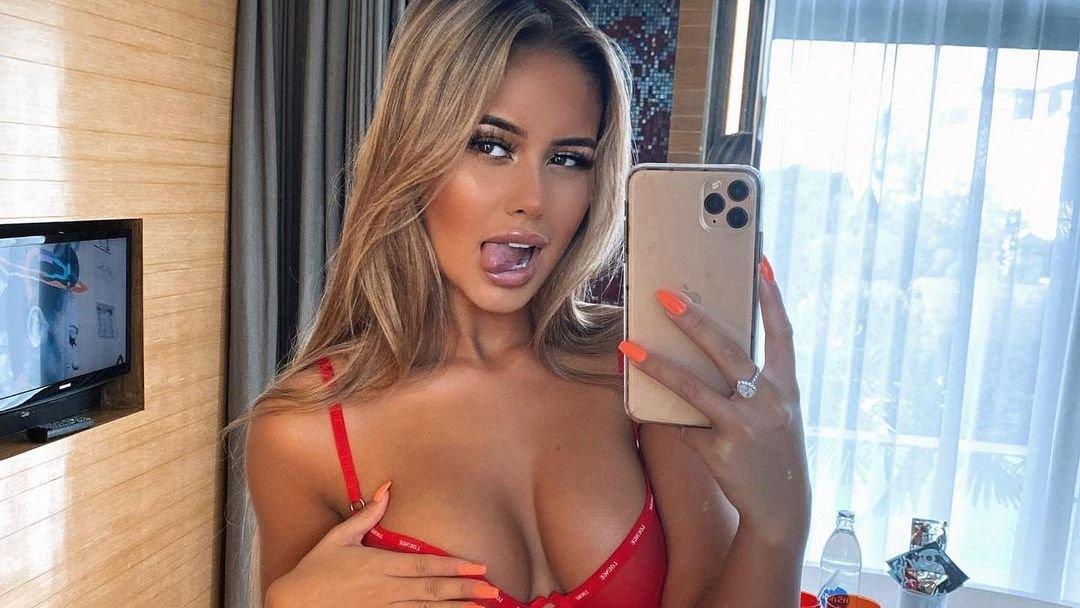 Tarsha Whitmore Has 'An Orange Moment' In Skimpy Bandeau Bikini
Tarsha Whitmore looked more gorgeous than ever as she slipped into a stylish orange bikini for a new curve-flaunting update shared on her Instagram page on Thursday, April 1.
The Australian model showcased her enviable figure in a sun-kissed snap that highlighted her honeyed tan. The vibrantly-colored swimwear further accentuated her glowing bronze and complemented her golden tresses.
Tarsha showed off her creative chops as she posed with a handful of oranges. The artistic display made her chic bathing suit pop even more, which, in turn put extra emphasis on her perfect curves.
Article continues below advertisement
Looking Like A Snack
The 20-year-old served up an alluring display in a bandeau top that struggled to contain her perky assets. The strapless number sat low on her chest, revealing her sexy tan lines and exposing a tantalizing amount of cleavage.
The skimpy piece was cinched in the middle, further minimizing coverage. It flashed a glimpse of underboob and formed a subtle ruched pattern that gave more prominence to Tarsha's curves.
The revealing bikini also featured a high-cut bottom with a thick waistband that stretched above Tarsha's hips. Check out the eye-popping look below!
Sultry Floor Pose
The bikini-clad beauty peered sultrily into the camera as she sat on her hip with one leg folded underneath the other. Her waist was arched and her back perfectly straight in an elegant pose that emphasized her flawless hourglass shape.
She appeared to be on the floor and was resting comfortably on a wooden panel upholstered with linen. A stone mosaic was sprawled in the backdrop, its earthy tones flattering her tanned skin.
Tarsha leaned on one hand for support, stretching it far enough from her body to make room for a couple of oranges. She raised her other hand in the air with a graceful gesture and slightly parted her lips in a seductive way.
Article continues below advertisement
Effortlessly Chic
The bikini was from local retailer, Hello Molly, which Tarsha credited with a double tag in her post. The model accessorized with understated jelwery, rocking a discrete ring on each hand. She also wore her customary navel piercing, which the scooped waistline left on show.
The gorgeous blonde styled her hair in wavy curls that were parted on the side. Her long tresses cascaded over her shoulder, grazing the line of her bust as they fell down to her waist.
The stunning look was complete with a pastel-pink manicure.
Natural Beauty
Tarsha has been rocking fresh, natural tones in her latest fashion snaps. Just two days ago, the bombshell wowed in a pink snakeskin-print dress decorated with lime accents. Her weekend look comprised of a bubblegum-pink ensemble that included a bandeau crop top and a high-slit miniskirt.
Her most recent offering sparked a lot of interest from her devoted fans, who showered the model with compliments in the comments section.
"Omg wow! So beautiful!" read one message.
"Absolutely gorgeous OMG," gushed a second person.
"My favorite color!" chimed in a third follower.
"My fav photo of her ever she gets prettier everyday [sic]," raved a fourth admirer.