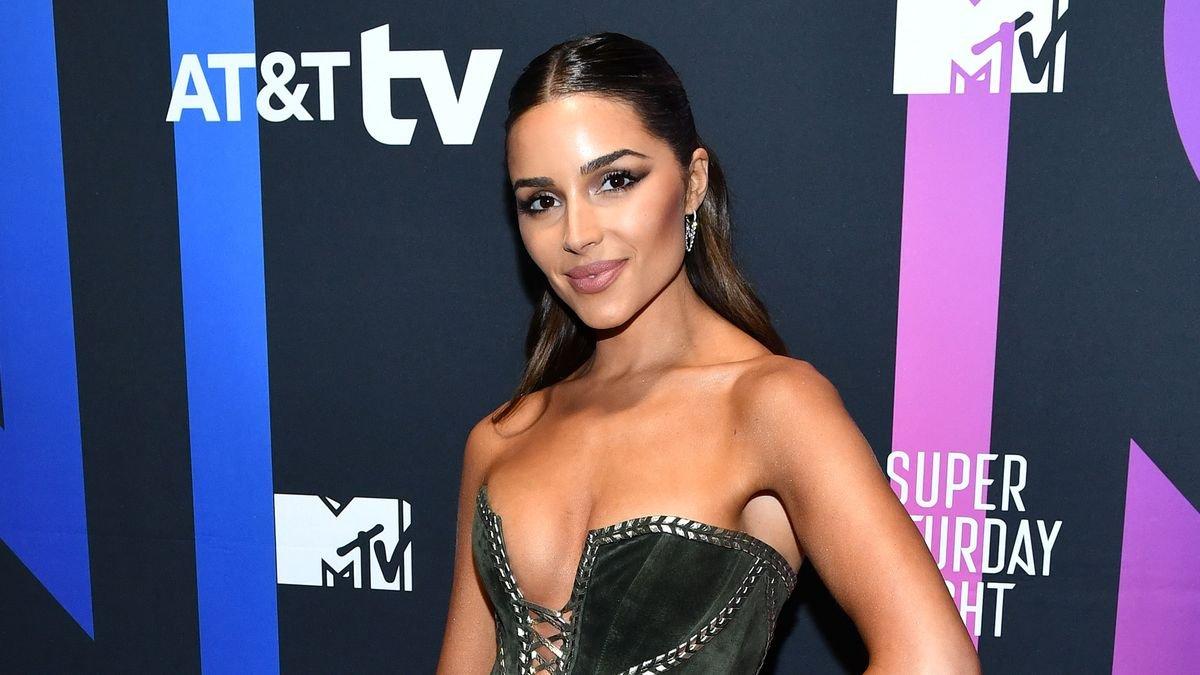 Olivia Culpo 'Not Fully Dressed' With Big Smile For Beachside Fun
Olivia Culpo wore very little as she enjoyed a fun outing at the beach in a new post shared to her popular Instagram page.
The 2012 Miss Universe, who has since graced the covers of Maxim Hot 100 in 2019 and Sports Illustrated Swimsuit in 2020, rocked a chic olive bikini and beige sarong. She flashed a beaming smile as she slipped out of her skirt and flaunted her enviable figure.
"They say you're never fully dressed without a smile," Olivia captioned the upload.
Article continues below advertisement
"But I guess even w this smile I'm still not fully dressed."
-
"But I guess even w this smile I'm still not fully dressed."
Article continues below advertisement
Slaying The Beach-Babe Look
On her lower half, she wore high-cut bottoms that came up above her hip, exposing her legs. The scooped waistline fell far past her belly button, allowing her firm stomach and sculpted tummy to be admired.
The swimsuit was a dark shade that flattered Olivia's bronzed skin, making her flawless tan pop. The two-piece was balanced out by the light-toned sarong, which sported a grainy texture that perfectly blended in with the sandy beach.
Letting Loose
Olivia shared two photos of the outfit, in which she let loose as she untied her skirt and showed off her chiseled curves. She appeared to do a pirouette in the first pic and was smiling from ear to ear as she held onto one side of the sarong.
The garment billowed out as it spun in the air, leaving her toned lower body nearly in full view of the camera. Her hair looked tousled and windswept, grazing her décolletage as it spilled over her shoulders.
Article continues below advertisement
Feeling Playful
The second snap captured the supermodel in profile, perfectly showcasing her lean physique. Olivia pressed the skirt against her waist with one hand, letting it slide down her hip on the other side. She clasped the undone belt in her palm and closed her eyes, throwing her head back in a coquettish manner.
The Rhode Island-born beauty was snapped against a towering hilltop that housed a number of imposing beachfront villas. She appeared to be at a tropical resort, which included a sumptuous terrace and a pagoda gazebo. An aquarelle sky hung overhead, completing the scenic view.
Flawless Style
The bikini was from luxury swimwear brand Onia, which Olivia has featured on her page before. The sizzling model tagged the New-York based clothing company in the second photo for anyone who wanted to emulate the look.
She accessorized with an elegant white manicure. She wore a stylish beaded necklace that beautifully complemented her ensemble and appeared to sport a shiny bracelet on her wrist.
Olivia's 4.3 million Instagram followers seemed impressed with the sophisticated look, rewarding the post with 139,000 likes. In addition, 380 people left messages under the double update.
"What a smile thanks for sharing," the model was told.
"Glowin from the inside out," chimed in a second person.
"Definitely brightened up my day!!! Keep killing it," gushed a third fan.
"Fun and the green color works [on you]," a fourth follower said of the shoot.