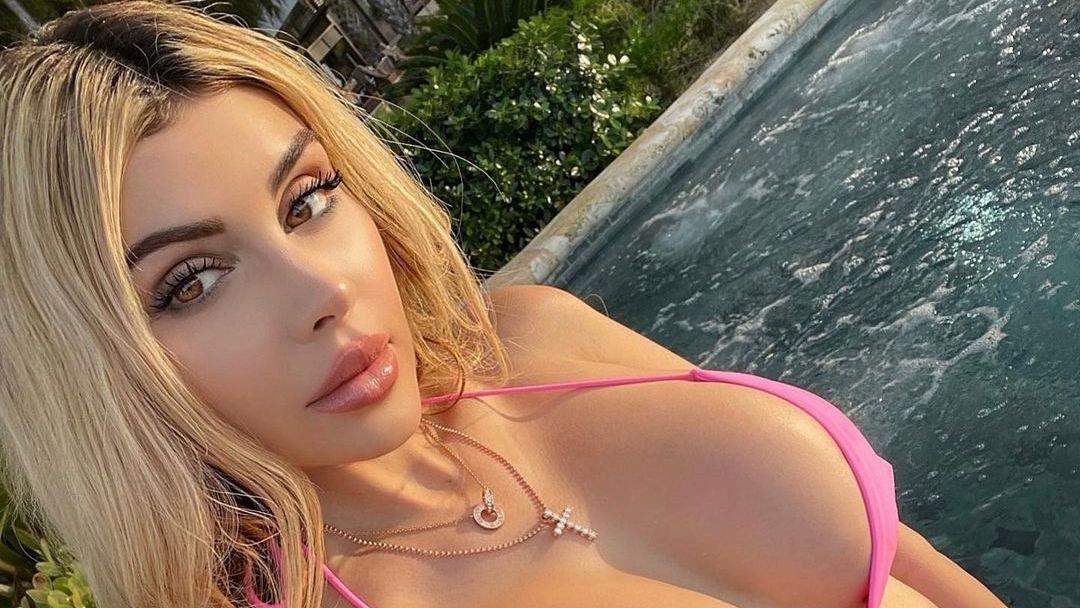 Alexa Dellanos Is Wet & Sultry In 'Night Cap' Pool Snap
Alexa Dellanos enjoyed a nighttime pool dip as she slipped into the tinniest bikini for a night cap out on a terrace. The Instagram sensation didn't keep the fun all to herself, posing for a sultry pic that she shared with her eager fans late Tuesday night.
In the snap, the sizzling blonde served up an eyeful of dangerous curves as she stood near the edge of the pool. She posed with her legs apart, flaunting her soaked thighs that glistened under the camera flash.
Article continues below advertisement
Bikini Babe
The busty model dazzled in a shimmering purple bikini that provided next-to-no coverage to her voluptuous figure. Her chest was barely contained by a set of elongated, narrow cups that were spaced widely apart and caused her curves to spill out on all sides. They stretched horizontally across her bosom, extending into thick straps that went around her neck. A second pair of straps crisscrossed over the chest line, forming flirty cutouts that drew attention to her abs.
The racy swimsuit was complete with minuscule bottoms that only covered the bare minimum. The low-rise number exposed Alexa's firm tummy and boasted a daring high cut that showed off her curvy hips and thighs.
Rocking Pigtails
Alexa paired the risqué swimwear with a playful hairstyle that lent an innocent vibe to the sultry look. She rocked braided pigtails, which she brushed behind her ears to show off her large hoop earrings. Her highlighted tresses looked slick and were parted in the middle, tumbling down to her waist.
The 25-year-old further accessorized with multiple bangle bracelets. She coordinated her nail polish with her outfit, displaying her flawless manicure as she wrapped one hand around her hip and placed the other one on her thigh.
Article continues below advertisement
Queen Of The Night
The photo captured Alexa from the front, showcasing her ample cleavage. The model was in water up to her knees and had her back to a balcony railing. She shot a seductive stare at the camera, cocking her head as she peered into the lens. A pitch-dark sky made the perfect backdrop for her beauty, giving prominence to her pastel swimwear and glowing tan.
Fans went crazy over the steamy share, rewarding the pic with close to 55,800 likes in just 11 hours of posting. Her online admirers also left 570 messages wherein they complimented her beauty and curvaceous figure.
Lyna Perez dubbed Alexa a "late night snackkkkk."
Celeste Bright branded her an "angel."
"Omg u are the best thing I've seen all day," gushed another Instagrammer.
"You'll be in everyone's dreams," quipped a fourth follower.
Flaunting Her Bikini Bod
Alexa has been serving a slew of hot bikini looks as of late. The social media star appears to be vacationing in an exotic location and has been keeping fans up to date on her adventures through her Instagram feed.
The model, who has her own website where she documents her travels and shares her "special fitness programs," thrilled her audience with a stunning pool snap earlier the same day, in which she flaunted her bodacious behind in a black thong bikini.
A beachside slideshow shared over the weekend saw her rocking her sandy curves in a barely-there two-piece and a Louis Vuitton bucket hat.