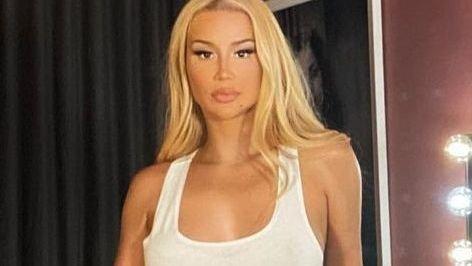 Iggy Azalea Strips Down For Skimpy Hairbrush Surprise
Iggy Azalea is dropping hairbrush surprises and stripping down at the same time. The 30-year-old "Dance Like Nobody's Watching" rapper made sure everyone was watching her this weekend, taking to Instagram with a little body flaunt and self-care while posting for her 14.4 million followers. Iggy, who is gearing up for the release of upcoming "Sip It" track featuring Tyga, was reminding her fans of her "baby waist" and her bombshell locks - check out the seriously sexy footage below.
Article continues below advertisement
Long Hair, Don't Care
Scroll for the video. It comes as Iggy makes headlines for the music side of her career, ones that break up ugly stories centering around the Grammy nominee's split from baby daddy Playboi Carti - Iggy welcomed son Onyx in April 2020.
Flaunting the "baby waist" that's dropped 20 pounds since giving birth, Iggy updated all abs and stripped down to only a skimpy and low-cut gray sports bra, plus a pair of teal and baggy sweatpants. The indoor footage focused on one thing, though.
See The Video!
Shot amid rusty-pink walls and archways, Iggy was seen holding a hairbrush and delivering repeated strokes to her long and signature blonde hair, with the "Fancy" hit-maker also piercing the camera with direct eye contact and a very expressionless gaze.
No caption was used from the girl who seemingly needs none to cause a hoopla on the internet. Azalea has also been dropping mad intellect on her Twitter, just today writing: "All great cultural moments are polarizing remember that. If it wasn't it wouldn't be a moment to begin with."
Article continues below advertisement
Scroll For Her Stunning Baby Shot!
Iggy's itty-bitty waistline is turning heads precisely because it's been less than a year since the star pushed out her first child. Onyx was welcomed after a concealed pregnancy, with Iggy breaking the news after his birth.
"I have a son," she wrote. "I kept waiting for the right time to say something but it feels like the more time passes the more I realize I'm always going to feel anxious to share news that giant with the world."
See her adorable baby boy below.
Son 'Not A Secret'
Confirming that she had nothing to hide but had taken her time to share the news, the rapper added: "I want to keep his life private, but wanted to make it clear he is not a secret & I love him beyond words."
Iggy has since made headlines for splitting from 24-year-old Carti, also alleging that her baby daddy cheated on her and abandoned his own son during the holidays. "TRASH," Iggy wrote as she claimed Carti never came out to see his baby over Christmas.