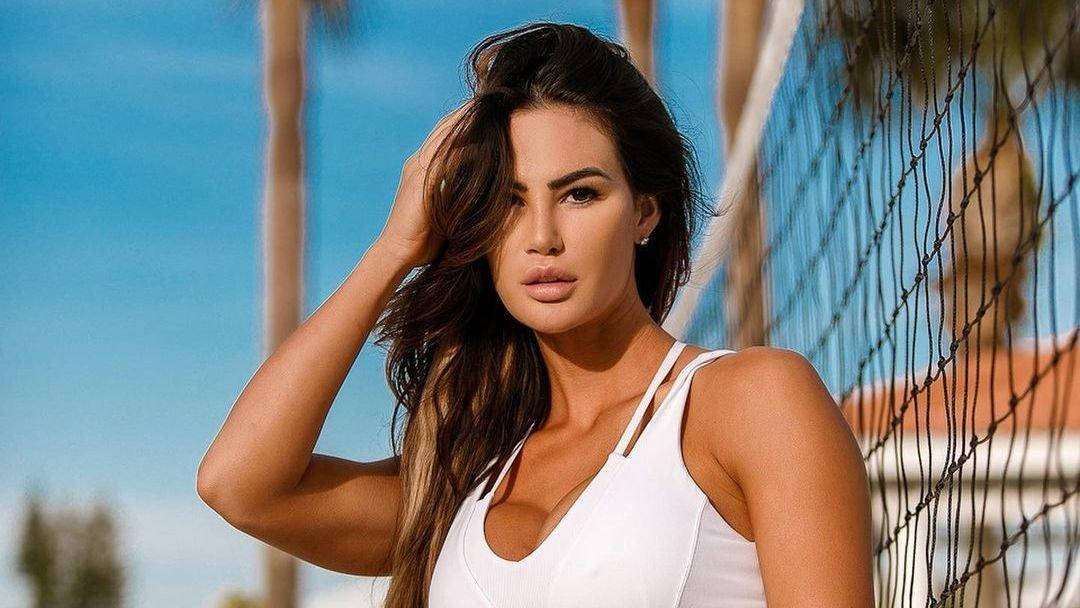 Katelyn Runck Shows Off Her Fit Physique While Getting Her Sweat On
Brunette bombshell Katelyn Runck tantalized her 2.4 million Instagram followers with her most recent share, a video clip in which she flaunted her incredible physique while getting her sweat on at a gym.
Katelyn rocked an athletic ensemble from the online retailer Fashion Nova, a brand she has worn on her page many times before. She tagged the label in the caption, in case any of her fans were inspired to pick up the look for themselves.
She included a geotag that indicated which song was playing in the background of her workout clip.
Article continues below advertisement
Gym Hottie
Katelyn flaunted her sculpted body in a pair of cranberry-colored leggings that were so tight they almost looked painted on. The wide waistband settled over her belly button, with the material stretching across her toned stomach. Her toned thighs and shapely calves were on full display in the look, which extended all the way to her ankles.
She paired the leggings with a long-sleeved crop top crafted from the same vibrant fabric. The top had a plunging neckline that dipped low, showing off a tantalizing amount of cleavage.
Cranberry Cutie
The fabric hugged her ample assets before the top ended just an inch or so below her breasts, exposing plenty of her stomach as well.
Katelyn's long brunette locks were pulled back in a braid, and she had a pair of AirPods in her ears as she moved through her workout.
She kept the accessories very simple, wearing a pair of crisp white sneakers to finish off the look.
She started the video standing on a weightlifting platform with a barbell in her hands, raising and lowering the weight as the camera captured her curves from all angles.
Article continues below advertisement
Sexy & Sculpted
When Katelyn turned around, fans could see another detail of her top -- a thin strap that extended from below her breasts and stretched around her back, adding a touch of visual interest to the look.
Katelyn cycled through various parts of the gym as she worked on sculpting her physique. At one point, she was on a stationary bike, pedaling away. She also used a cable machine at one point to sculpt her lower body, and even incorporated some free weights, using two smaller dumbbells for a few moves.
Brunette Bombshell
Katelyn's fans loved the share showing off her sporty side, and the post racked up over 10,700 likes within nine hours of going live, as well as 342 comments.
"Fit and beautiful," one fan wrote.
"You look wonderful," another follower chimed in, including a heart-eyes emoji in the compliment.
"Sexy body," a third remarked, accentuating the praise with a trio of flame emoji.
Whether she's in athletic gear or more high-fashion fare, Katelyn loves to showcase her curves. Just a few days ago, as The Inquisitr reported, she posed in a silky print dress that clung to her flawless physique.