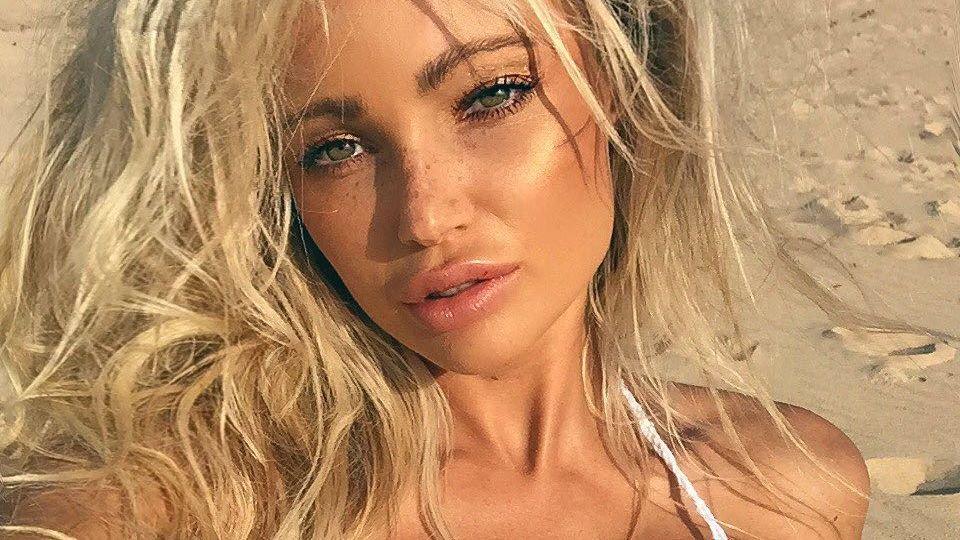 Abby Dowse Rocks Stylish Black Bikini For Sunkissed Pool Dip
Abby Dowse was back in a bikini on Instagram on Thursday and fans didn't seem to mind it one bit. The gorgeous blonde looked effortlessly chic in a black two-piece swimsuit from Fashion Nova. She rocked stylish accessories and a fierce attitude that earned her plenty of points with her online admirers, who tune in by the masses every time the Aussie model shares a new bikini update.
Her latest upload was no exception and scored more than 19,200 likes in the first two hours of posting. Followers also flocked to the comments section to leave Abby over 370 messages wherein they complimented her outfit and flawless style.
Article continues below advertisement
Rocking The Beach-Babe Look
The effusive praise on her fans' part was well-deserved as Abby looked more stunning than ever in the revealing yet stylish swimsuit. The 31-year-old model opted for a string design that accentuated her lean figure. She rocked a strappy neckholder top that crisscrossed over her midriff and décolletage, perfectly showcasing her trim physique.
The small ruched top highlighted Abby's curves, going around her neck and creating an elegant choker pattern that further turned her chest into a focal point. The bathing suit was complete with side-tie bottoms which were secured with coquettish, loopy bows that added femininity to the look.
Accessories On Point
Abby accessorized with trendy sunglasses sporting thick shield frames that matched her swimwear. She topped off the eye-popping look with a black headscarf decorated with chic white polka dots. Her golden tresses were pulled up into a messy updo that allowed her large textured hoop earrings to be seen. A pair of dainty bracelets and shiny rings added extra bling.
The Aussie beauty sported her signature white manicure, which beautifully complemented her all-black ensemble. Her wavy bangs framed her face, adding sophistication to the casual hairstyle.
Article continues below advertisement
Going For A Dip
Abby showed off the fabulous look while going for a dip in the pool. The stunner appeared to be in the backyard of her apartment building. She stood by the edge of the pool and was immersed up to the mid-thigh, displaying her toned figure as she leaned forward and put one hand on the mosaic coping. The gesture allowed her to showcase her classy short nails, as well as the jewelry adorning her supple wrist.
The model let her sunnies slide down the bridge of her nose, allowing her eyes to peek over the frame. She tilted her head and rested her cheek against her cocked shoulder and peering into the camera with a bold gaze. She parted her legs and placed the other arm along the back of her hip, flaunting her chiseled figure.
In her caption, Abby stated how much she loves basking in the sunshine, something she frequently declares in her Instagram posts.
"In love with the sun."
-
Abby regularly shares updates from the pool, dazzling fans with her sharp swimwear. Just last week the model thrilled her audience with a bedazzled pink number from the same brand as she geared up to return to the gym after her breast implant revision surgery.
Fans Rave About Her Gym-Honed Figure
Followers and fellow models seemed very impressed with Abby's fashionable look, judging by the outpour of compliments in the comments section.
"Gorgeous babe," said Laura Amy, further expressing her love for the look with a heart-eyes emoji.
"So so gorgeous love this hair band [sic] and the bikini on you," detailed another Instagram user.
Compliments were also given for Abby's gym-honed physique.
"You give me inspiration and motivation. Thank you!!" wrote a third person.
"Thank you for your fantastic pictures," chimed in a fourth fan.
The model loved the black bikini so much that she followed up with a poolside selfie in which she could be seen lounging on a chair. That upload racked up 2,700-plus likes within just six minutes of going live on her feed.