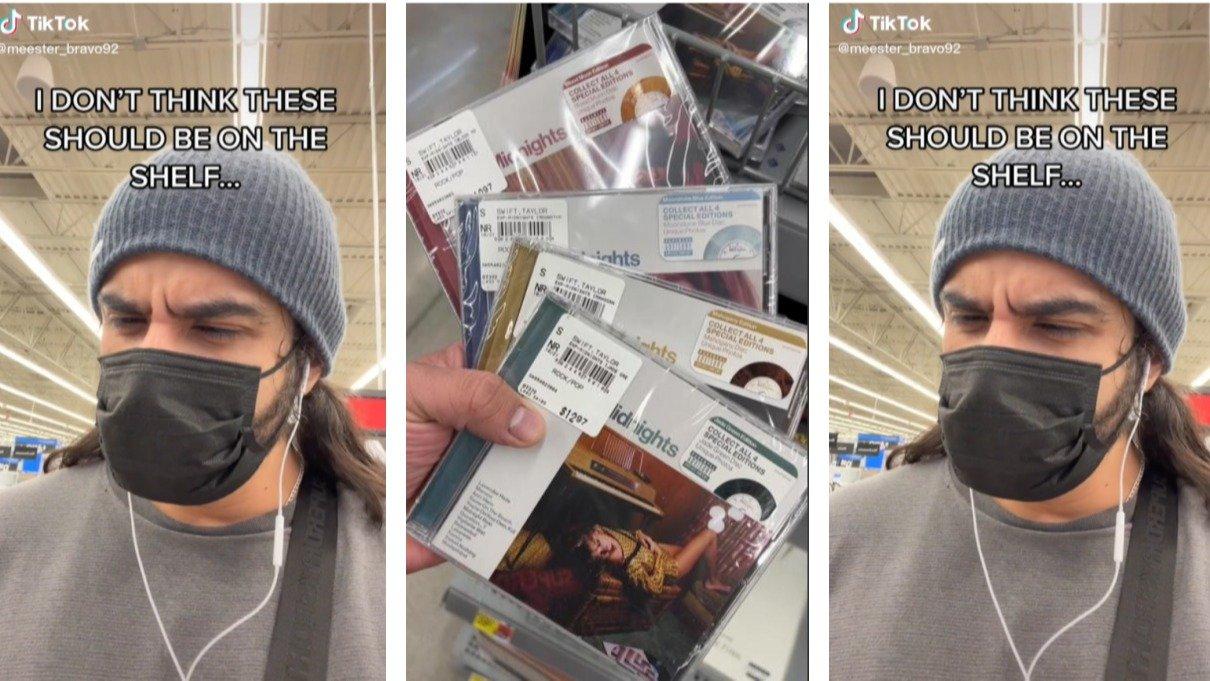 TikTok Swifties Were Going Crazy After Her Upcoming Album Was Spotted In Walmart Before The Official Release Date
Since Taylor Swift announced her 10th studio album, Midnights, at the 2022 VMAs, her fans were so thrilled it was all they talked about on their social media for two months, especially on TikTok. Swift shared their theories about the songs on this platform while Swift shared the mysterious tracklist on her account.
Article continues below advertisement
'Midnights Mayhem' Kept Everyone Up For Nights
Taylor created a dynamic she called Midnights Mayhem With Me, where she told her fans the names of her new songs. Then, she shared the TikToks at midnight to be on theme with her album, which was part of a massive marketing campaign for the album due October 21st.
Fans worldwide have been patiently waiting for this date to finally listen to her music, but at the beginning of the release week, a TikTok about the album went viral. User @meester_bravo92, a Taylor Swift fan, shared his curious sighting at Walmart.
'I Don't Think These Should Be On The Shelf…'
In the video, @meester_bravo92 shows that the album is displayed on the shelves, but, of course, it wasn't October 21st yet. However, the user was excited to see the different covers created for the album and commented on the caption, 'Y'all know I tried to buy one, but they didn't let me.'
He arranged the back covers of the four CDs to show everyone how they made a clock when put together - it was just a clock, not a leak after all. The user called out Walmart for the mistake and added that this isn't the first time the company has done this, but they haven't responded.
Article continues below advertisement
'Honestly, There Is Nothing Wrong With Taking These...'
Though fans were excited about Midnights, most of them asked everyone not to listen to any leaks shared on social media. But others commented on the TikTok video that this wasn't a problem as long as you supported Taylor because Walmart already paid for the CDs.
On the other hand, fans on Twitter were sharing memes about the situation and sharing fake leaks, either songs by other artists or old Taylor Swift songs. Swifties decided to focus their attention on the 'secret project' she would announce during Thursday Night Football on Amazon Prime.
Taylor Actually Had Her Album Leaked Before Though
A leaked album is one of the biggest nightmares of a singer; this isn't the first album of Taylor's that was published before the official release date. In 2016, before she released her 5th album, 1989, it was leaked on social media. She later shared that she was deeply sad about it, but her fans did everything to stop it from spreading.
Similarly, earlier this year, Beyoncé's awaited Renaissance was leaked two days before it was officially released. According to Variety, people shared pictures of their CDs even though the album wasn't officially out yet.