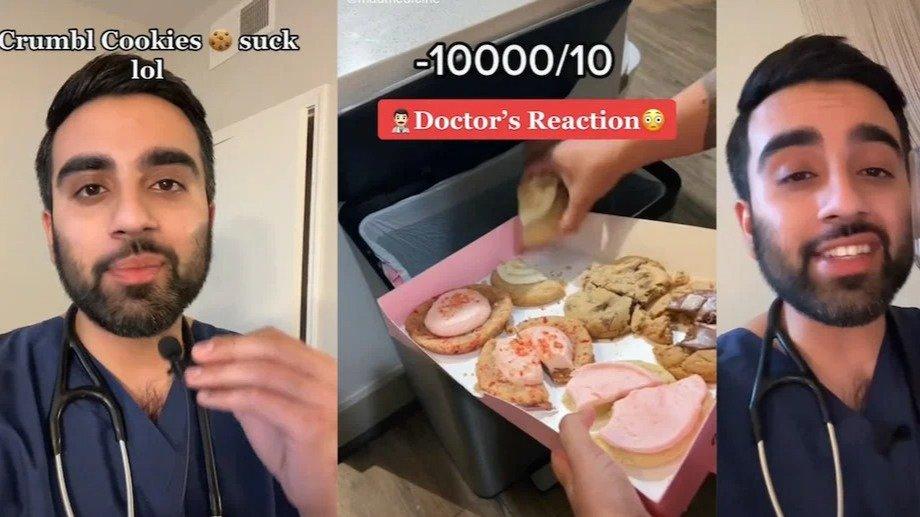 Doctor Sparks Outrage After Slamming How Unhealthy 'Crumbl' Cookies Are
Many adults and children alike have a special liking for cookies. These sweet treats have been around for decades, and with cookie companies creating unique new flavors, many more people have gotten won over by these sweet treats. However, what happens when medical experts speak about the hazards of the intake of some cookies?
Article continues below advertisement
Doctor Slams Crumbl Cookies
Crumbl Cookies have become very popular on TikTok, with many users gushing about their wide variety of flavors. However, one doctor does not share the sentiment. Dr. Farhan (@madmedicine) shared a doctor's reaction video on TikTok, which raised lots of debate regarding the nutritional value of the cookies. In the viral video, Farhan criticized the size, taste of the cookie, and even the nutritional benefits of the cookies.
"Crumbl Cookies are horrible for your health," an overhead text read before the doctor went on to analyze the nutritional value. "Not only does it not taste good, [but] nutrition-wise, it is horrible for you," he said in the video which currently has over 1.5 million views. His major criticism of the cookies was their nutritional value.
Crumbl Cookies' High Sugar Content
Fahran dissected the seemingly misleading serving size and high sugar content. To prove his point, he used Crumbl's Milk Chocolate Chip Cookie as an example. "The serving size for this one cookie is a quarter of the cookie," he explained. "And that comes out to be 560 calories in one cookie!" He then went on to note that the total sugar content for a single cookie is 51 grams of sugar.
Although the sugar content of Crumbl Cookies is quite high, it is very similar to that of other mainstream cookie brands. For instance, the sugar content in one serving of Crumbl's Milk Chocolate Chip Cookie is about one-third, while that of the Insomnia's Chocolate Chunk Cookie is about 35%, and that of the Starbucks' Chocolate Chip Cookie is around 39%.
Article continues below advertisement
TikTokers Take Sides Against Doctor
Many media users weighed in on the situation. Many TikTok users took to the comments to disagree with Fahran as a majority of them were unconvinced. "To be fair, it's a cookie store. What do you expect? A cookie is never healthy, it's a treat," one user said. "I'm not going to crumble to eat healthy," another shared. "We know this! It's a treat, not for daily consumption," noted a commenter. Although the majority disagreed with Fahran, some other users also had issues with the listed serving size. "Thank you!! The serving sizes have always bugged me," one user gushed.
Recommended Daily Sugar Intake
The American Heart Association states that "men should consume no more than 9 teaspoons (36 grams or 150 calories) of added sugar per day," and women should consume only "6 teaspoons (25 grams or 100 calories) per day."
However, "American adults consume an average of 77 grams of sugar per day, more than 3 times the recommended amount for women." That of kids is even higher as "American kids consume 81 grams per day, equaling over 65 pounds of added sugar per year."