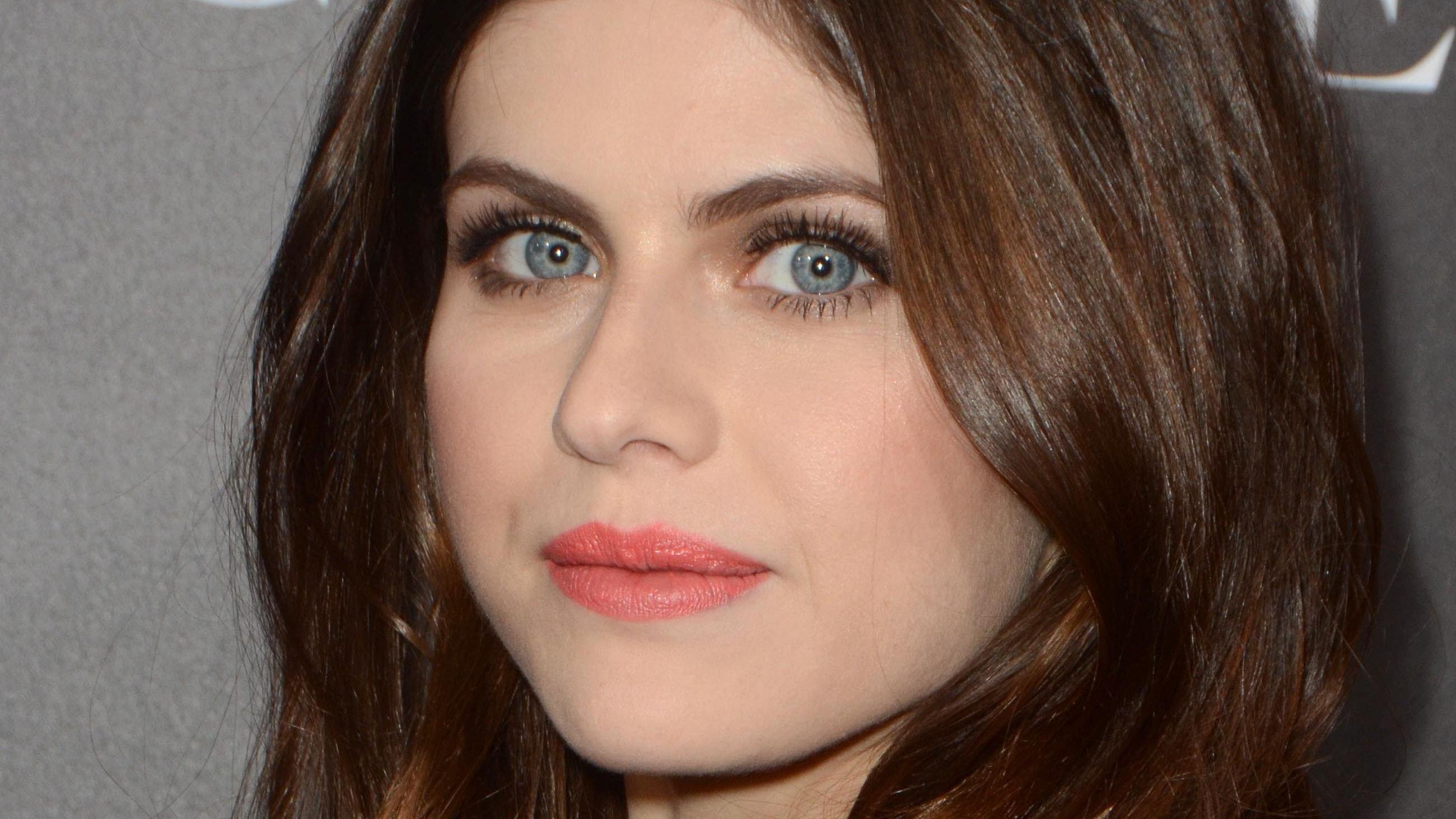 Alexandra Daddario Goes Leggy In Sparkling Dolce & Gabbana
When she's not stretching in Alo Yoga, Baywatch and White Lotus star Alexandra Daddario loves modeling designer wear on Instagram. Repping major luxury brands such as Dior and Versace on her feed, the 35-year-old actress typically showcased classic, covered looks and chic simplicity, but that all changed with a skin-baring Dolce & Gabbana photoshoot that saw her delivering sparkle and sass along with the usual haute couture.
Article continues below advertisement
Glowing In Dolce & Gabbana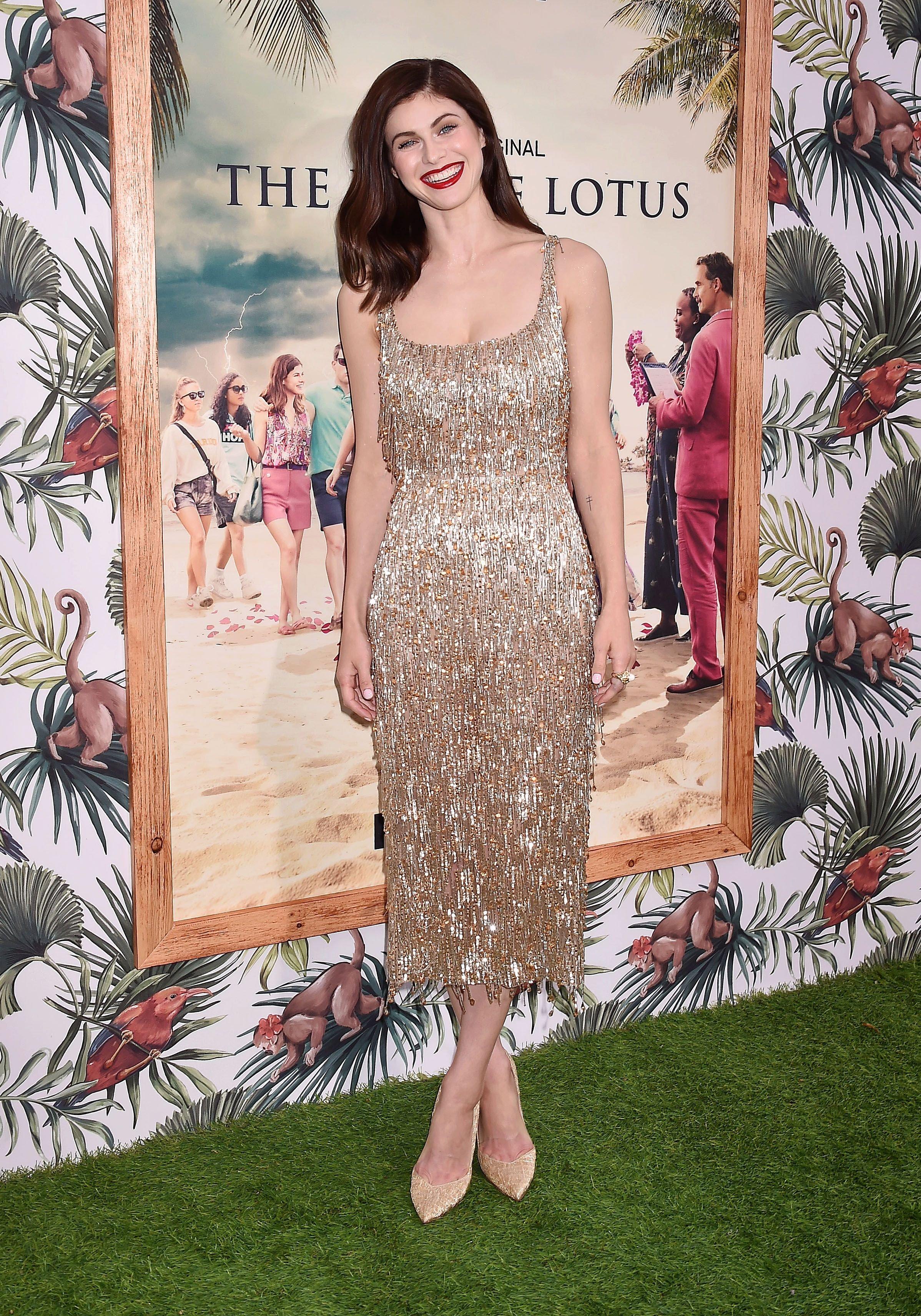 The New York native, who famously shouted out Dolce & Gabbana at The White Lotus Los Angeles premiere in a glowing gold fringe dress, displayed another glittery look from the Italian fashion house, rocking a sequin green jacket with added embellishments along the trim and sleeves. Sporting teal and burgundy bows with a matte finish to balance out the shimmering detailing, it was paired with glossy emerald-green shorts and pink "Flo Flamingo" heels by Sophia Webster.
Styled by Serra Geris, who also did her navy-blue look for The Dior Beauty J'Adore Holiday Party, the ensemble included opulent jewelry from the Halle Berry-approved brand Retrouvaí and from Houvel Heritage, which Daddario flaunted in a three-part balcony photoshoot with celebrity and editorial photographer Storm Santos.
Leggy & Topless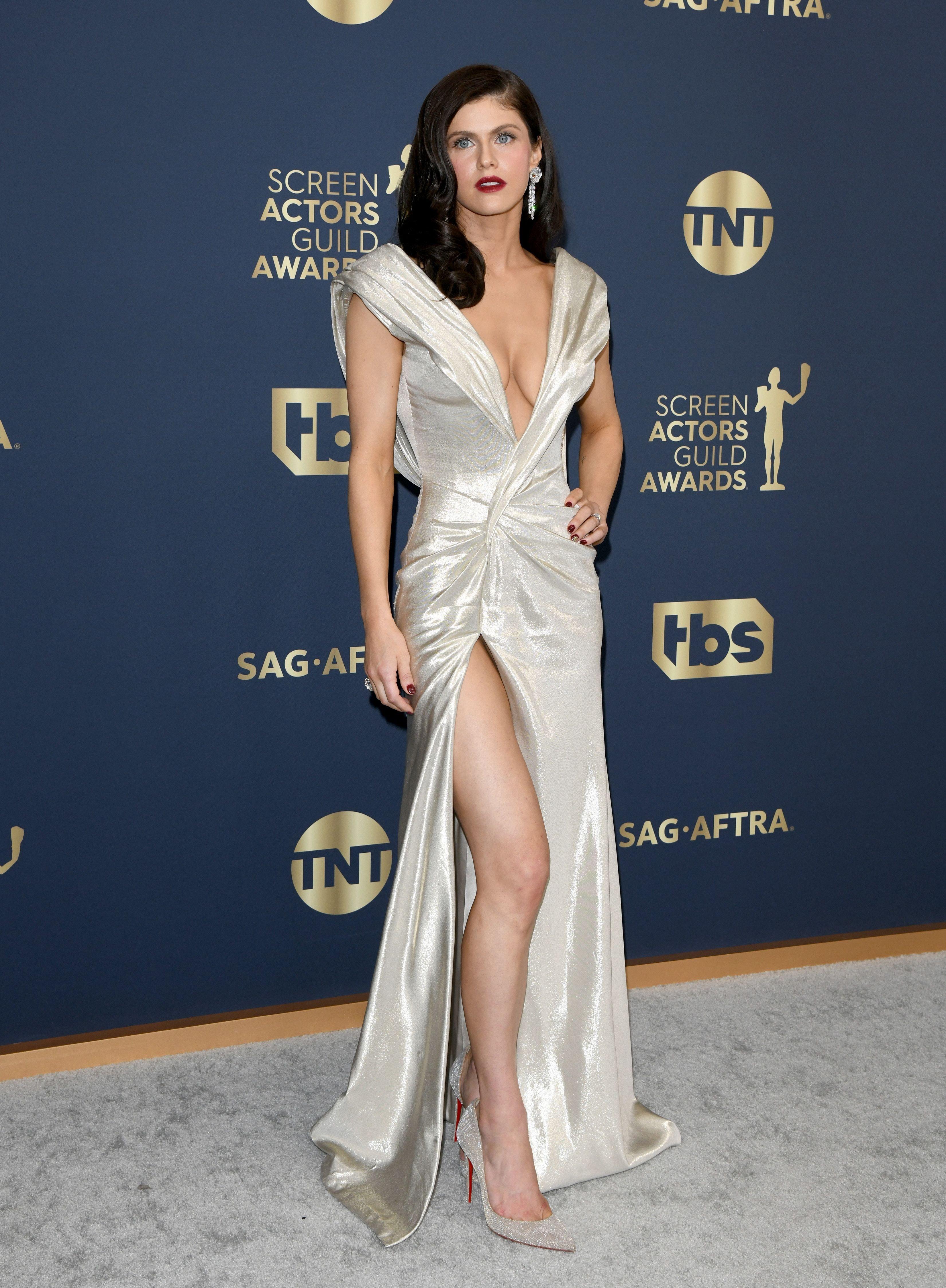 Snapped against a verdant backdrop that complemented her green outfit and makeup, Daddario flaunted her lean legs in a seductive profile pose. Dangling her fuzzy heels in one hand and holding a drink in the other, she peered into the camera with an intense gaze and parted her lips in a sultry expression.
Things got even steamier in the following slides, which captured the San Andreas actress from the front, revealing she was topless underneath the sparkly jacket. One suggestive snap saw her censoring her bare chest with a heart symbol, with the edited-in detail adding color to the black-and-white photo. Her abs were also out in the image, exposed by her clingy briefs that rose just below her navel.
In the third picture, Daddario covered her modesty with a strategically placed hand, shooting a tantalizing look at the lens as she held up her crystal glass with an elegant gesture. The entire shoot oozed sex-appeal and sophistication, going viral with over 2.2 million likes.
Article continues below advertisement
More Dolce & Gabbana Looks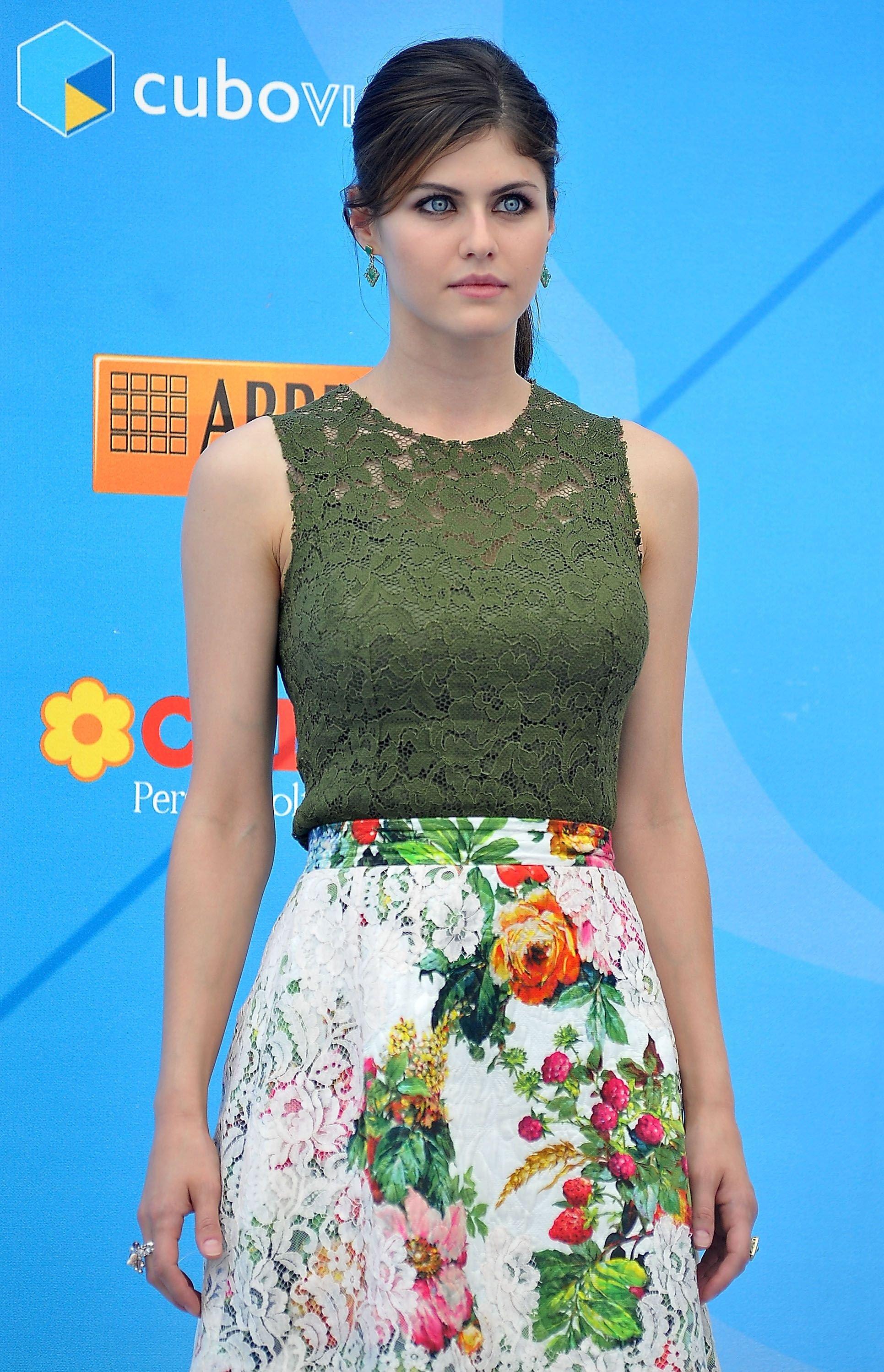 Daddario, who was rocking Dolce & Gabbana as early as 2013, going floral in a white miniskirt and green lace top at the Giffoni Film Festival that year, previously collaborated with Geris and Santos for two other shoots featuring eye-popping D&G.
Going sheer in black mesh adorned with glimmering crystals, the Percy Jackson star posed in a marble bathtub, keeping it classy with a solid black underlay beneath the see-through dress.
The actress switched things up with a princess look for a kitchen photoshoot with yellow dishwashing gloves. Looking flawless in a strapless cream corset dress with an ample tulle skirt, she was photographed by the window in a pensive pose holding up a kitchen sponge and snuggling a dog.
Her Premiere Gown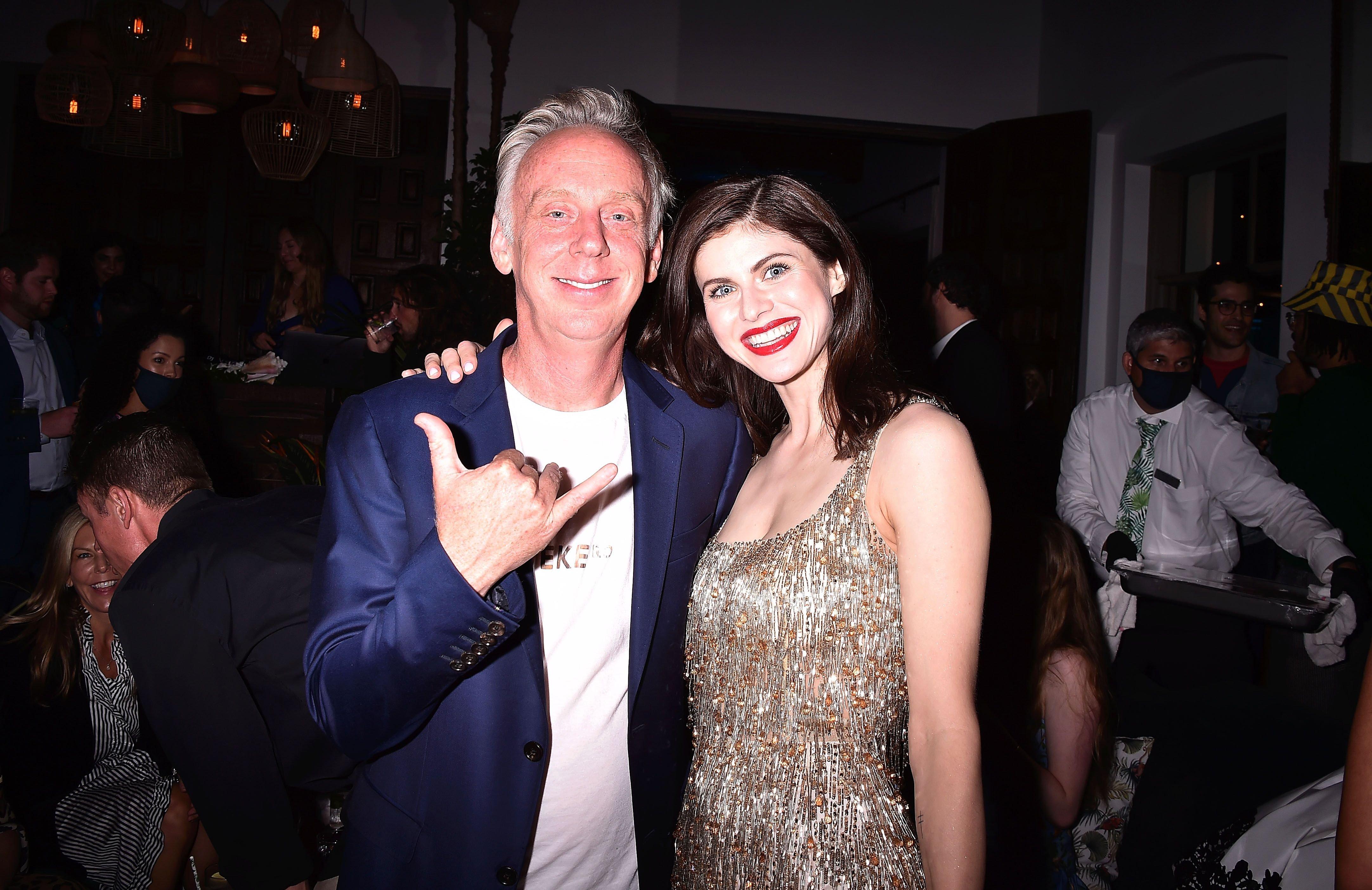 Her White Lotus L.A. premiere look also got plenty of exposure on her feed, with Daddario showcasing the 1920s-inspired D&G midi dress in three separate posts.
Kicking off the frenzy with a snap of herself lying on the floor in the glitzy number, she hiked up her skirt and flaunted her shiny gold heels, quipping in the caption: "10:30 is very late for me."
Daddario followed up with a two-part share with The White Lotus creator Mike White and the cast, including Euphoria's Sydney Sweeney, Jennifer Coolidge, Connie Britton, Molly Shannon, Brittany O'Grady, and Jolene Purdy.
Her final upload featured her now-fiancé, with Daddario getting flirty in the caption: "The only things I want touching my body are @dolcegabbana and Andrew Form."