Here Are Donald Trump's Top 10 Most Inflammatory Quotes Donald Trump has been accused of using and promoting racist slurs during his administration. Not only during his presidential campaigns, the billionaire businessman has been making controversial remarks about women, minorities, and American culture at large for years. Trump claimed in his 2004 book How to Get Rich that the female candidates on The Apprentice were more interested in dating him than running a successful company. Like many other comments, he tried to defend his stance on women back in 2015 by claiming that, "I cherish women. I want to help women," as reported by the NY Post. The man who is now leading in national Republican polls is cast in a different light when one considers his policy ideas from both his campaign and the previous decades, and here are 10 of his obnoxious statements to date.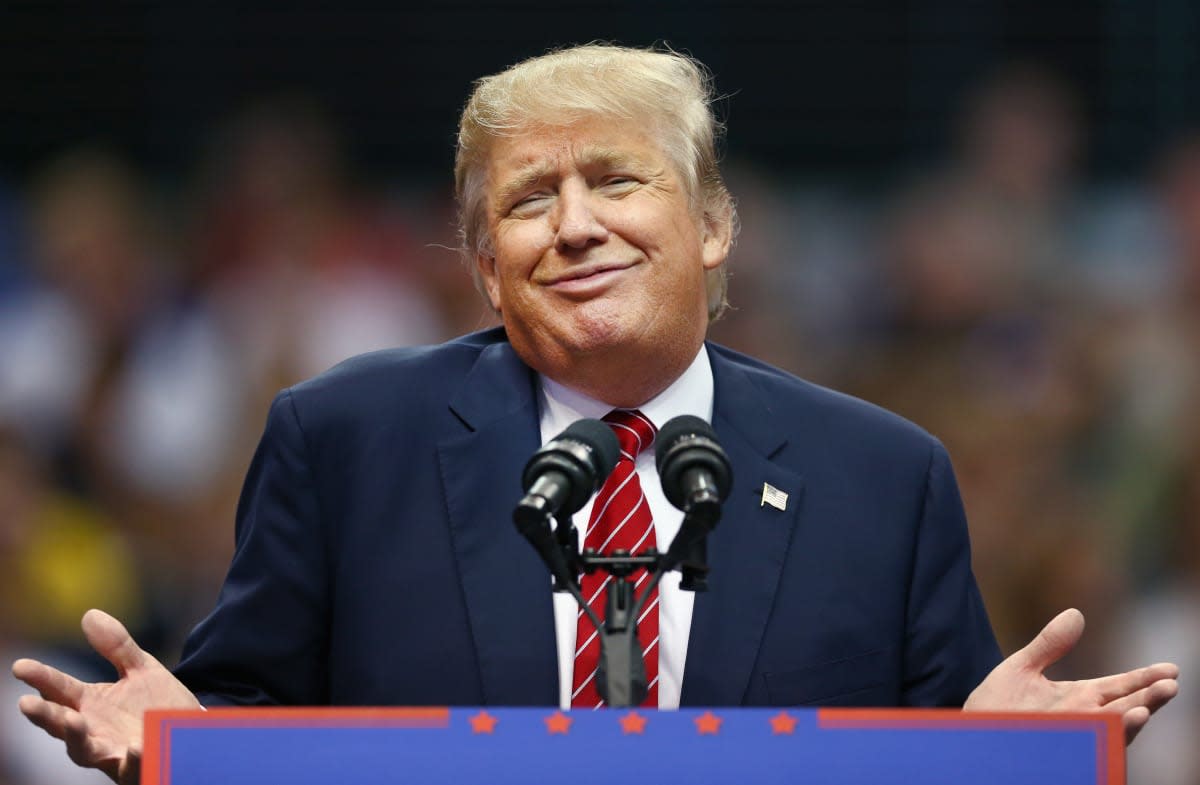 Also Read: Trump's Lawyers Attempt to Delay The $250M Trial, Judge Engoron Strikes it Down: 'Nice Try'
1. Once he directly targetted the Muslims entering the US
In the wake of the killings in San Bernardino, California, carried out by a self-radicalized married couple, President Obama delivered a statement from the Oval Office in 2015. His wife was a Pakistani national who entered the country legitimately on a fiancée visa. Trump read the message to enthusiastic supporters at a rally in Mount Pleasant, South Carolina. He said once again that Muslims everywhere agree that it's okay to use violence against Americans and that they believe American Muslims should be given the right to live under Sharia rule. As reported by ABC News, Donald Trump demanded an extreme measure, calling for: "A total and complete shutdown of Muslims entering the United States until our country's representatives can figure out what is going on."
2. Trump once claimed judge's prejudice was because "he's a Mexican"
CNN's Jake Tapper questioned the presumed Republican presidential candidate at the time on why Judge Gonzalo Curiel's ethnicity should prevent him from hearing the case during a recent interview. Trump referred to his proposed border wall between the United States and Mexico. As reported by The Hill, he said, "I think I'm going to do very well with Hispanics, but we're building a wall. He's a Mexican. We're building a wall between here and Mexico. The answer is that he is giving us very unfair rulings—rules that people can't even believe. This case should have ended years ago."
Also Read: MSNBC's Jen Psaki Pokes Holes at the Notion That Nikki Haley is a 'Moderate' Presidential Candidate
3. Trump boasted that the GOP will retake "that beautiful, beautiful house that happens to be white"
Also Read: Jill Biden Was "Shocked" to See Republicans Supporting Donald Trump Despite Indictments
In his "Save America Rally" speech in Conroe, Texas, former President Donald Trump explicitly alluded to a re-election run for the presidency. He said during his speech at the time, "And in 2024, we are going to take back that beautiful, beautiful house that happens to be white, that is so magnificent, and that we all love. We are going to take back the White House." The president has a lengthy and, at times, contradictory record. He has been accused of racial discrimination in the workplace on the federal level, yet he has used his Mar-a-Lago resort to overturn Palm Beach, Florida's whites-only membership restrictions.
4. Trump used stereotypical phrase while addressing the Republican Jewish Coalition
During his speech to the Republican Jewish Coalition, the Manhattan real estate billionaire perpetuated numerous negative preconceptions about Jews by saying things like, "I'm a negotiator, just like you folks." As per Politico reports he said during his speech, "Is there anyone in this room who doesn't negotiate deals? Probably more than any room I've ever spoken. You're not going to support me, even though I'll be the best guy for Israel. I believe I could bring the two sides together. It would take six months."
5. Trump said he didn't want black people near his money
Former president of the Trump Plaza Hotel & Casino and author of the 1991 book "Trumped!," John R. O'Donnell, reported Trump saying, "Laziness is a trait in blacks," and adding, "Black guys counting my money! I hate it. The only kind of people I want counting my money are little short guys that wear yarmulkes every day." Later in an interview, as reported by the HuffPost, Trump said, "Nobody has had worse things written about them than me. And here I am. The stuff O'Donnell wrote about me is probably true. The guy's a fucking loser. A fucking loser."
6. Trump called the people coming from Mexico "Rapists"
As reported by CNN, Trump said during his presidential campaign in Manhattan, "When Mexico sends its people, they're not sending their best. They're not sending you. They're not sending you. They're sending people that have lots of problems, and they're bringing those problems with us. They're bringing drugs. They're bringing crime. They're rapists. And some, I assume, are good people. But I speak to border guards and they tell us what we're getting. And it only makes common sense. It only makes common sense. They're sending us not the right people. It's coming from more than Mexico. It's coming from all over South and Latin America, and it's coming probably— probably— from the Middle East. But we don't know. Because we have no protection and we have no competence, we don't know what's happening. And it's got to stop and it's got to stop fast."
7. He approved of a protester's violence because black lives matter
An African-American demonstrator was physically beaten by Trump fans in Alabama when he began yelling, "Black lives matter." The attackers were seen on video kicking the victim after he had already been knocked to the ground. As reported by HuffPost, Trump said, " Maybe [the protester] should have been roughed up. It was absolutely disgusting what he was doing. The man you say was, I don't know, roughed up—he was so obnoxious and so loud, he was screaming. I had 10,000 people in the room yesterday, and this guy started screaming by himself. This was not handled the way Bernie Sanders handled his problem, I will tell you."
8. Quotes that Trump used to describe women
Trump has a history of treating women poorly, sexualizing them, and stereotyping them. He has also gone out of his way to criticize Sarah Jessica Parker, Rosie O'Donnell, Cher, Bette Midler, and other famous women on an individual basis. Trump penned the following in his 2006 book, Trump 101: The Way to Success: "Beauty and elegance, whether in a woman, a building, or a work of art, is not just superficial or something pretty to see." As reported in The Daily Beast, he said of Rosie O'Donnell, "You take a look at her, she's a slob. She talks like a, like a truck driver."
9. Trump compared the evolution of gay partnerships to the evolution of golf club preferences
As reported by The New York Times, Trump stated, "A lot of people—I don't want this to sound trivial—but a lot of people are switching to these really long putters, very unattractive. It's weird. You see these great players with these really long putters because they can't sink three-footers anymore. And, I hate it. I am a traditionalist. I have so many fabulous friends who happen to be gay, but I am a traditionalist." He claimed if he decides to run, he plans to present himself as a "conservative with a big heart."
10. To disprove racial bias, he uses his African-American fans as props
Trump, while speaking at an event in Redding, California, dubbed the protestors who disrupted his campaign rally in San Jose the night before "thugs." As reported by HuffPost, he said during the campaign, "We had a case where we had an African-American guy who was a fan of mine. Great fan. Great guy. In fact, I want to find out what's going on with him. Look at my African-American over here. Look at him. Are you the greatest? You know what I'm talking about? OK. Everyone thought the African-American was against me. Everyone thought the African-American were against me, and it was the opposite it."
More from Inquisitr
Chris Christie Predicts Whom Donald Trump Will Vote for in 2024 —And It Isn't Himself
'Trump Alternative' Nikki Haley Raises Over $500K at Fundraiser With Veteran Wall Street Executives