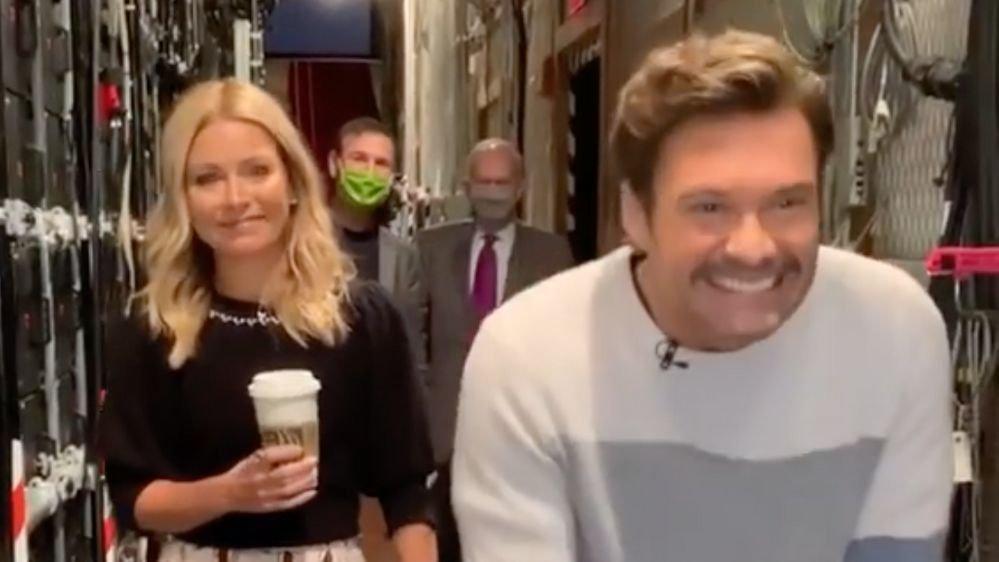 Kelly Ripa's Bikini Kiss Catches Ryan Seacrest's Eye
Kelly Ripa kissing her 1996-married husband Mark Consuelos while stripped down to a tiny bikini has caught the eye of co-host Ryan Seacrest, and it looks like the 45-year-old approves of the blonde's PDA. Kelly, fresh from celebrating Mark's 50th birthday at the end of March, made quite the hoopla as she geared up to Riverdale star Mark hitting the big FIVE-OH, with Hollywood's favorite couple going PDA as Kelly updated for her 2.9 million Instagram followers. See what Ryan was thumbing-up below.
Article continues below advertisement
Going Strong Since 1996
Scroll for the photo. It comes as Live! With Kelly and Ryan makes its own headlines via Kelly's recent time off, with the pint-sized blonde now back on the morning show she's hosted since 2001.
Shortly before dad of three Mark turned 50, Kelly took to Instagram in major throwback mode. Posting a locking lips snap dating back to 2011, the mom of three confirmed that couples who flirt together stay together, with the photo showing Kelly in an orange-piped and blue-pattern swimsuit as she passionately kissed "daddy" Mark.
See The Kiss Below!
While Kelly wore shades, Mark was shirtless with his massive muscles on show. Kelly took to her caption, writing: "#fbf 2011 a light PDA moment in celebration of #MC40. Countdown to #MC50 which will be a virtual celebration this year."
Quick to reply was Mark himself. He swooped into the comments section to tell Kelly: "You are the best. I love you and hope to kiss you very soon!!!"
Of course, an Instagram update from Kelly isn't going to get past the man she hosts with five days a week.
Article continues below advertisement
Ryan Seacrest All For It
Keep scrolling for the photo. Quick to leave a like was American Idol host Ryan. His like came alongside over 85,000 others, plus a ton of comments, with some fans throwing out mentions of All My Children - Kelly and Mark met on the set of the sitcom, eloping in 1996, and the rest is history.
"Does anyone else still think to themselves...... "Haley and Matteo forever!" ? 😍" a fan wrote. See how Mark replied with his photo!
Mark Right On It
Within hours, Mark had posted his own PDA moment, and it was very similar to Kelly's. He shared a likewise kissing beach snap, confirming it was from a different beach and writing: "I'll match your #fbf @kellyripa with same kiss different beach March 1996 ♥️♥️♥️Jamaica episode #allmychildren Haley & Mateo forever."
Kelly and Mark are parents to three children: Michael, Joaquin, and Lola. Lola, last year saying she was "disgusted" by Kelly's thirst trap photos of dad Mark, has since "approved" the kitchen Easter egg photo Kelly posted this year.