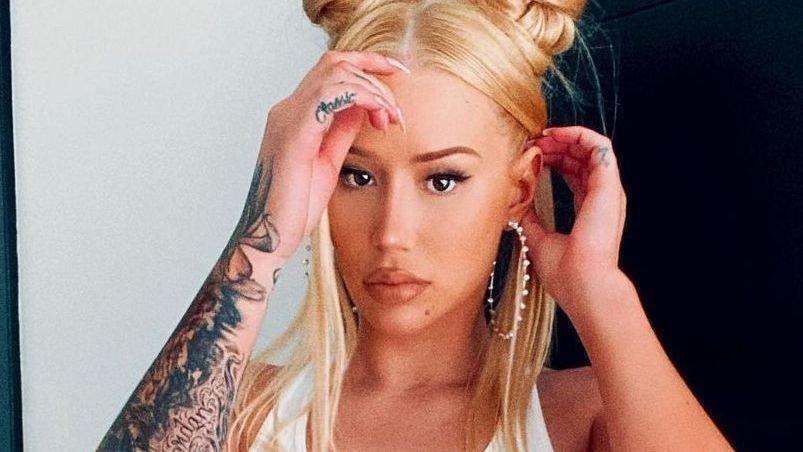 Iggy Azalea Unzipped For Late-Night Studio Session
Iggy Azalea is staying unzipped for late-night studio action and she's broadcasting it all over Instagram. The 30-year-old rapper and new mom is already making music headlines this month with just-announced "Sip It" single featuring Tyga, with last night bringing the "Fancy" hit-maker teasing that even more beats may be on the way. Posting for her 14.1 million followers and showing off both her glam jewelry and her good looks, the Aussie kept it cryptic and a little unzipped. Check it out below.
Article continues below advertisement
Late-Night Action
Scroll for the video. It comes as Iggy preps for a big return to music since the 2020 release of "Dance Like Nobody's Watching," a track featuring artist Tinashe.
The videos kicked off with a little influencing as Iggy shouted out Magal Jewelry, with the Grammy nominee wearing a light gray sweatshirt as she showcased a mean cat-wing eyeliner and gorgeous mini hoop and diamond earrings. Then it all turned a lot more hip-hop as Azalea mouthed to rap, seemingly then preparing to create her own.
See The Unzipped Action!
All good looks and with her blonde hair down, Iggy reappeared in selfie mode and from a swivel chair inside a studio. The mom to April-born Onyx sent out a mean and slightly knowing gaze, opting out of text or even sharing her location. The post follows headline-making bikini and convenience store action as Iggy hung out with a gal pal, although the biggest talking point right now is the gas station video promoting April 4-dropping track "Sip It."
See her insane post-baby bikini body below!
Article continues below advertisement
Scroll For Her Bikini 'Baby Waist'!
Iggy has been busy talking about "bouncing back" following the birth of her son last spring. Joking on Twitter last night, Iggy wrote: "Had a baby, bounced back like I'm 23" - Azalea never announced her pregnancy, then making late 2020 headlines for splitting from baby daddy and rapper Playboi Carti.
Iggy is said to be managing as a single mom, even reported to be fully unfussed by her baby daddy drama, with a source last year telling Hollywood Life just how.
Raising Baby Single
"Iggy's doing really great and she's so strong. She's living at a level of euphoria with Onyx and you can clearly see how bonded they are and how much she loves being a mom," the source stated."
Also calling Iggy an "extremely hands-on mother," they added: "She's not at all letting her past heartbreak and the fact that she is raising a baby alone bother her at all. She's over it and doing her own thing." Iggy has alleged that Carti ditched his own son over the holidays.