Here are Donald Trump's 7 Most Cringe-Worthy Moments on Television Here's Donald Trump's most cringeworthy moments on TV
Also Read: Trump 'Fake Electors' in Wisconsin Say They Were 'Tricked and Misled' in to 'Alternate Elector Scheme'
With a string of memorable and downright embarrassing television appearances, former president Donald Trump has made a lasting impression. Whether it's from his days on reality TV or his stint in the political limelight, Trump's odd behavior and contentious remarks have frequently grabbed center stage. Here is a list of the seven most embarrassing TV appearances of Donald Trump, when his outrageous demeanor clashed with the small screen, leaving viewers perplexed.
1. Trump's cringe 'Farmer Trump' performance at the Emmys
Nobody will ever forget Donald Trump's strange 2005 Emmy performance. Trump approached the stage with fellow NBC actress Megan Mullally, armed with a pitchfork, clad in a white t-shirt, denim overalls, and a torn straw hat. The two sang a duet that was the theme song from the 1960s sitcom Green Acres. After settling into the White House, Trump unintentionally brought the joke back in 2018 by tweeting the video along with the contentious Farm Bill he was going to sign. Mullally wrote, "If you guys need me, I'll be in a hole in the ground," clearly reflecting on the situation with remorse.
Also Read: 4 Moments From The 4th GOP Presidential Debate That Can Potentially Make Donald Trump Very Angry
2. Trump's horrific comment on dating daughter Ivanka Trump
Also Read: Christie Calls Out Other GOP Candidates for Being 'Afraid to Offend Donald Trump'
During a 2006 visit to The View, while promoting The Apprentice, Donald Trump was accompanied by his daughter Ivanka. When asked what his reaction would be if Ivanka posed for Playboy, he responded with something so horrifying that people are still cringing to this day. "It would be disappointing — not really — but it would depend on what's inside the magazine," Trump said, per TODAY, adding, "I don't think Ivanka would do that, although she does have a very nice figure. I've said if Ivanka weren't my daughter, perhaps I'd be dating her."
3. Trump's cringe SNL Hotline Bling parody
The pre-recorded skit in which Trump jerkily dad-dances to imitate Drake's motions from his Hotline Bling music video stands out as the most memorable sketch from Saturday Night Live, given how cringey his dance is. Naturally, Trump's sentiments toward SNL cooled off a bit once he was elected president and had to endure weekly mockery from the comedians. "I once hosted Saturday Night Live, and the ratings were HUUUGE!" Trump ranted in a 2022 post on his Truth Social account. "Now, however, the ratings are lower than ever before, and the show will probably be put to 'rest.' It is just not, at these levels, sustainable — A bad show that's not funny or smart ... It was once good, never great, but now, like the Late Night Losers who have lost their audience but have no idea why, it is over for 'SNL' — A great thing for America!"
4. Trump once mocked a reporter with disability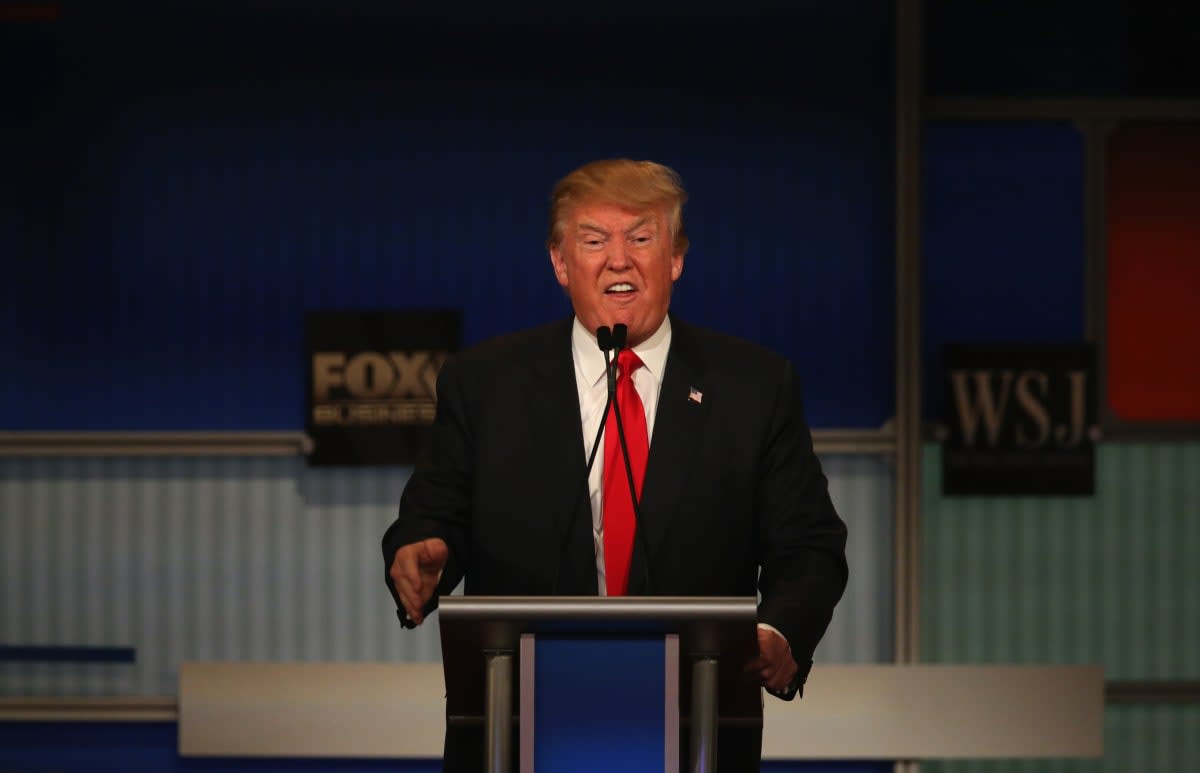 In November 2015, during a rally in South Carolina, Trump made fun of disabled reporter Serge Kovaleski, who raised doubts about the veracity of Trump's unsubstantiated claim that he saw "thousands" of Muslims in New Jersey celebrating the 9/11 terror attacks, per NBC News. Kovaleski suffers from arthrogryposis, a disorder that causes muscles and joints to stiffen. Trump, on the campaign trail, said, "Now, the poor guy—you ought to see the guy, 'Uh, I don't know what I said. I don't remember'," as he wriggled his arms and made strange facial expressions, apparently emulating his disability.
5. That Time Trump kissed the American flag
Following his speech on stage at the 2020 Conservative Political Action Conference (CPAC), Trump did something that is etched on the minds of social media. Trump approached an American flag in the area, gave it a bear hug, and planted a large, wet kiss on the Old Glory, inviting funny reactions from everyone. "I love you, baby," he even muttered while kissing the flag! "This flag is easily the oldest thing Trump has ever sexually assaulted," tweeted comedian Noel Casler.
6. Trump's Cringe White House Summit with Kanye West
There have been a lot of presidential summits, but none of them quite topped Donald Trump and Kanye West's hilarious 2018 visit to the Oval Office. It was about as strange as one might have imagined. West said that the Oval Office had "good energy," going off on many tangents and ranting for several unbroken moments. With his nods and "That was something" after every odd thing that Kanye West said, Trump seemed to agree with him straight back. Subsequently, West went so far as to say that he could declare for presidential election should Trump leave office. "I love this guy right here," West said as he hugged the president and ended the conference before heading out for lunch in a dining room next to the office.
7. Trump's creepy comment on an Apprentice contestant
Trump made a grotesque remark on NBC's The Celebrity Apprentice in 2013, raising eyebrows everywhere. Rocker Brett Michaels said to Trump in a boardroom meeting that former Baywatch actress Brande Roderick knelt and pleaded not to be fired. "Excuse me, you dropped to your knees?" Trump stepped in and spoke to Roderick, who acknowledged that she had. Trump replied lewdly, "Must be a pretty picture, you dropped to your knees," which caused Roderick to lower her eyes from Trump's stare and grin feebly.
More from Inquisitr
Ex-Aide Cassidy Hutchinson Says Trump's 'Volcanic Temper' Means He Shouldn't Be 'Near Nuclear Codes'
Liz Cheney Accuses Fox News Anchor Sean Hannity of Shielding Donald Trump Since January 6 Attack