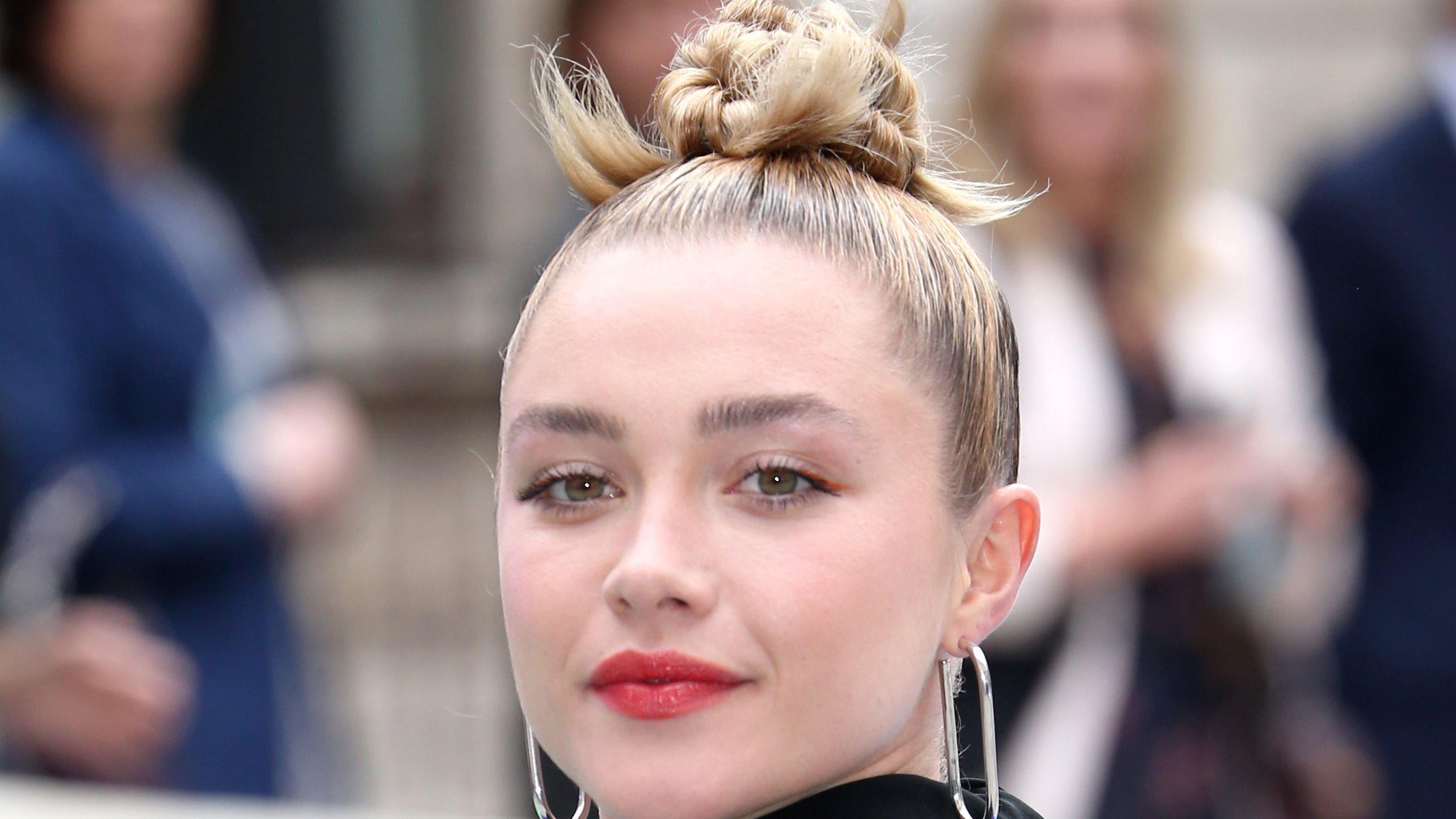 Florence Pugh Is Stunning In A Trench Coat
Florence Pugh's captivating beauty is undeniable, and her fashion sense has a stronger effect. From pulling up in that shimmery playsuit at the Venice Film Festival to donning several notable looks at other events, the star is slowly becoming a force in the fashion scene, and we're here for all of it.
Pugh is back again on the pages of Netflix Queue November 2022 issue in nothing but a trench coat and her perfectly sculpted face.
Keep reading for the details.
Article continues below advertisement
Brown Leather For Queue
Pugh is the latest digital cover star for Netflix Queue and served up all of the looks, but we can't ignore this fascinating trench coat look. The Wonder actress donned a brown trench coat with wide flaps at the chest in an off-the-shoulder style, revealing her broad shoulders and glowing skin.
In true minimalist fashion, Pugh paired the look with diamond teardrop earrings, a nose ring, and a round diamond necklace with a diamond ring on her finely manicured fingers. The Little Women actress looked like a painting as she posed for a portrait with her short hair styled in a sleeked-back look and side part.
She kept her makeup simple with bronze tones and lips and donned a pretty black dress with puffy sleeves and an A-shaped skirt in the next slide. Still rocking the same hairstyle and makeup from the trench coat look, Pugh added a little twist to this black ensemble by cinching the waist with a big belt and rocking a gold necklace with a big cross-shaped pendant.
Pugh Slays At The Governor's Awards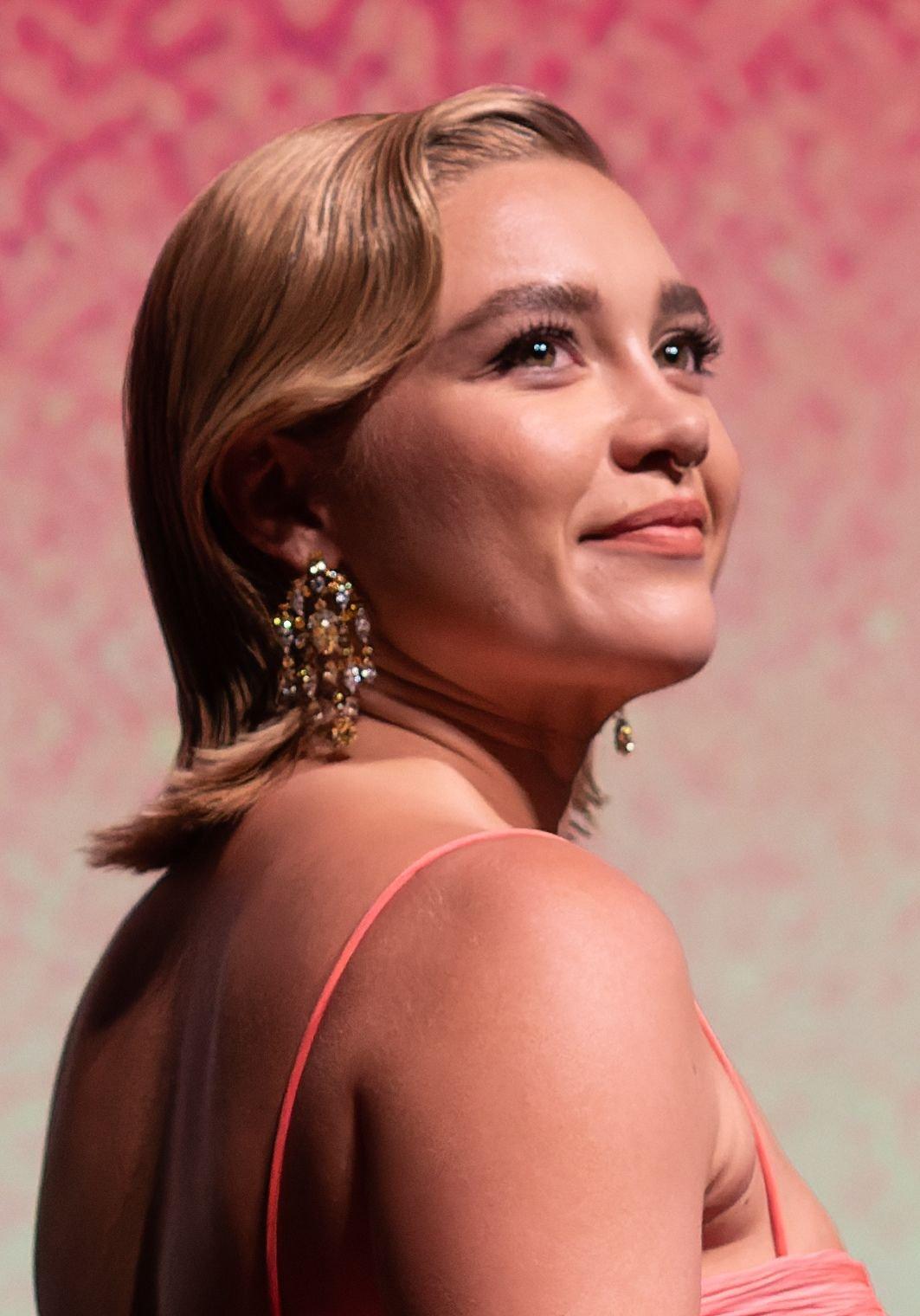 The diva showed up at the Governors Awards in a white sheer and paneled Victoria Beckham number from her 2023 collection and blew us away. The sleeveless dress had a sheer train with white layering, gold accents, and gold polka dots, adding extra sparkle to the dress.
She paired the look with a nose ring, stud earrings, a gold collar necklace, short hair by Peter Lux, and makeup by Alex Babsky.
Article continues below advertisement
Killing It At 'The Wonder' Screening
The star was spotted on her way to the screening of her new movie The Wonder in a mismatched outfit. The two-piece ensemble consisted of a half-black and half-white cropped blazer long sleeves top paired with a high waist mini skirt with the same mismatched design.
She rocked a Gucci padlocked tote bag and slipped into knee-high boots with the same mismatched shade as her outfit.
'The Wonder'
The Wonder is adapted from Emma Donoghue's ninth novel, and Pugh plays the role of Lib Wright, a skeptical English nurse trained under Florence Nightingale. She's called to the Irish midlands to attend to a local girl who can survive without eating and must determine whether her situation is a miracle or simply medical.
The Wonder was released on Netflix on the 16th of November 2022 and has received positive reviews from critics and viewers.