Take A Look Inside Travis Barker and Kourtney Kardashian's Luxurious Calabasas Abode Editor's note: This article was originally published on May 23, 2023. It has since been updated.
In an interview with Architectural Digest, Travis Barker and Kourtney Kardashian gave a tour of their luxurious home in Calabasas, California, leaving viewers in utter awe of their beautiful abode.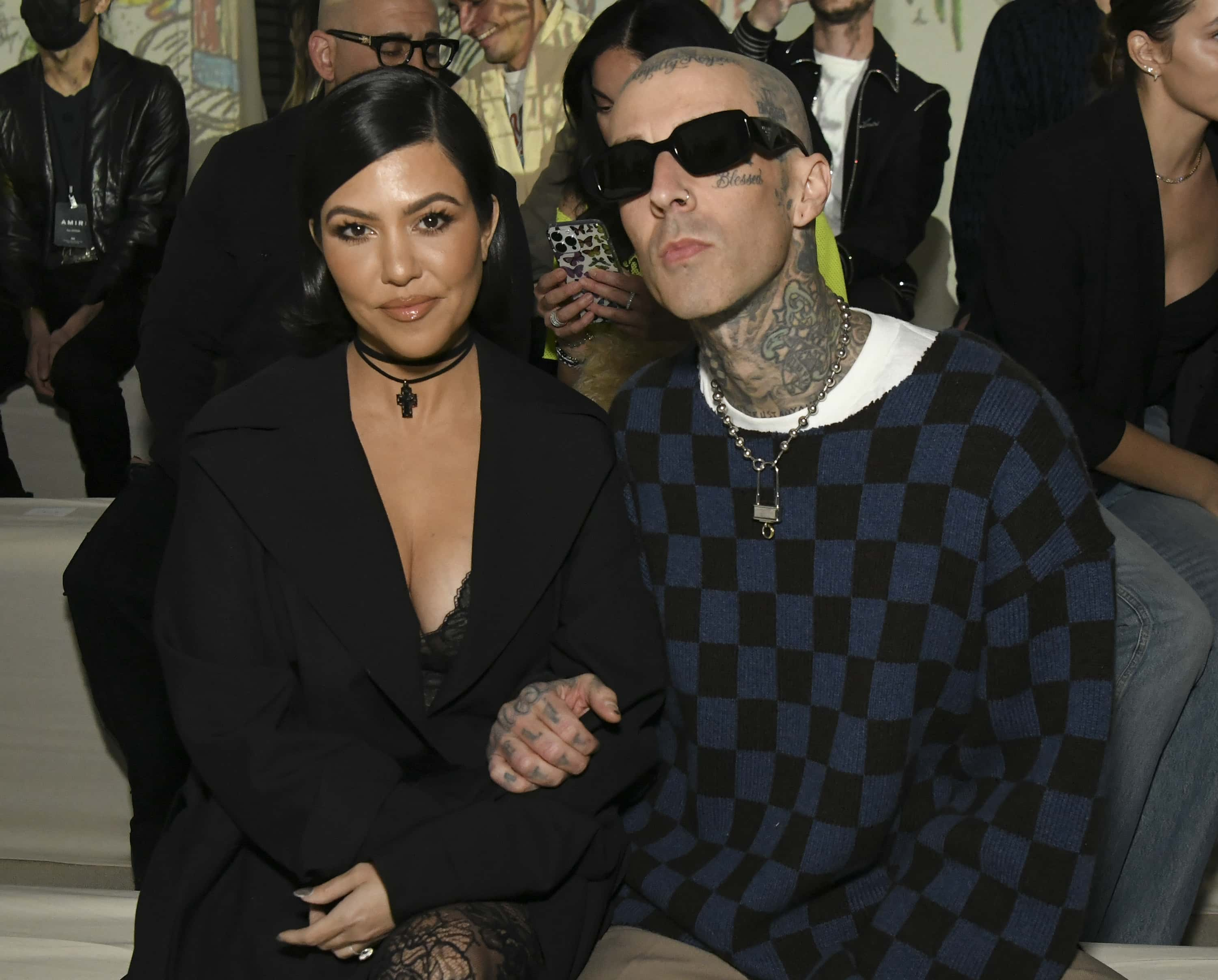 Also Read: Rob Kardashian Took Out $5M Mortgage on Kris Jenner's Old House Where He Lives With Daughter Dream
The main hub of the home where Travis reportedly loves to hang out and rest his head after long days in the studio or on extensive tours is his spacious and vibrant living room. The room is well decorated with modern furniture in tones of grey and light brown and has a very "zen-like" vibe to it. It's also lined with artwork from his favorite artists including but not exclusive to Raymond Pettibon and other punk-rock graphics. It's also got a cozy fireplace above which a painting of Barker's top 5 albums that changed his life is displayed and was a gift from his wife, Kourtney. The shelves are lined with a variety of antique vases and books that the pair likes to read often.
Next was a brief tour of their formal dining hall where the couple usually sits down for a good meal together as a family and with guests that Barker likes entertaining whenever he's in town. They usually eat vegan food. Following the dining room was their aesthetically pleasing black-and-white industrial kitchen where one saw his wife, Kourtney, sipping on matcha made by Barker. The two shared a loving moment and the tour proceeded with the rest of the kitchen, which has a matcha station. Barker claims that he makes the absolute best matcha in all of L.A. The space is also endowed with a black wooden post and amazing lighting along with a stunning view.
Also Read: Reflecting on the 'Tons of Mistakes' He Has Made, Will Smith Says He is 'Deeply Human'
The astonishment doesn't stop with the kitchen. There's no lack in this house for entertainment as the kitchen is attached to a game room that also has a fireplace, subtle, caramel-hued furniture, and a long couch that Barker lounges on, his favorite spot to compose songs. The game room has a unique blend of modernity and vintage as it housed a white ping-pong table and a pair of Dior bikes.
Also Read: Trump's Obsession With Gag Orders Stems From a Need To 'Blame' Someone If He Loses the Case, Says Legal Expert
The mansion has its own 'home studio' built by Barker himself and has the most exquisite musical tools installed. From guitars to drums to an impeccable sound system, he has it all under one roof. For some quality time, the drummer and his blended family spend their quiet and not-so-quiet evenings in their mini-theater, lined with a top-notch sound and video system for both music and movie nights.
Their bedroom mostly has paraphernalia and Barker's memoirs with Kourtney and has an organic bed that's loaded with smart technology; the height of the bed can be adjusted and it vibrates. A true haven of a room!
Lastly, where the party gets started – his enormous backyard equipped with a pool that Barker hasn't renovated since he moved in, opens into an outdoor dining hall equipped fully with a barbeque grill and a fireplace. The pool holds a special meaning as all his children learned how to first swim in that pool. He has reportedly crashed BMX bikes, ridden a skateboard into it and much more.
The tour ended with his rustic collection of a variety of black cars in the garage, which also housed a vintage car that Barker drives on special occasions.
More from Inquisitr
Kris Jenner's Fans Think a 'Chunk is Missing' from Her Jawline in Un-Edited Images Taken During France Trip
Sean Penn Sparks Controversy With His Insensitive Remark in Response to Matthew Perry's Demise