5 Surprisngly Good Things that Transpired in the US During Donald Trump's Presidency Here's Looking at 5 Surprisingly Positive Outcomes of Trump's Presidency
Also Read: Ron DeSantis Says He Doesn't Use the Word 'Vermin' as Much as His Presidential Rival Donald Trump
Former President Donald Trump, the third Commander-In-Chief to face impeachment, left an indelible mark on American history. Despite a presidency marred by controversy and culminating in a tumultuous finale, Trump's influence on some specific policies quietly reshaped the nation. Beyond the headline-grabbing tweets and raucous rallies, his administration achieved lasting changes in Washington in these facets. Whether one applauds or condemns his methods, there's no denying that, for better or worse, Trump's presidency brought about significant and enduring alterations to the fabric of US politics.
1. Trump Cracked Down on Vaping and Flavored E-Cig Ban
Trump's administration took a stand against underage vaping by announcing the removal of certain flavored e-cigarette products from the US market. The compromise plan, unveiled on January 2, 2020, specifically targeted cartridge-based e-cigarettes popular among teenagers, such as those produced by Juul Labs, as per AP News. Under the policy, the sale of e-liquids in fruit, dessert, and mint flavors was prohibited, leaving only menthol and tobacco options available. This move aimed to curb the alarming rise in youth e-cigarette use, with federal officials addressing concerns over vaping-related illnesses. However, the decision faced criticism from both public health advocates and vaping industry groups, illustrating the delicate balance between protecting teenagers and preserving adult smoking alternatives.
Also Read: Ron DeSantis Blasts Trump and Also Reveals That He Will 'Supersede' Obamacare With a 'New Plan'
2. Coal Consumption Hit a 41-Year Low Under Trump
Also Read: Melania Trump Took a Pre-Meditated Decision For Attending Rosalynn Carter's Memorial Service
Despite Trump's assertions that 'coal is back' and his administration's investments in the industry, US coal consumption hit a 41-year low during Trump's presidency, dropping to 687 million short tons—the lowest since 1978, as per CBS News in 2019. The decline in both production and demand was attributed to the rising popularity of alternative energy sources, particularly natural gas, and the decreasing costs of wind and solar energy. Despite the dramatic reduction in coal use, the Trump administration remained committed to supporting the coal industry, allocating $39 million for research into coal plant efficiency. However, critics, including former NYC Mayor Michael Bloomberg, emphasized the increasing closures of coal plants and the nation's move toward cleaner energy. Despite the decline in the US coal industry, it remains a significant contributor to carbon emissions.
3. Trump Pushed for Faster FDA Approval of Generic Drugs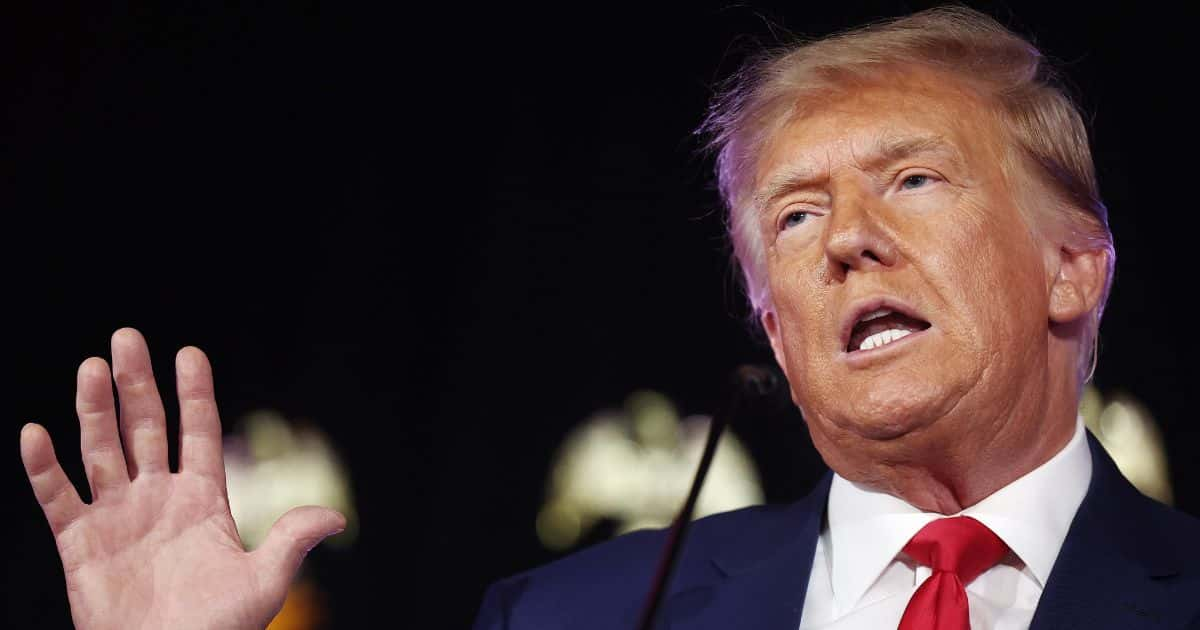 President Trump, during his tenure, pledged to reduce the high cost of prescription drugs by emphasizing the FDA's increased approval of generic drugs. While highlighting the FDA's achievements, such as approving a record 1,027 generic drugs in a single year, he did not endorse the controversial idea of allowing Medicare to negotiate drug prices. Instead, Trump expressed a commitment to addressing drug prices in the next year of his presidency and insisted on their reduction. Additionally, he urged lawmakers to pass a federal Right to Try law, providing terminally ill patients access to yet-to-be-fully-approved medications, reported The Washington Post. At the time, Trump said, "People who are terminally ill should not have to go from country to country to seek a cure – I want to give them a chance right here at home."
4. Space Force Launched Under Trump: A Bold Move in US Defense
Former President Trump signed a $738 billion defense spending bill, officially establishing the Space Force as the sixth branch of the US Armed Services. Positioned as vital for national security in the face of emerging threats, the Space Force aimed to consolidate and enhance existing military missions in space. Led by Gen. John Raymond, the force absorbed 16,000 Air Force personnel and, after one year, gained representation on the Joint Chiefs of Staff. Critics expressed concerns about costs and potential provocations, while proponents highlighted the need for centralized command in the increasingly crucial domain of space warfare.
5. Trump's Tenure Boosted Civic Participation in America
Former President Donald Trump's tenure, marked by attacks on several institutions, paradoxically invigorated Americans and boosted their civic participation. In other words, the trend of declining civic engagement over the last few decades made a U-turn during Trump's presidency. Supporters, despite often being new to politics, found a voice, while opponents mobilized in unprecedented numbers. Grassroots movements, civic education initiatives, and mass protests proliferated. Trump's unorthodox approach, whether inspiring loyalty or opposition, fueled a surge in activism, transcending traditional political and cultural lines. From swelling ACLU memberships to packed town halls, the civic landscape transformed, creating a lasting impact on political discourse and citizen involvement.
More from Inquisitr
Donald Trump's Speech Interrupted by Fox News Host to Fact-Check 'Many Untruths' About Election Fraud
Melania Trump Faces Backlash for Not Wearing Black at Rosalynn Carter's Memorial: "Disrespectful"