Former President Donald Trump Expresses Sympathy for Jan. 6 Prisoners, Calls Them 'Hostages' at Rally Former President Donald Trump, during a rally in Houston, Texas, described those imprisoned in connection with the January 6 Capitol riot as 'hostages.' Trump's statement came as he entered the rally with Lee Greenwood's God Bless the U.S.A. playing in the background — a signature song for his appearances. However, an interesting twist occurred when a song titled Justice for All started playing afterward, featuring Trump reciting the Pledge of Allegiance, along with the Jan. 6 inmates, credited as the 'J6 Prison Choir,' singing The Star-Spangled Banner.
Also Read: Gavin Newson Rips Ron DeSantis During Governors' Debate: "Would Take Joe Biden at 100 Versus Hm"
In his opening remarks at the rally, Trump addressed the imprisoned individuals, referring to them as 'J-6 hostages' rather than prisoners. He sympathized with the situation they were in, lamenting the circumstances that led to their incarceration, saying, "I call them the 'J-6 hostages,' not prisoners. I call them the hostages, [given] what's happened. And you know, it's a shame."
The song Justice for All was released on multiple streaming services in the month of March, and it has achieved remarkable success, hitting the number-one place on some music charts, as per Forbes. Trump proudly mentioned its success during the rally, noting that it surpassed many popular artists like Taylor Swift and Miley Cyrus. This was not the first time the song had been played at one of Trump's rallies; it was previously played during a Waco, Texas, rally in late March.
The funds generated by that song were supposedly allocated to support the families of the individuals facing charges in relation to the incidents at the Capitol on January 6th, as per The Hill. This support from Trump aligns with his previous statements about considering pardons for some of those charged in connection to the Capitol attack. During his rally in Texas, the business mogul also criticized President Biden's policies promoting electric vehicles and renewable energy. Trump stated he would cancel these policies on day one if re-elected in 2024. Trump further expressed skepticism about the viability of electric cars and warned that the transition away from gasoline-powered vehicles could lead to job losses in the auto industry.
Also Read: Donald Trump's Team Slams Ron DeSantis, Calls Him 'Thirsty, OnlyFans Wannabe Model'
---
Trump Featured in Song Alongside Jan. 6 Defendantshttps://t.co/fMD8z9Iy0o
The money raised from the song will go to the families of the J6 defendants. "Justice for All" includes Trump reciting the Pledge of Allegiance with the J6 Prison Choir singing The Star-Spangled Banner. pic.twitter.com/RF05yeR2yX

— 🌜 (@hollyyymoon) March 4, 2023
---
Trump also blamed Biden for rising gas prices and increasing inflation in his speech, showing his own administration's success in reducing gas prices to $1.87 per gallon. These economic concerns remain a central theme in his campaigning. Not one to miss an opportunity for humor, Trump also poked fun at his potential rival, Florida Governor Ron DeSantis, saying that he likely wears height-enhancing insoles in his cowboy boots, as per The Gazette; Trump recalled a past encounter with DeSantis when he sought Trump's endorsement during his first gubernatorial campaign.
Also Read: 7 Things Ivana Trump Said About Ex-Husband Donald Trump's Presidency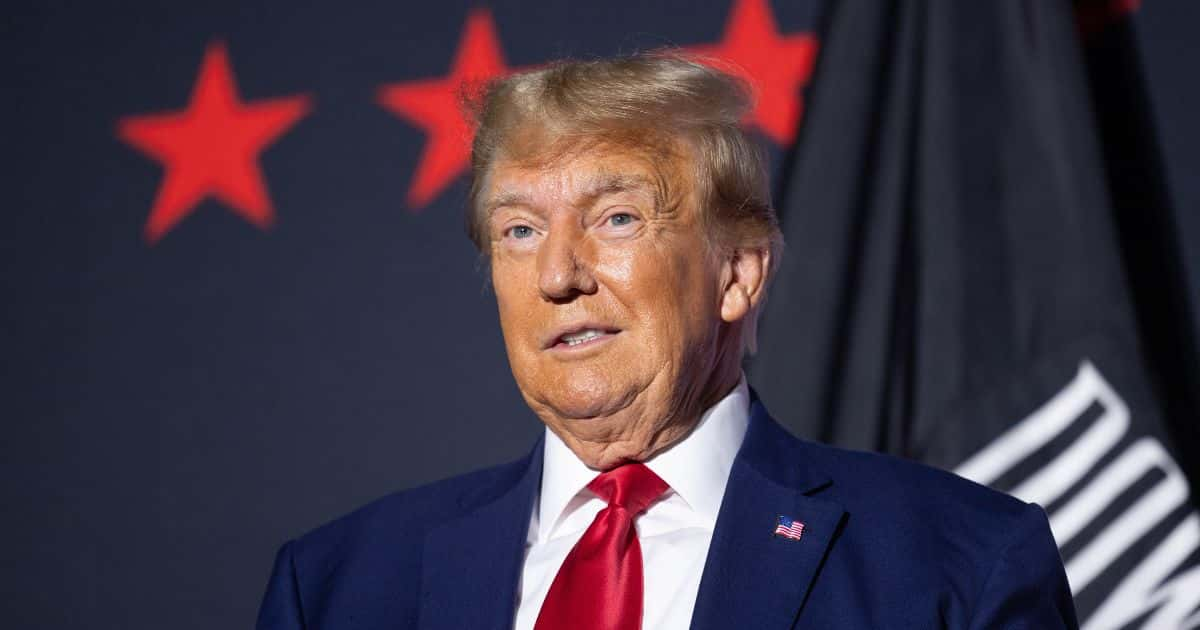 As Trump continues to be a prominent figure in Republican politics and actively campaigns for 2024, he faces numerous legal challenges. He is currently facing 91 indictments across four criminal cases, including two related to the 2020 election. These legal battles may potentially intersect with his candidacy in the upcoming election season, adding additional complications to the political landscape.
More from Inquisitr
When Melania Trump Stated That She Rebukes Her Husband Donald Trump's Twitter Use 'All the Time'
When Donald Trump Passed Rude Racial Comments On His Ex -Girlfriend Kara Young