Chinese President Xi Jinping will overhaul his country's military, according to The New York Times. The People's Liberation Army is already the world's largest army, and by 2020 it is slated to be more combat-ready.
The reported goal of the military overhaul is to "project force" beyond the country's borders, according to Bloomberg. However some are already saying the Chinese personnel will resist as the operation is being badly managed. Military personnel are already protesting over pay and pensions, reports the South China Morning Post, and experts say that bad management of past military overhaul plans has resulted in utter failure.
Resistance likely over #China's military overhaul https://t.co/hbBV4Dj1MK pic.twitter.com/jVm96ktHim

— ST Foreign Desk (@STForeignDesk) November 28, 2015
Will this upgrade of the Chinese military be a success? Wary China-watchers are already hoping that the Communist nation botches their overhaul. President Xi gave some details of the plan in Beijing on Thursday, saying that all branches of the armed forces would come under a joint military command — a centralization move that is in keeping with China's socialist spirit. China may also seek to consolidate the country's seven military regions to just four.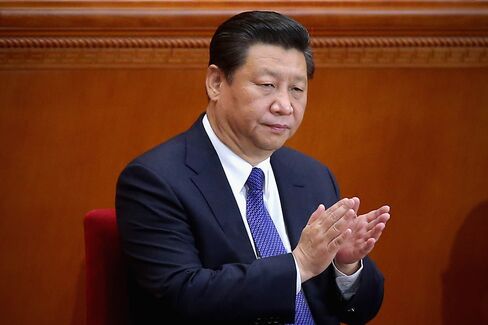 The plan will tighten the Communist Party's grip over the 2.3-million-member military. Xi stressed the importance of maintaining "correct political direction."
"The Communist Party of China has absolute leadership of the armed forces."
Many in the U.S. have taken an interest in the relative military might of the U.S. and China. Video breakdowns such as the one below (from June this year) which is titled "USA Vs China Military Power Comparison," may need to be updated now that the Chinese military is going through a overhaul — an upgrade reportedly designed so China can "project power" to its enemies on the world stage.
President Xi Jinping of China has also laid out plans to create new command systems that will allow for integration and command-chain rebalancing. The goal is to reorganize land, air and sea forces and create a more nimble and effective People's Liberation Army.
The army has traditionally been the dominant arm of the military in China. The overhaul seeks to change this, rebalancing the role of those air, land, and sea forces. The new command structure will see more authority bestowed on air force and navy personnel. China reportedly regards this as important because the plan is to project power across its borders (over land and sea). China-watchers can expect the administration to become more "assertive over territorial claims."
China Just Announced the Biggest Military Overhaul in 50 Years https://t.co/cV6NRp9jY1 via @business pic.twitter.com/0mfiieuu74

— John Fraher (@johnfraher) November 26, 2015
Tea Party commentators like Lou Dobbs have already weighed in on the China military overhaul, which has already seen China opening a new military outpost in Africa, according to the New York Times. The China base in Africa is very close to an existing U.S. base, and will increase China's intelligence-gathering capacity in the volatile and critical middle east region.
"It's stunning. Of all the examples you get of what happens when American leadership declines, this is really one of the most remarkable…it looks like the Chinese will be using a major military docking facility that we [the U.S.] built!"
Lou Dobbs' guest goes on to to suggest that the U.S. government should have told the Djibouti government "how the world works" (Djiboutti is the small African nation where the U.S., and now China, have those military bases). The suggestion is that Obama is being soft with these allies, allowing them to strike deals with both the U.S. and its military competitors (like China), who then benefit from U.S. infrastructure that is already set up.
"They should have told the Chinese government: go find some other nice country to build your base in. This is not just something that enhances China's presence in the region, this is a direct shot at us [the U.S.A.]."
"Everybody will read it that way" the expert continued, implying that the U.S. has been humiliated, made to look "soft," and that China's effort to "project power" is indeed off to a good start.
"Are they all out of their minds, this administration?" anchor Lou Dobbs exclaims as the two men shake their heads in disbelief.
A Pakistani facility that will further strengthen China's presence in the Middle East is reportedly also planned.
"They [China] know exactly what they're doing, and we're letting them do it."
Chinese president Xi told reporters that the upgrade of the Chinese military is a natural move as the country becomes more "powerful."
"As the country progresses from a large country to a large and powerful one, defence and military development stands at a new and historic starting line."
#PLA overhaul could 'destabilise' #Chinese society: Military officials fire warning shots https://t.co/6HCfxDb1lB via @SCMP_News

— Benjamin Charlton (@BCharltonOxford) November 25, 2015
Xi Jinping Military Reform: Chinese President Announces Massive Overhaul Of Country's Military https://t.co/tNAfu42bBh

— Anthony Murry (@amurry1) November 27, 2015
Earlier this year at the East Asia Summit, China and the U.S. were locked in a dispute over the South China Sea. Southeast Asian nations joined the U.S. in denouncing a Chinese plan to build an air strip and army facilities around a reef.
The Chinese foreign minister made an official statement during the East Asia scuffle, saying: "China is prepared to work with Russia and the entire international community to strengthen cooperation in the area of security and jointly fight against the threat of terrorism."
Will China succeed with its military overhaul?
[Image by Feng Li/Getty Images]