When VP Kamala Harris Was Greeted by Red Hill Protestors on Her Kauai Vacation In August 2022, Kamala Harris, the vice president, and her husband, Doug Emhoff, the second gentleman, traveled to Kauai for a relaxing getaway. But when their limousine arrived at the Kalihiwai Ridge home where the second couple planned to spend their holiday, they were met by angry protesters holding placards that said, "Shut Down Red Hill." As per KITV reports, the Oahu Water Protectors had sent a few members to Kauai to meet the motorcade.
In addition to wishing the Vice President a warm welcome on her journey, they had also taken the chance to address their problems. "To stand here and know that she's just 100 feet away from us I think it's important because we can't fly to DC but DC is here, so it's an opportunity for us to send a message to DC," Healani Sonoda-Pale, one of the members shared.
Also Read: When an Angry Jill Biden Said Kamala Harris Should 'Go F–K Herself' for Debate Attack on Joe Biden
The organization had urged Harris to press for the Navy to defuel Red Hill in months rather than years and for the government to step up its efforts to assist the thousands of Oahu households affected by the water issue. As KITV reported, two eighth-graders from the area had mustered the confidence to cross the dunes, seize the opportunity, and speak with Harris about their worries. "There were actually people on the pier with guns, and they were watching her with binoculars," 8th grader Welina Dudoit Wong said back then.
While the kids were pleased to meet the vice president and obtain a quick handshake and photo, Wong and fellow 8th grader Bea Kaaumoana from Kanuikapono Charter School also had a message. "The important thing about it was delivering that message and letting her know that the Keiki of Oahu do need help with their families and their water," Kaaumoana shared.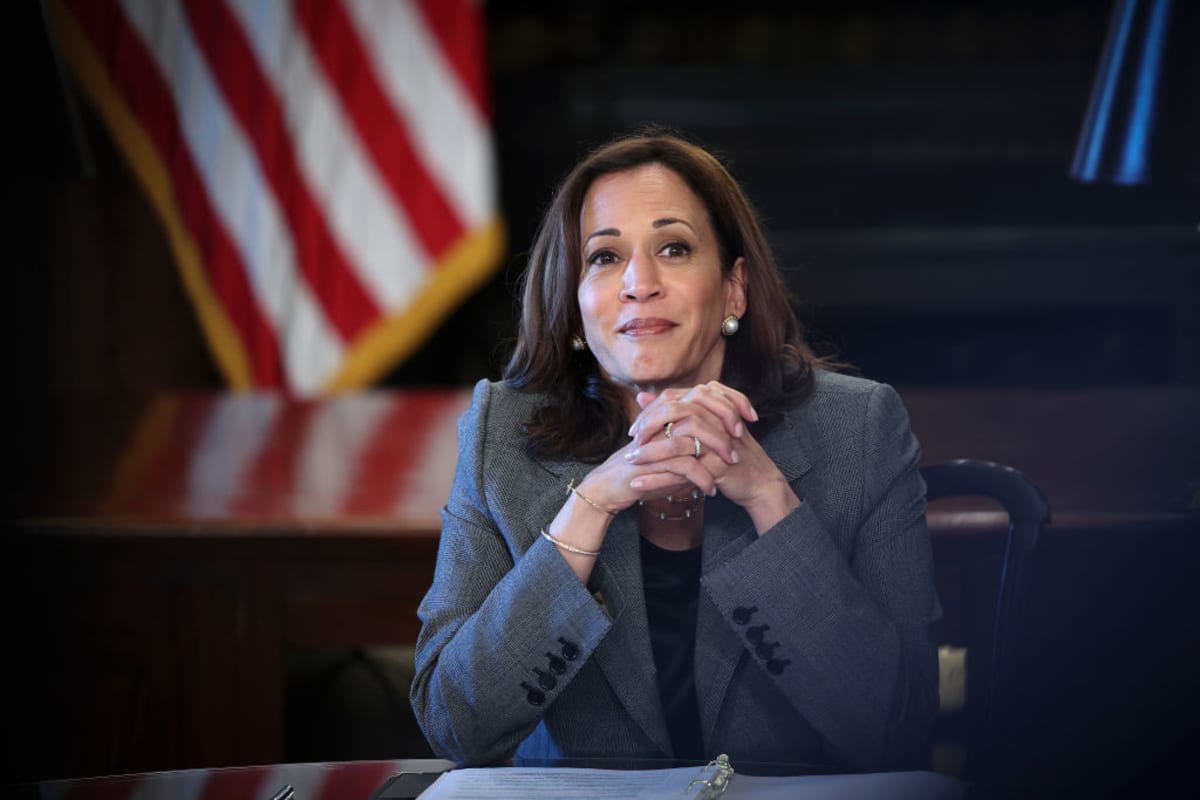 Also Read: Kamala Harris Gets Called Out by Republicans for This Item in Her Thanksgiving Photos
Harris replied positively to Kaaumoana and Wong "I agree with you, we need to handle that, it's a very big issue." Additionally, she had paused to take a photo before urging the girls to "continue to be active and lead." Groups like the Oahu Water Protectors had been displaying placards next to Harris' Kalihiwai Ridge vacation house throughout her stay on the Garden Isle, calling for more action to be taken on the Red Hill water problem.
The kids claimed that they received a lot of attention for their daring move: "All of our family has been congratulating us for like going up to her and being brave," Bea had said back then. As per the Atmos Earth article, an estimated 1,300 liters of PFAS spilled within a tunnel at Red Hill in November 2022. Residents are concerned that because of the strong rains and flooding that occurred after the leak, the harmful chemicals may have traveled even further. In an email to Atmos, a Navy representative said that the service collected "the vast majority" of the chemicals and that it takes weekly groundwater samples from nine wells to check for PFAS contamination.
Also Read: When Donald Trump Mocked Kamala Harris' Speech Style: "She Speaks in Rhyme"
"It was a privilege to talk to her, but I hope that this time they keep to their promises and they do want to help the Hawaiian people," Welina said. Following a 14,000-gallon leak in November 2021 and an extended campaign by the grassroots group O'ahu Water Protectors, the Department of Defense declared in March 2023 that the Red Hill military facility would permanently close.
More from Inquisitr
Kamala Harris Says Biden and Her Will 'Have to Earn' Their Re-Election As His Approval Ratings Drop
Here's What Kamala Harris Said While Officiating Her Stepson, Cole Emhoff's Wedding