Vanderpump Rules' Tom Sandoval Finds Love Again: Spotted Dating Influencer Karlee Hale in Candid Photos The "disgraced" Vanderpump Rules star, Tom Sandoval has moved on really quickly in his love life amidst the ongoing cheating controversy. According to The U.S. Sun, he was spotted with a Texas-based influencer, Karlee Hale. TikTok user Sarah Koefod was the one who broke the news about the reality star dating the influencer.
Sharing a video of the two she captioned it, "Last night I was actually out in Austin, Tex. where I live and I saw Tom with a mystery woman." Koefod also revealed to her followers that she and a pal spotted Sandoval "across the bar" trying to go incognito wearing a hat and sunglasses in the Austin Proper hotel.
Koefod alleged she identified the "mystery woman" since Sandoval was following this unknown woman on social media. The woman, identified now by The U.S. Sun as Karlee Hale, had reportedly uploaded a snap of her pomeranian dog during their date. Koefod informed her followers with a picture she took, "You'll notice this little pomeranian that was sitting with them. It's the woman's dog. And I was actually able to find her Instagram, it was pretty easy."
Comparing a snap from Hale's now-deleted Instagram on the night in question, Koefod said, "And this was her Instagram with the dog last night at dinner once they were seated at the Peacock, the restaurant inside the hotel." However, ever since the video and the pictures of the "new couple in town" have gone viral, Hale has deleted all her social accounts and even her Youtube channel.
Podcaster Bravo Babe helped identify Hale too. She shared a number of images on her Instagram and TikTok accounts claiming that Sandoval and Hale were working out together at Hale's apartment complex gym on the day Vanderpump Rules finale was all set to premiere.
The supposed relationship rumor with Hale comes in right after Raquel Leviss broke things off with Sandoval amid severe backlash over their cheating scandal. A close source revealed to The Messenger, "His relationships with everyone right now are on the back burner, and he's focusing on his music, he's about to turn 40 and trying his best to move away from all of this, but he's struggling at times. Like anyone trying to better themselves, it's one day at a time."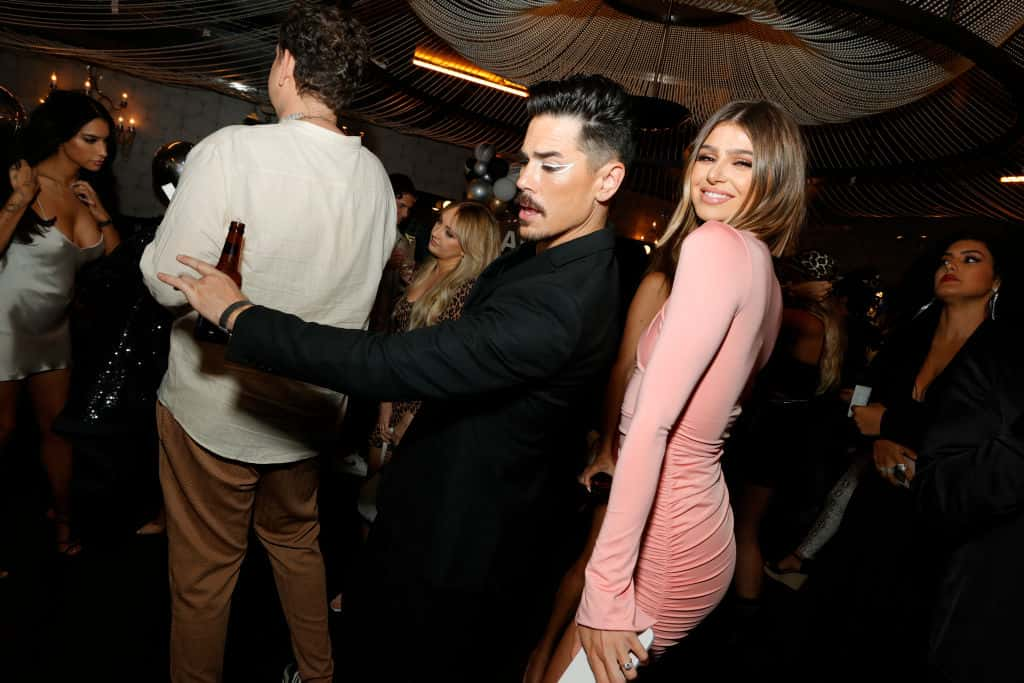 After the news of their affair surfaced in March, Sandoval, who was then with Ariana Madix for almost nine years issued an apology on his social media platforms. Leviss followed suit by releasing her apology statement with Entertainment Tonight.
A source close to Madix said, "Ariana has no plans to get back with Tom after what he did to her and Tom is ready to move on. Ariana is devastated and feels betrayed, something she won't be able to get over for a long time." Leviss is meanwhile getting treatment for her mental health amid the controversial backlash and has not been seen in public for weeks.