Travis Barker Faces Backlash as Daughter Alabama, 17, Shares an 'Inappropriate' TikTok Dance Video Travis Barker received criticism yet again after his 17-year-old daughter, Alabama Barker's recent TikTok dance video surfaced online, featuring the young influencer in what was deemed by viewers as "inappropriate attire," reported The U.S. Sun.
Alabama Barker stole the show again in her newest TikTok video where she is seen sporting a leather ensemble - a bikini top followed by a black miniskirt with a wide slit on its side and accessorized with what looks like belt buckles. She let her fierce flame-red locks flow and donned a full face of glam makeup. Alabama kept things minimalistic for accessories with a layered thin gold necklace with a clover pendant and a silver bracelet. The video involved the 17-year-old and a friend of hers vibing to What It Is by Doechii.
Alabama's comment section blew up, with many among her 3.7 million followers on TikTok floored by her red hair. They made comparisons between her and Disney's Princess of the Sea, Ariel, and supported her choice of attire. "You look like Ariel," said a fan. "The Ariel we all needed," said another. "The real Ariel?" added one more.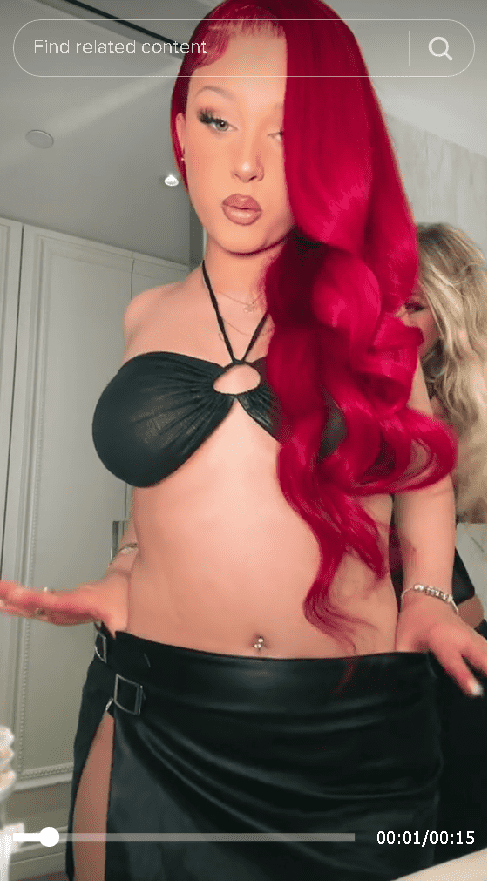 While many people gushed over Alabama and showered her with positivity, this video found many trolls commenting with shock on her choice of attire and questioning her musician father, Travis Barker's parenting skills. Many pointed out that she was a minor. "I wonder does her dad see all this?" said someone. "Isn't she 17?" said one more. "Gets sadder to see every time," said another person.
The influencer also recently uploaded a fun and bubbly TikTok of herself with her bestie in a public bathroom dancing together and having a good time. Alabama donned a comfy hoodie and flaunted fiery orange hair. She had on a bold and stunning diamond crucifix necklace that hung by her neck.
The fun video went viral, garnering 3.3 million views on her page. Alabama's fans showered the video with love and a few of them invited their fellow besties to re-create the video, wishing their friends could do the same with them. "Alabama's energy is fye no lie," said one commenter. "I love this duo," said one more.
The young teenager has received backlash for her mature content in the past and has even clapped back on several such occasions, clearly insinuating that another person's comments mean nothing to her. In response to haters, Alabama posted another TikTok featuring herself lipsyncing to audio that throws shade at jealous haters. She sported her newly iconic red hair, followed by a matching black ensemble of a tube top and skirt. Alabama accessorized her outfit with silver jewelry and hoops, boldly expressing the statement she intended to make.