Impersonating Donald Trump: James Austin Johnson's Hilarious Takedown of GOP Rivals on 'SNL' In a recent Saturday Night Live cold open, the former president, played by James Austin Johnson, took center stage to relentlessly mock his Republican rivals in a parody of the latest GOP debate. The sketch started with moderator Lester Holt, portrayed by Kenan Thompson, dubbing the event the "Republican kids' table debate." The actors portraying the candidates introduced themselves and humorously revisited memorable moments from the actual debate, setting the stage for Donald Trump's entrance.
Also Read: Donald Trump's Team Slams Ron DeSantis, Calls Him 'Thirsty, OnlyFans Wannabe Model'
Johnson's portrayal of Trump immediately stole the spotlight as he crashed the debate stage and mercilessly mocked his rivals. The candidates remained frozen behind him, mirroring their standings in the polls, as per Y! News.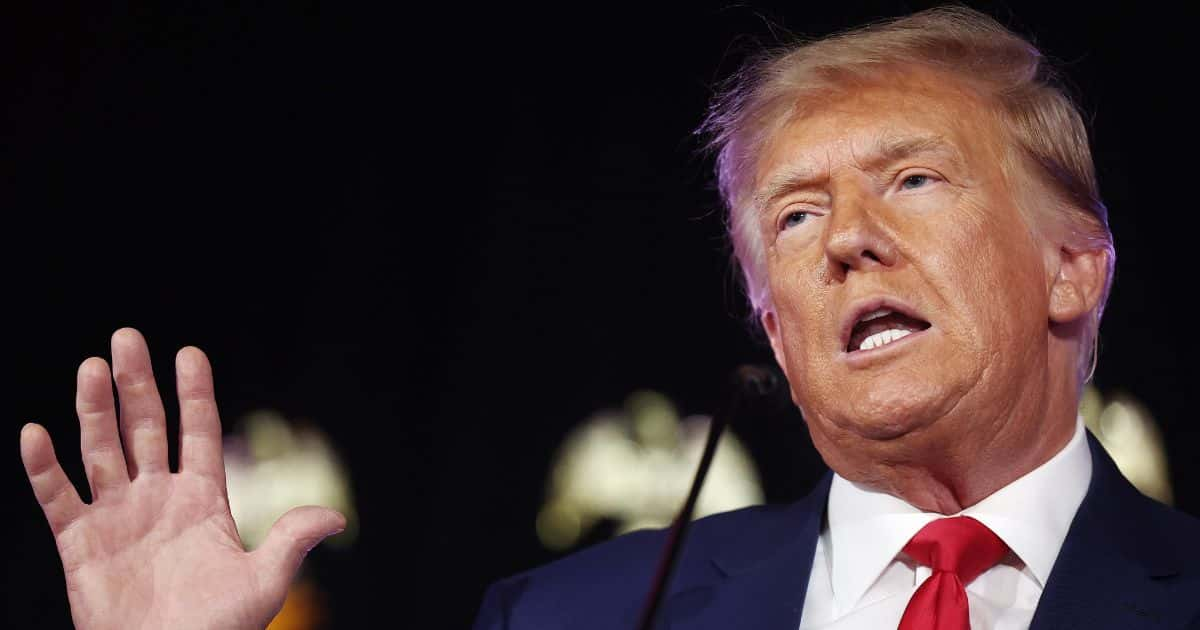 Trump, portrayed by Johnson, wasted no time in poking fun at the other candidates. He passed comment on Senator Tim Scott and his girlfriend, humorously comparing them to himself and Melania saying "Not a lot of chemistry between those two, right? They make me and Melania look like Taylor and Travis." The humor continued as Trump targeted SNL for casting Ego Nwodim as entrepreneur Vivek Ramaswamy and John Higgins as Florida Governor Ron DeSantis, according to HuffPost.
Also Read: 7 Things Ivana Trump Said About Ex-Husband Donald Trump's Presidency
The humor took a meta turn when Johnson's Trump mocked the actors chosen by SNL to play the candidates. He highlighted the lack of staying power of the real-life candidates by remarking, "Poor Ron De Santis, even SNL doesn't think he has a chance. If they did, it'd be like Paul Rudd or something in there." The humor here stemmed from the idea that DeSantis's chances were so slim that a more unlikely actor would have been chosen to portray him in the parody.
Also Read: When Melania Trump Stated That She Rebukes Her Husband Donald Trump's Twitter Use 'All the Time'
Throughout the cold open, Johnson's Trump maintained his signature style of humor. He teased Ramaswamy, highlighting his wealth and rudeness, but emphasized that his race would be a significant factor in his chances, stating, "He's a lot like me except for one thing that matters a lot to my horrible, horrible base. White. Sad. He's going nowhere," as per The Independent.
Addressing Nikki Haley, portrayed by Heidi Gardner, Trump playfully referred to her as a "birdbrain" but only in public. He took aim at Haley's debate saying "She made some terrible points in that debate, I think, but I don't know. I have trouble hearing women over 25,", adding another layer of satire to the skit.
In the SNL skit, the impersonated Trump didn't hold back, taking jabs at the former president's recent blunders, ongoing legal battles, and his "sweet little middle-aged criminal children." He humorously quipped, "So awful to bring in the family. It'll be very sad when I pin it all on one of them. Probably Eric." In the Morning Consult poll, Trump is leading the GOP primary field by a substantial margin of 48 points, cementing his status as a prominent figure in Republican politics.
More from Inquisitr
When Donald Trump Passed Rude Racial Comments On His Ex -Girlfriend Kara Young
Mike Pence Allegedly Considered Skipping Biden's Jan. 6 Certification: "Too Hurtful to My Friend [Trump]"