List of Properties Donald Trump Spent His Weekends at During His First Year as President List of all the Properties former President Donald Trump spent his first 38 weekends during his first year in office
Also Read: Trump's Obsession With Gag Orders Stems From a Need To 'Blame' Someone If He Loses the Case, Says Legal Expert
Former president Donald Trump enjoyed a lavish start to his presidential duties from the confines of his opulent properties during his first term. As reported by USA Today in 2018, approximately seven out of every ten weekends when Trump was president involved in travel to one of his properties. He began his second term in office at Mar-a-Lago. His extravagant travel plans put a strain on the Secret Service resources, and estimates put the cost of his Mar-a-Lago excursions at around $3 million back then, according to a GAO assessment. Let us take a look at some of the Trump-owned properties where the Republican leader spent his first 38 weekends after joining the Oval Office.
1. The first 21 weekends in Washington, D.C.
In the nation's capital, Trump spent about 40% of his weekend. He also undertook day trips to participate in protests and charity events. On 15 of his weekends in Washington, D.C., he traveled to Sterling, Virginia, for a sensational round of golf at the Trump National Golf Club (including the Fourth of July holiday and the weekend he returned from the G20 conference). Additionally, he visited the neighboring Trump International Hotel six times, typically to have a lavish meal.
Also Read: Host Says Paramount+ PR Team Halted Kelsey Grammer's Interview With BBC After Voicing Support for Trump
2. The Second 12 weekends in Mar-a-Lago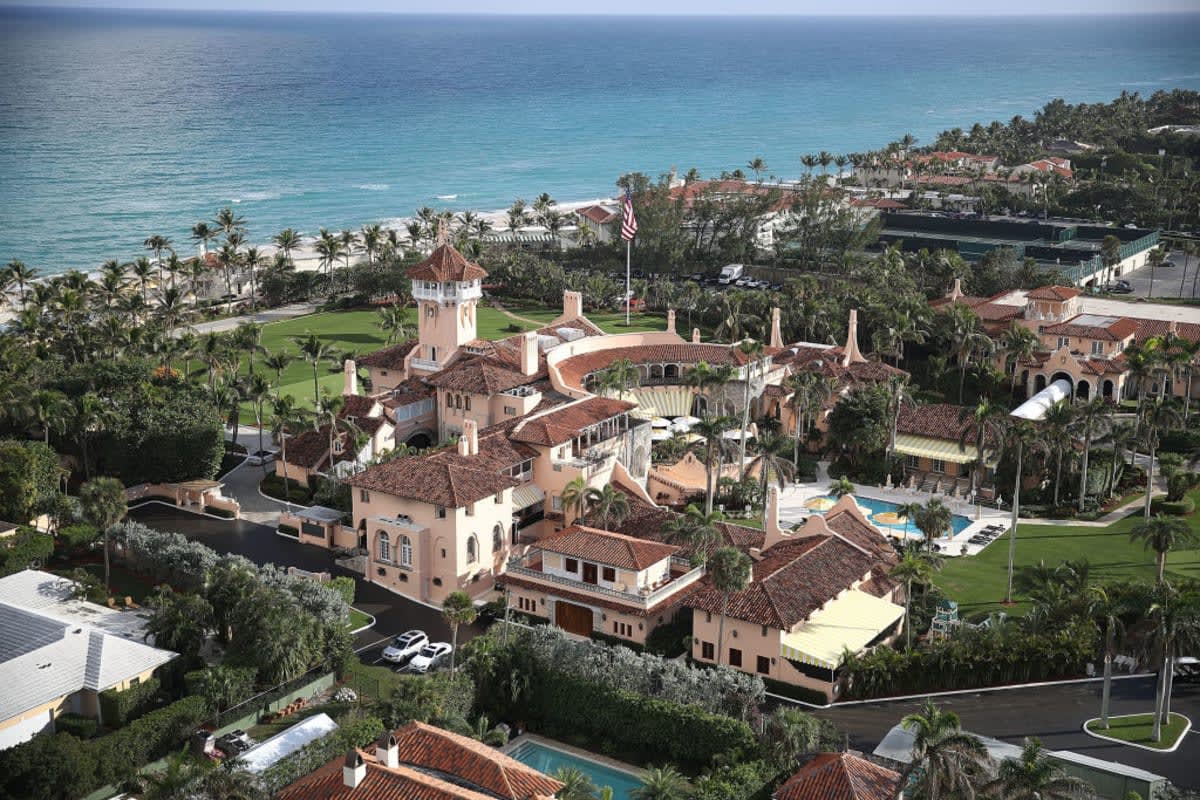 Also Read: Jimmy Kimmel Says Trump Is 'Going Straight to Hell' For His 'Jesus and God Keeping Score' Comment
Known as the "Southern White House," Trump's opulent Mar-a-Lago property is an exclusive club. Of his 52 weekends, he had worked 12 of them at the top guarded property in Palm Beach, Florida. During his visit, other world leaders were also honored to be there; he hosted both Japanese Prime Minister Shinzo Abe and Chinese President Xi Jinping. In the confines of the opulent quarters, he had also set up a situation room while overseeing a tactical air mission against Syria in April. As in previous years, he also celebrated Christmas at the club and ushered in the new year with clubgoers.
3. The Third 10 weekends in Bedminster
The former president visited his Trump National Golf Club in Bedminster, New Jersey, once Mar-a-Lago closed for the year. Although he had claimed that it was a working vacation when he went in August 2018, it served as his summer vacation. Trump had made his controversial statements about North Korea's nuclear program during his stay at Bedminster, including the famous one: "They will be met with fire and fury like the world has never seen."
4. The Fourth 5 weekends at Camp David
Since the time of the late President Franklin D. Roosevelt, the presidents of the United States have frequently used the "crown jewel" of the American presidency - Camp David as a weekend retreat. The lush and secluded retreat, which is in Maryland, was utilized by Trump five times during his first year in office. As per NYTimes, three days before the anniversary of the 9/11 attacks that sparked the Afghan conflict, Trump had almost devised a plan to convene a peace summit with the Taliban at Camp David in 2021 after 18 years of conflict.
5. The Fifth weekend on Trips
Although he frequently traveled for meetings and rallies before returning to the White House, Mar-a-Lago, or Bedminster, Trump had only spent four weekends away from home while in office. He embarked on his first international tour in May 2018, beginning over the weekend in Saudi Arabia. Then in July, he spent the weekend in Hamburg, Germany, attending the G-20 conference before flying back to Washington, later, he traveled to Asia in November with a brief stop in Hawaii and spent his weekends in Japan, Vietnam, and the Philippines.
More from Inquisitr
Trump Claims He Would Win The Blue States if 'Jesus and God' Came Down to Keep Score of Elections
Trump Mocks DeSantis' Debate Against Newsom in a New Dubbed Video: 'Battle of Loserville'