Here's Looking at the Legacy of 5 of the Most Remarkable First Ladies in American History Here Are Five of the Most Influential FLOTUS' in America's history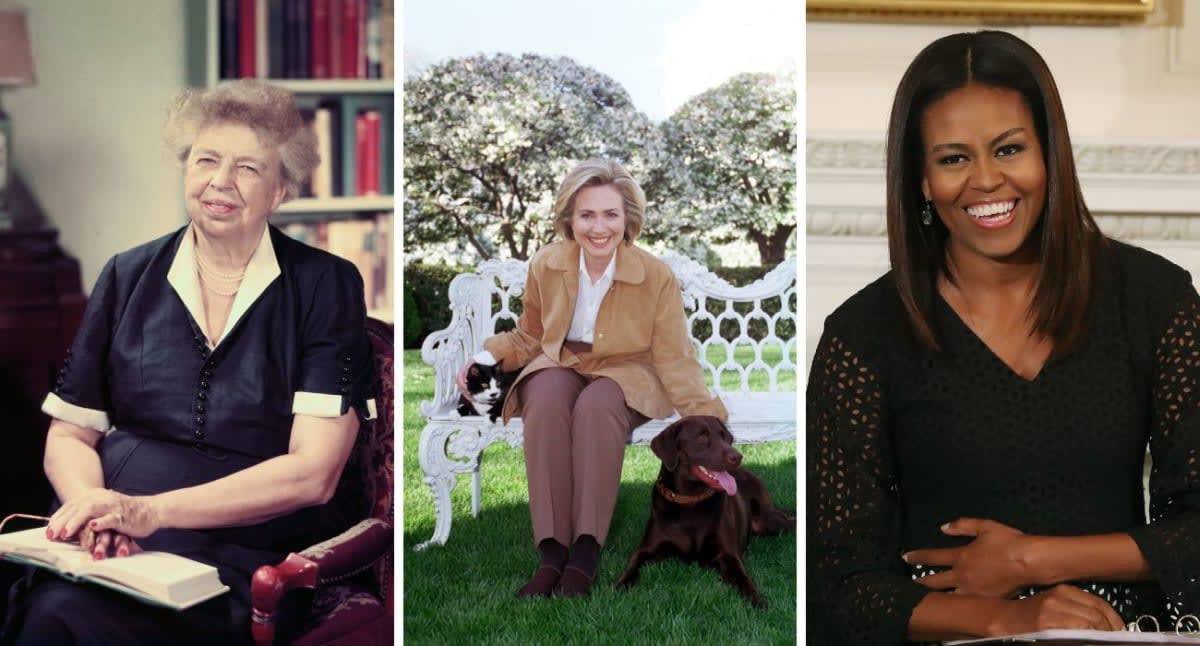 Also Read: Fox News Host Jesse Watters Slammed for His Insensitive Comments on Joe Biden
Throughout history, the role of the First Lady has evolved, and certain women have left an indelible mark on the nation through their influence and advocacy. Behind every great President stands an influential First Lady who goes beyond the traditional expectations of style and social duties. These women have actively shaped policy and championed important causes. From Eleanor Roosevelt's pivotal role in the Universal Declaration of Human Rights to Michelle Obama's Let's Move campaign promoting healthy living, First Ladies have become powerful advocates for change. The impact of their efforts extends far beyond the confines of the White House, leaving a lasting legacy on the nation. So, let's take a look at five such women whose efforts have left a lasting impact on the fabric of American culture and politics.
1. Eleanor Roosevelt
Eleanor Roosevelt, the longest-serving First Lady, redefined the role by going from a traditional hostess to an influential spokesperson. Overcoming a challenging childhood, she blossomed into a compassionate advocate for the underprivileged, earning widespread admiration. Initially hesitant about the constraints of the position, Roosevelt shattered precedents during the Great Depression, engaging in social causes and addressing the nation through press conferences, radio programs, and newspaper columns. Her transformative impact extended beyond the White House, where she graced thousands with charm and friendliness. Roosevelt's integrity, graciousness, and sincerity endeared her personally to many, from world leaders to servicemen during World War II. After her husband's death in 1945, she continued her remarkable career, serving as a key figure at the United Nations and leading the development of the Universal Declaration of Human Rights.
Also Read: Jimmy Kimmel Hilariously Links Donald Trump's Post-January 6 Grief to Eric Trump's Birthday
2. Jacqueline Kennedy
Also Read: 6 Times When Donald Trump Made Headlines That Created a Buzz But Were Forgotten With Time
Jackie Kennedy, born Jacqueline Lee Bouvier in 1929, became an iconic and influential First Lady. Known for her poise and dignity, she married John F. Kennedy in 1953 and played a pivotal role in restoring the White House to its original elegance. Beyond her role as the wife of President Kennedy, Jackie had a passion for horseback riding, writing, and painting. Despite enduring personal tragedies, including the assassination of her husband in 1963, Jackie's legacy extends far beyond her fashion sense, popularizing styles like the bouffant hairstyle and the iconic Gucci Jackie purse collection. Her influence is seen in the enduring popularity of her name and the cultural impact she had on American society, as per The Visitation Voice. Jackie's significant contributions to the preservation of the White House's historical and artistic heritage, showcased in her televised 1962 tour, further solidified her status as one of the most influential First Lady in American history.
3. Hillary Clinton
Hillary Rodham Clinton emerged as an unusually influential First Lady, breaking new ground by actively shaping public policy. During Bill Clinton's 1992 presidential campaign, she played a pivotal role in addressing controversies with resilience. As First Lady, her professional achievements, such as heading the Task Force on National Health Care, marked a departure from traditional roles. Despite facing criticism for her financial dealings and controversies like 'Travelgate,' she exhibited a blend of ceremonial duties and political influence, as per Britannica. In 2000, Clinton made history by becoming the first First Lady elected to public office, winning a U.S. Senate seat in New York. As a senator, she continued advocating for healthcare reform and children's rights. Appointed as Secretary of State by President Obama in 2009, she earned praise for her diplomatic efforts. However, controversies surrounding her private email server persisted when the Trump presidency came about.
4. Michelle Obama
Michelle Obama, the first African-American First Lady, wielded unprecedented influence during her tenure from 2008 to 2016. Initially approaching the role with some reluctance, she evolved into a dynamic force, leaving an enduring legacy. Focusing on key initiatives like Let's Move! to combat childhood obesity, Obama's impact extended beyond ceremonial duties. She successfully advocated for the Healthy, Hunger-Free Kids Act, setting new nutritional standards in schools, as per NBC News. Her Reach Higher initiative, aimed at guiding students toward post-high school education, further showcased her commitment. Obama's emphasis on health and education, combined with her social media presence and fashion icon status, transformed the perception of the First Lady role. Addressing racial issues and delivering powerful speeches, she even navigated criticisms with grace. Despite her exit from the White House, Obama remains a symbol of empowerment, leaving an indelible mark on American political and social landscapes.
5. Nancy Reagan
Nancy Davis Reagan, a former Broadway actress turned First Lady from 1981 to 1989 alongside her husband, President Ronald Reagan, passed away in 2016 at the age of 94. While her early life was rooted in acting, Reagan's enduring legacy revolves around her pivotal role in the War on Drugs. She passionately championed the Just Say No campaign, which sought to combat drug and alcohol abuse. Despite its critics, the campaign became a cultural touchstone, permeating popular culture during the Reagan era. However, Carl Hart, a psychology and psychiatry professor, argued that the campaign oversimplified the complex issue of drug abuse. While Reagan's influence as a First Lady was significant, her focus on combating drug abuse left a lasting impact on the national conversation surrounding substance abuse.
More from Inquisitr
Melania Trump Opens Up: No Major Fights or Disagreements With Donald in 20 Years
Trump Targets Judge Engoron's Wife After Gag Order Got Reinstated, Calls Her the 'Trump-Hating Wife'