Donald Trump Paid Off Stormy Daniels $130,000 'Hush Money' To Hide His Affair From Melania Former president Donald Trump has claimed that he will be taken into custody on Tuesday on allegations brought against him by the state of New York that he fabricated company records and violated campaign finance laws by paying back $130,000 to his former attorney Michael Cohen to keep the porn star, Stormy Daniels silent. He has referred to the case as politically driven and rejects any misconduct as well as the involvement with Daniels, 44. He called the payment to Daniels a "nuisance payment," something that affluent individuals occasionally do to solve a persistent problem.
However, it is reported that the Republican leader paid the "hush" settlement at that time to hide his affair from former first lady, Melania Trump. As per The Daily Mail, a close source revealed: "Trump was beside himself that Melania would find out the details of his indiscretion – an indiscretion with a porn star no less. He knew what the consequences could be and he would do whatever he could to keep a lid on it."
Also Read: Ron DeSantis Says He Doesn't Use the Word 'Vermin' as Much as His Presidential Rival Donald Trump
The 52-year-old former first lady chose to take a leave of absence from her spouse after The Wall Street Journal first broke out the payout news to Daniels in January 2018. Earlier, Daniels was featured in an embarrassing 2011 interview by a celebrity magazine, wherein she discussed her 2006 sexual experience with the future president that took place in a hotel room at a Lake Tahoe, Nevada casino after a high-profile charity golf event. "It was upsetting and humiliating; her relationship with President Trump became strained," a close source had revealed back then. On January 18, 2018, Melania, the first lady, departed Washington, D.C., for West Palm Beach, Florida, shortly before the president made an appearance at the World Economic Forum in Davos, Switzerland.
Melania was taking care of Barron, Trump's four-month-old son, at the time of the affair. 'Scheduling and logistical concerns' were the first lady's reasons to take a flight to Florida instead of being with her husband, according to East Wing communications director Stephanie Grisham at the time. A special source shared in 2018: "Melania spends three to four days a week away from the White House and has stayed at a hotel in D.C. multiple times in January, often for days at a time. She also travels up to New York."
Also Read: Ron DeSantis Blasts Trump and Also Reveals That He Will 'Supersede' Obamacare With a 'New Plan'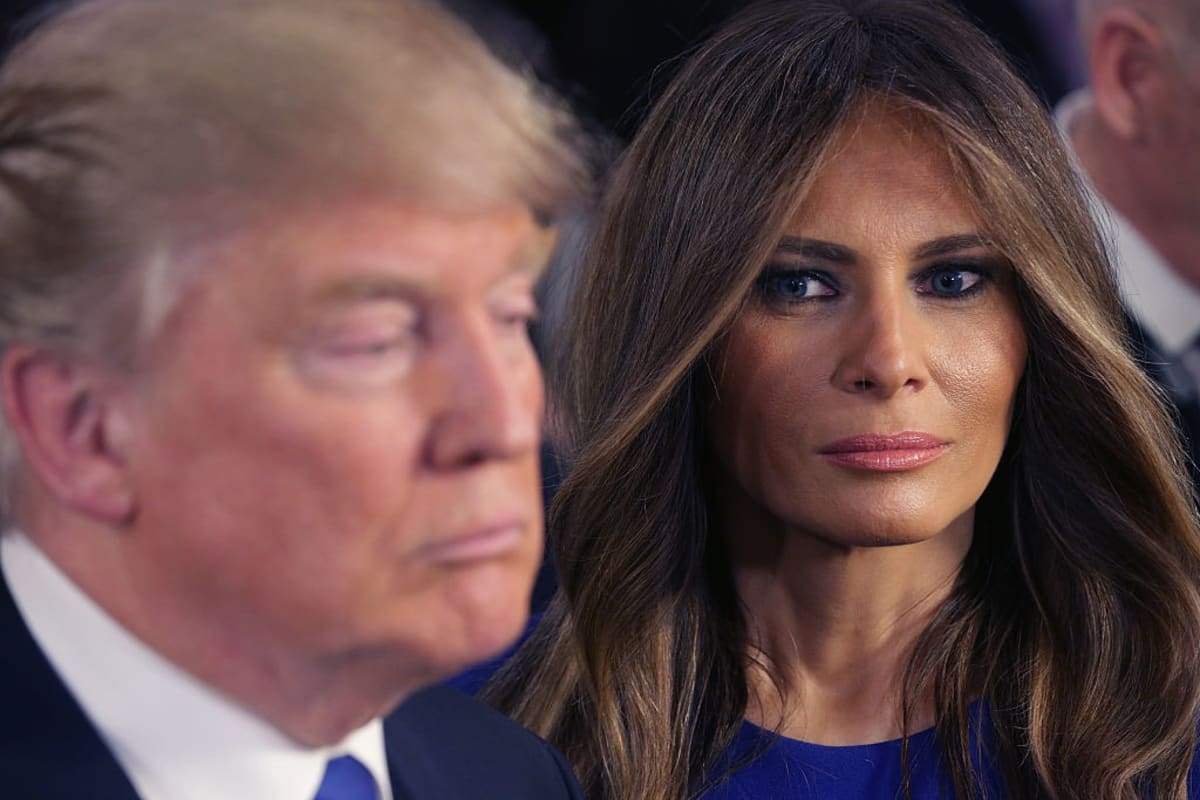 "She rarely comes into his West Wing office as other first ladies have done and her schedule is vague at best. She seems to be avoiding duties unless there is a very special reason. Talk among staffers is that the Stormy Daniels affair hit her hard, it's been upsetting and humiliating and her relationship with President Trump has become strained." The source continued: "If she is seen with him in public she's very robotic, she smiles and then they go their separate ways. Melania seems to be actively limiting the time she spends with her husband and her behavior has raised eyebrows." After being absent from the political scene for 10 days back then, Melania was seen at the Holocaust Museum in Washington in advance of International Holocaust Remembrance Day.
Also Read: Melania Trump Took a Pre-Meditated Decision For Attending Rosalynn Carter's Memorial Service
More from Inquisitr
Donald Trump's Speech Interrupted by Fox News Host to Fact-Check 'Many Untruths' About Election Fraud
Melania Trump Faces Backlash for Not Wearing Black at Rosalynn Carter's Memorial: "Disrespectful"