Trump Mocked After Bizarrely Claiming He Has a New Name for This 'Great Country': "Who's Gonna Tell Him?" A claim Former President Donald Trump made regarding the name of America got him the ire of social media.
Trump attacked President Joe Biden harshly and voiced his worries about his mounting legal problems in a recent post on his Truth Social website. But many were left scratching their heads due to the bizarre assertion on one of the claims of the future of the nation if the business mogul would be re-elected, HuffPost reported.
Also Read: When an Angry Jill Biden Said Kamala Harris Should 'Go F–K Herself' for Debate Attack on Joe Biden
"We're gonna have a great country. It's gonna be called the United States of America," he wrote, explicitly ignoring the reality that the nation already goes by that name.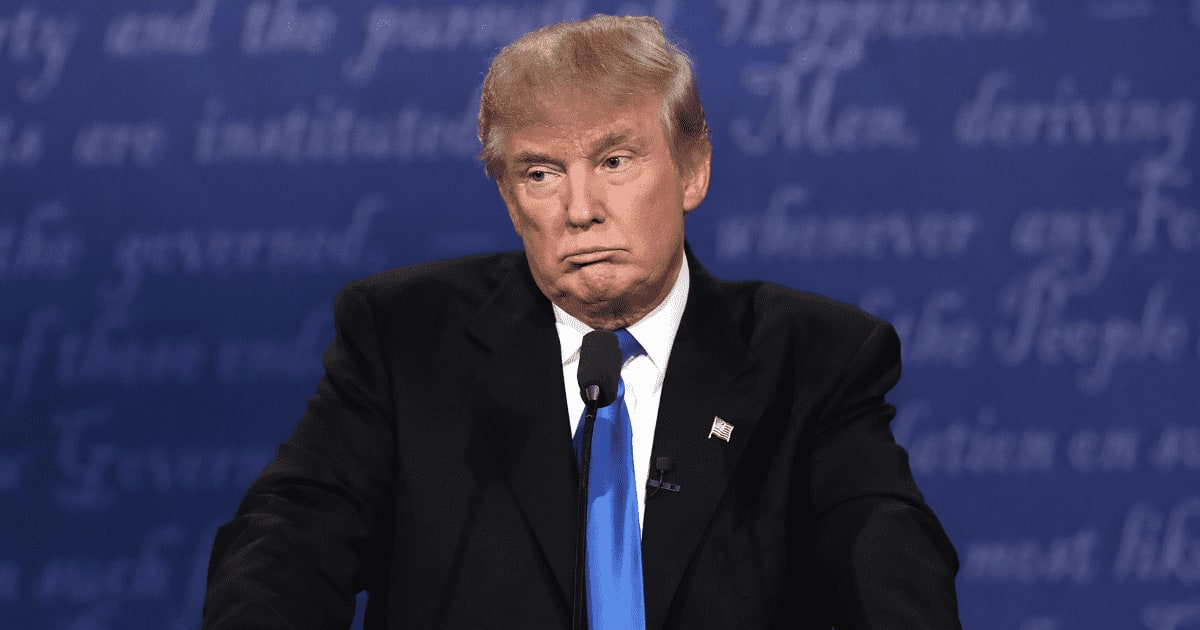 Many Trump critics came at him, mocking him for not even knowing what the country he was leading was called, OK! Magazine reported. A handle called Republicans Against Trump, a group of pro-democracy conservatives Republicans fighting Trump & Trumpism, slammed Trump, with the sarcastic comment, "Who wants to tell him?" Another handle, Gen Michael Hayden, slammed the former president, "He was the president? Really?"
Another mocking tweet recommended that the new term be trademarked to stop Trump from using it for his own benefit, chirping, "I hope we have that term trademarked. Otherwise, Trump will grab it and start charging all of us." A third Twitter user wrote, "Fool me once, shame on you. Fool me 938 times, and I must be a MAGA."
Also Read: Gavin Newsom Says He'd Rather Vote for Joe Biden at 100 Than Ron DeSantis At Any Age
---
Who wants to tell him?

Donald Trump on what he would do in a second term: "We're gonna have a great country – it's gonna be called the United States of America."pic.twitter.com/cDXszKKWHc

— Republicans against Trump (@RpsAgainstTrump) October 31, 2023
---
Though it's unclear what exactly the former president intended to convey, this strange comment comes after another recent incident on the campaign trail. Trump said last week that he only recently discovered that the acronym for the United States also spells the word "us."
Also Read: Mike Pence Allegedly Considered Skipping Biden's Jan. 6 Certification: "Too Hurtful to My Friend [Trump]"
"I just picked that up. Has anyone ever thought of that? I just picked that up," he said in New Hampshire, adding, "I just picked that up." The former president then lamented that he most likely wouldn't receive the proper recognition for discovering the term. "Now, if we say something genius, they'll never say it," Trump said. "They've never said, 'Trump's a great speaker.'"
In the post in which Trump claimed the name 'United States of America', he also slammed Biden and the Democrats. "These highly political Biden lawsuits and indictments shouldn't be allowed to start until after the election is over," Trump declared.
Trump, who is the overwhelming favorite Republican nominee even though he is the subject of four criminal indictments, then shot at Judge Tanya Chutkan for scheduling his criminal trial in Washington, D.C. on the day before Super Tuesday, but he did not mention her by name. Chutkan placed a partial gag order on Trump, preventing him from disparaging the case's witnesses and court personnel. "These are corrupt people," Trump continued. "Our Founding Fathers are looking down at Biden with scorn right now. They're looking down at Biden and this administration with disbelief."
---
Trump: I'm for us. You know how you spell us, right? U.S. I just picked that up. Has anyone ever thought of that before? I'm reading and said us. You know, when you think about it, us, equals U.S. If we think of something genius, they will never say it. pic.twitter.com/xzXTMRRge6

— Acyn (@Acyn) October 23, 2023
---
More from Inquisitr
Fox News Host Jesse Watters Slammed for His Insensitive Comments on Joe Biden
Chris Cuomo Reveals He Is Willing to Vote for Donald Trump Over Joe Biden in 2024: "The Worst President..."