8 Most Controversial Laws Passed By 2024 Presidential Candidate Ron DeSantis in Florida This Year Eight Of The Most Controversial Laws Ron DeSantis Has Passed in Florida This Year
Also Read: Ron DeSantis Says He Doesn't Use the Word 'Vermin' as Much as His Presidential Rival Donald Trump
The Republican candidate for president in 2024, Florida Governor Ron DeSantis, has gained national attention for his aggressive style of cultural conservatism. As per BBC, the former navy officer with Ivy League training has received praise from the right as an exceptional leader while also receiving scorn from the left as a right-wing extreme. DeSantis, 44, was first elected to the House of Representatives in 2012, making him a relative newbie to US politics. After a brief run for the Senate in 2018, just six years later, he was chosen as governor. "'If I run, I'll be running against Biden," he had told Piers Morgan in March. As per People, the former attorney with degrees from Harvard and Yale has signed numerous law bills that restrict abortion, specify where transgender people can use the restroom, and also enforce whether students or teachers can discuss any subjects about being gay while in school over the past few years and in the run-up to announcing his presidential campaign. Some of the most contentious laws supported and enacted by Governor DeSantis so far this year are listed below.
1. Drag Show Restrictions
DeSantis passed broad anti-LGBTQ legislation in May, including one that specifically targets drag events. The DeSantis administration stated in a news release that the bill would "protect children from sexually explicit adult performances in all venues—including drag shows and strip clubs." The "Protection of Children" bill, also known as SB 1438, makes it illegal for any food service business to let kids into "an adult live performance," which is defined as any live performance that "predominantly appeals to a prurient, shameful, or morbid interest" or "is patently offensive to prevailing standards in the adult community of this state as a whole with respect to what is suitable material or conduct for the age of the child present."
Also Read: Ron DeSantis Blasts Trump and Also Reveals That He Will 'Supersede' Obamacare With a 'New Plan'
2. Criminalizing Child Care that Is Gender-Affirming
Also Read: Gavin Newsom Says He'd Rather Vote for Joe Biden at 100 Than Ron DeSantis At Any Age
A measure that DeSantis signed will make it illegal for medical professionals to treat kids in a gender-affirming manner. The law would also provide the advantage in child custody battles during divorce processes to a spouse who opposes their child's desire to transition over a parent who supports their trans child's medical needs, according to the ACLU of Florida. The Republican leader stated in a press statement announcing his signature of the laws, "As the world goes insane, Florida represents a refuge of sanity and a citadel of normalcy."
3. Prohibited the Teaching of Critical Race Theory
A law that forbids the teaching of critical race theory in general education classes and eliminates financing for diversity, equity, and inclusion programs at public universities was signed by the governor in May. Courses on diversity, equality, and inclusion (also known as DEI) and critical race theory (commonly known as CRT) have gained a lot of attention recently, especially from conservatives who claim that the subjects would teach white students that they are less valuable than their minority peers. Progressives, however, assert that these classes contribute to the creation of a more accepting and inclusive workplace. In opposition to them, DeSantis has said that "woke" thinking is racially divisive and discriminatory. He has said that CRT is "state-sanctioned racism that... [teaches] kids to hate our country or to hate each other."
4. Parental Rights in Education Bill - "Don't Say Gay"
The state of Florida approved a rule in 2022 that forbids teachers from discussing specific LGBTQ subjects in third grade or below or "in a manner that is not age appropriate or developmentally appropriate for students in accordance with state standards." Even before it went into force in July, the bill, properly known as "Parental Rights in Education," faced broad national opposition, with detractors claiming it might negatively affect a group that was already marginalized. DeSantis' so-called "Don't Say Gay" policy has already established itself as a lasting part of his legacy in Florida and prompted a conflict with Disney that is still going on more than a year later. Disney filed a lawsuit against DeSantis in April, citing "government retaliation."
5. Death Penalty
A law that would let juries inflict the death penalty on someone even if only eight out of a jury of twelve think that the person should be put to death was signed by DeSantis in April.
6. Anti-abortion Measures: Six-week Ban on Abortion
A prohibition on abortions after six weeks was signed into law by DeSantis in April, except for life-saving circumstances. Until 15 weeks of pregnancy, abortions from rape or incest-related pregnancies would be permitted, but only if the mother has documentation of a restraining order or police report, according to the Associated Press. In a press release that was circulated at the time, DeSantis stated, "We are proud to support life and family in the state of Florida."
7. Ban on Unions
DeSantis signed Senate Bill 256 weeks before he declared his candidacy for president; opponents claim that this law will make it more challenging for Florida's public sector employees, including teachers, to form unions and engage in collective bargaining for things like better salary, better insurance, or paid sick leave. However, the Tampa Bay Tribune had reported that law-enforcement officers, correctional officers, and firefighters remain exempted.
8. Participation in Transgender Sports and Bathroom Bills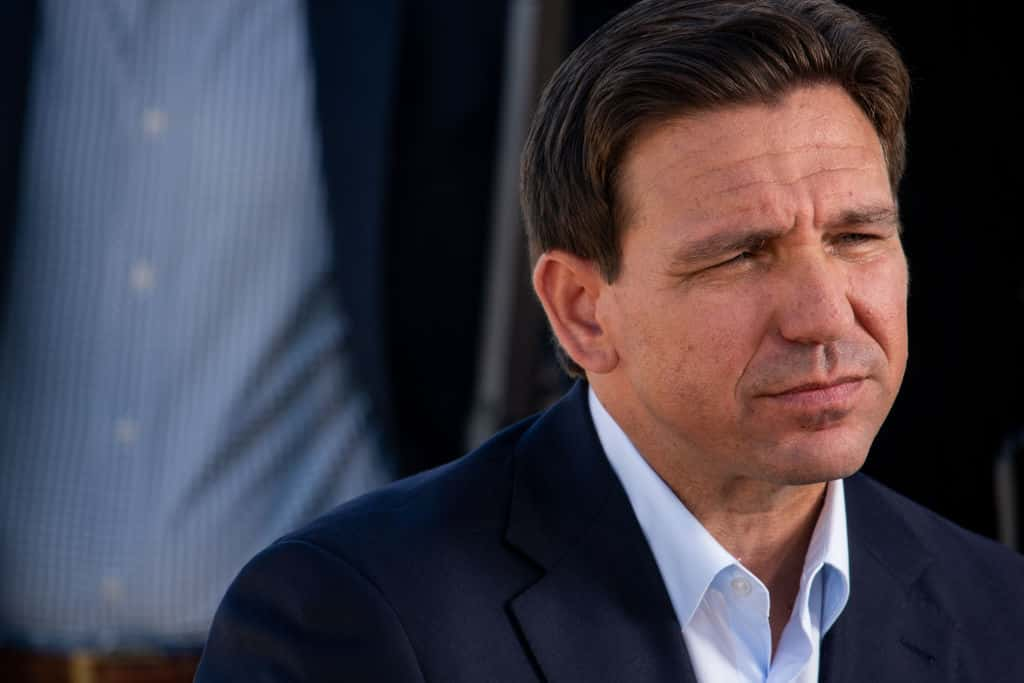 A law that would prevent transgender female athletes from competing on teams at public schools intended for student-athletes who are biological females was signed by the Florida governor in 2021. DeSantis remarked at the time, "In Florida, girls will play girls' sports and boys will play boys' sports." "We're going to make sure that's the reality." DeSantis signed the legislation on the first day of Pride Month, as NPR reported at the time. On May 17, he signed legislation that makes it illegal trespassing to use a bathroom that isn't appropriate for their gender identity and requires that all public buildings, educational institutions, detention centers, and correctional facilities (including juvenile institutions) have separate bathrooms for men and women.
More from Inquisitr
Donald Trump's Team Slams Ron DeSantis, Calls Him 'Thirsty, OnlyFans Wannabe Model'
Karine Jean Pierre Gives One-Word Response to Reporter's Query on Joe Biden's Dropping Poll Results