Watch a crucial NFC clash live online when the Carolina Panthers swagger into Seattle to put their undefeated 4-0 record on the line against the Seahawks — with the defending conference champions desperate for a win to bring their record even, at 3-3, and keep hope alive for a return trip to the postseason and maybe even a third straight Super Bowl appearance.
But with only two victories in five games so far this year, the Seahawks hardly look like the same team that came within one miraculous interception from winning back-to-back Super Bowl games last February. But Seattle should be getting a boost Sunday with the return of "Beast Mode" running back Marshawn Lynch, who is set to reclaim his starting role after missing two games with an injury.
But will the return of Lynch really make a big difference? Backup Thomas Rawls, filling in for Lynch against the red-hot Cincinnati Bengals last week, rushed for 169 yards. That's a higher total that Lynch has ever compiled in any single game.
On the other side, the Carolina ground game has relied largely on the Panthers quarterback, Cam Newton. The 2011 top overall draft pick out of Auburn will carry the ball 172 times this season, if he continues running at his current pace. He will compile 780 yards on the season, again, at his current rate.
"He's going to play to his ability," Carolina Coach Ron Rivera told ESPN.com.
"He's going to do everything he can to win. The thing I like is he's been smart about it. You see him sliding a little more. You see him running out of bounds a little bit more, which I think is huge."
To find out how to watch the Carolina Panthers vs. Seattle Seahawks NFL Sunday afternoon late football game live online, see the streaming info in the final paragraph of this article. Kickoff is set for 1:05 p.m. Pacific Time at CenturyLink Stadium in Seattle, Washington, 4:05 p.m. Eastern Time.
The game will be available live online in markets where the Fox Network broadcasts the game on conventional television. That includes most of the Northwestern and Southwestern United States, as well as the Southeastern states. The following map shows where the game will be available, courtesy of 506 Sports, with the regions shaded in purple representing the areas where the Panthers vs. Seahawks game will be available live online.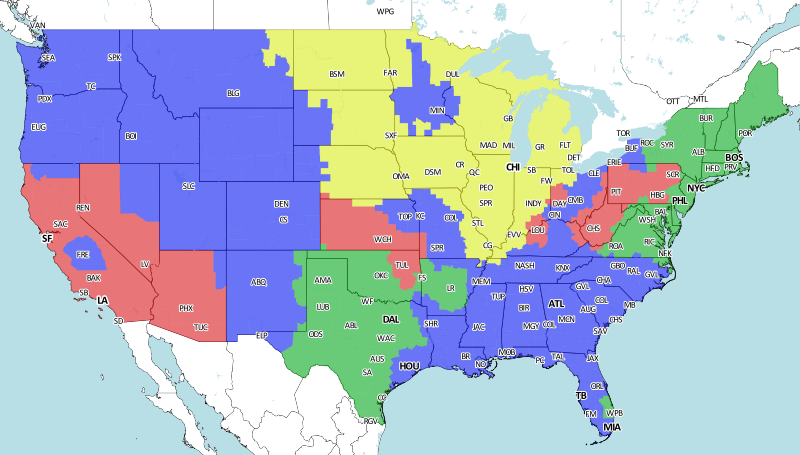 Seattle has defeated Carolina in each of their last five meetings, including both a regular season and playoff matchup last season. In fact, the Seahawks are 7-2 overall against Carolina, since the Panthers joined the NFL in 1995. The two teams did not play each other until the 2000 season, however.
Can the Carolina Panthers become the second NFC team to reach the 5-0 mark father 2015 season? Or will the defending NFC champion Seattle Seahawks get their third win and preserve what is perhaps their final hope to set their faltering season back on a playoff-bound track? To find out, watch the Carolina Panthers vs. Seattle Seahawks NFL featured Sunday game live online from Seattle, Washington, by going to Fox Sports Go at this link, or downloading the Fox Sports Go app to watch on tablet computers. NFL games on Fox Sports Go are not available to watch on smartphones, due to contractual agreements. Fox Sports Go also streams live on the Amazon Fire TV device, allowing fans to watch the Panthers vs. Seahawks game live online on their TV sets.
[Featured Image: Otto Greule Jr. / Getty Images]