Angelina Jolie, who was recently deemed a "spoiled brat" by movie mogul Scott Rudin in a leaked email, announced she has chicken pox — a disease usually contracted in childhood. The superstar actress and director, whose new and much-anticipated film Unbroken opens on Christmas day, made the revelation in a YouTube video released by Universal Pictures, the studio behind Unbroken, Friday afternoon.
Most cases of chicken pox occur in young children, and in most cases once an individual is stricken with the illness once, the body develops an immunity that prevents the disease from recurring. As a result, chicken pox in adults is relatively uncommon.
Angelina Jolie is 39 and the mother of six children — making it rather amazing that she has never contracted chicken pox prior to now.
But any doubts about whether Angelina Jolie, who is now dealing with the fallout from the leaked email exchange between Rudin and Sony Pictures boss Amy Pascal, actually has the disease should be dispelled by the star's rather haggard appearance in the video.
Even under the harsh lighting of the crudely shot video, which can be viewed above, the distinctive red marks of chicken pox are visible across Jolie's forehead and chest, as she appears without makeup and wearing a sleeveless undershirt.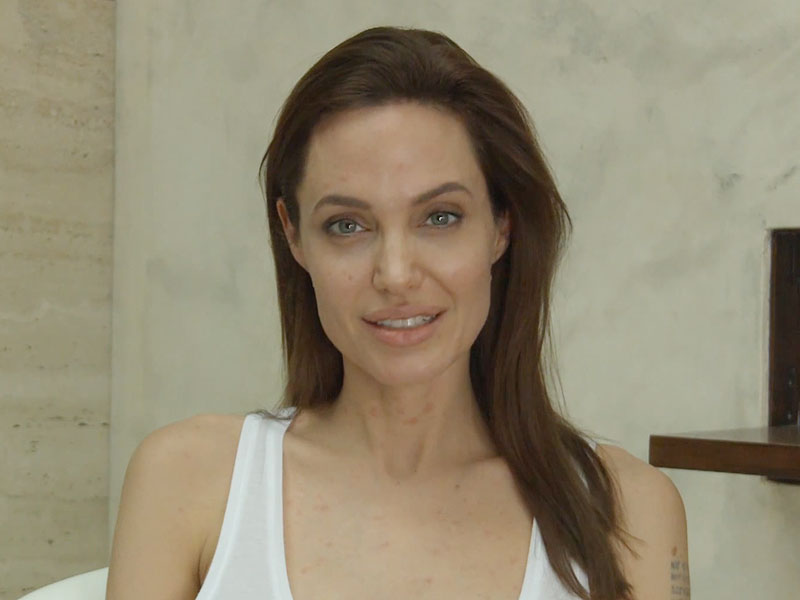 "I just wanted to be clear and honest about why I will be missing the Unbroken events in the next few days, which is that I found out last night that I have chicken pox," Jolie says in the clip. "I will be home, itching and missing everyone, and I can't believe it because this film means so much to me."
Angelina is also clearly upset, perhaps more by missing out on the Unbroken premiere than by the chicken pox.
"I can't believe it because this film means so much to me," she says in the video, with a laugh of disbelief, as if at the absurdity of the situation. "I just can't believe it, but such is life. There it is. Send everyone my love and I hope everything goes well."
In a separate statement, Angelina Jolie added, "'You have to laugh at the timing. I was sure nothing could stop me from supporting Unbroken."
Angelina is in for a rough week, as the symptoms of chicken pox — which include "poor appetite, fever, headache, fatigue," and of course extreme itching of the pox that spread across the entire body — are typically more severe in adults than in children.
But Angelina Jolie is getting off easy compared to veteran TV interviewer Barbara Walters, who last year came down with a case of chicken pox at age 83.