Katherine Webb, the stunning model girlfriend of former Alabama quarterback AJ McCarron, is now the stunning model fiancée of former Alabama quarterback AJ McCarron. It seems that the 23-year-old signal caller, who will be playing — or at least watching from the sidelines — with an NFL team starting this fall, wanted to get the big moment out of the way before his life as a full-fledged professional player gets underway.
He proposed to Katherine Webb, 24, a Sports Illustrated model and former Carl's Jr. spokesperson, Friday afternoon and the couple immediately announced the big news on Twitter. Because how else would you announce a major life event?
"WE'RE ENGAGEDDD!!! @10AJMcCarron," tweeted the onetime Miss Alabama Webb. She followed up that tweet with a close-up of the sizable diamond ring on her finger, giving the appearance that McCarron is already spending his NFL signing bonus that he hasn't received yet.
"He designed it himself," Webb tweeted next. The ring is said to be a cushion cut in a pavé halo setting, by those who know what those things mean.
In a way it was fitting that Katherine Webb and AJ McCarron announced their betrothal on the popular micro-blogging platform. The couple met thanks to Twitter in November of 2012. One of Katherine Webb's friends used the medium of a tweet to invite McCarron to a party, knowing that he and Webb would make a good match.
But McCarron was intimidated at first, tweeting "Ah she might be alittle to famous for me. She's probably got all of the athletes after her shes pretty tho."
But romance ensued nonetheless and the relationship became national news when during the 2013 BCS National Championship game, in which Alabama rather easily defeated Notre Dame 42-14, the ESPN camera continually strayed from the competition on the field to Katherine Webb looking on in the stands.
The shots were accompanied by vaguely creepy comments by 74-year-old play-by-play announcer Brent Musburger, who didn't let the fact that he is old enough to be Katherine Webb's grandfather stop him from repeatedly remarking on her striking pulchritude.
The episode was a trifle awkward to say the least. But it was the best thing that ever happened to the career of Katherine Webb. A month later she was co-hosting a Sports Illustrated Valentine's Day event with Kate Upton.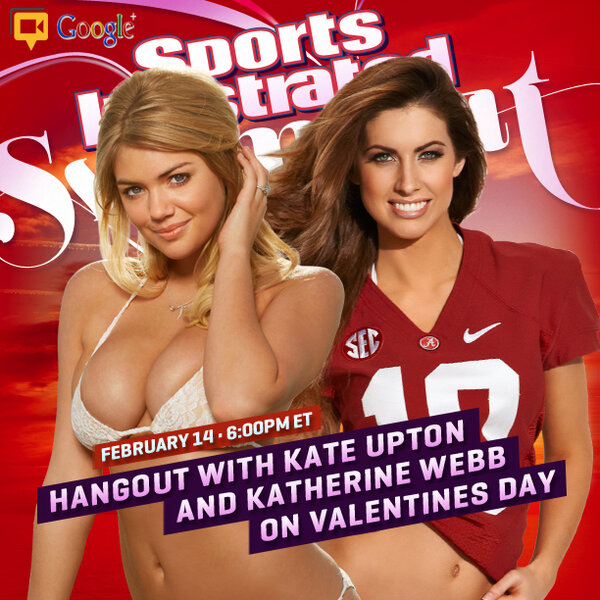 No wedding date is yet announced for Katherine Webb and AJ McCarron. The quarterback presumably now needs to focus on the NFL draft, in which he is projected to be selected in the second or third round.