10 Lesser-Known Facts About Former First Lady Melania Trump Beyond the Headlines The Elusive, Tight-Lipped Former First Lady Melania Trump
Also Read: Jimmy Kimmel Hilariously Links Donald Trump's Post-January 6 Grief to Eric Trump's Birthday
Melania Trump, formerly Knauss, is a very mysterious former first lady, quite different from her predecessors. The former model was born in a tiny village in Slovenia during its time as a part of Yugoslavia. Upon relocating to the United States permanently, she succeeded in realizing a portion of the American dream. Her career brought her from magazine covers and high-profile advertising campaigns to the arms of Donald Trump, then a former real estate billionaire turned reality TV celebrity, who would go on to become the 45th president of the United States. But who exactly is the tight-lipped, stoic beauty who we know little to nothing about? Here are 10 lesser-known facts about Melania.
1. Melania Trump is barely older than her stepkids
When she got married to Donald in 2005, Melania became stepmother to four children from Donald's two previous marriages. All of her stepkids were only slightly younger than her. Donald Jr., the oldest son of Don, is just seven years younger than Melania. Ivanka, Eric, and Tiffany are 29, 39, and 41 years old, respectively, at the time of writing. Compared to their stepmother, who is only 53, it isn't a particularly big gap, per US Weekly.
Also Read: 6 Times When Donald Trump Made Headlines That Created a Buzz But Were Forgotten With Time
2. Melania is the first First Lady who is a non-US birth in 200 years
Also Read: Melania Trump Opens Up: No Major Fights or Disagreements With Donald in 20 Years
Melania was born in Slovenia, making her one of just two first ladies to be born outside of the United States; the other being the wife of John Quincy Adams, who assumed office in 1825. Louisa Adams was born in England in 1775, which is probably not unusual given that the US was still a colony of England at the time, according to USA Today. Besides, it had been almost two centuries since there had been another first lady of foreign descent.
3. Melania might have worked illegally in the US
Melania Trump appears to have begun her American dream illegally, according to documents obtained by the Associated Press on her husband's visa status in September 2016, just as the Trump administration was preparing to make significant changes to immigration laws. Melania initially traveled to the country in August 1996 on a visitor's visa, but she earned $20,056 from ten modeling gigs without being able to legally work. This work was purportedly completed in the five weeks before the October approval of her H-1B work visa.
4. Melania helped her parents get Green Cards
Melania Trump was able to sponsor her parents, Amalija and Viktor Knavs, who are from Slovenia, for green cards after obtaining her citizenship in 2006. This started the process of Barron Trump's grandparents obtaining US citizenship. The New York Times claims that the couple became citizens in 2018. The irony in this situation is that Melania's husband has been critical of this very procedure. Melania's parents were able to become citizens thanks to a type of visa that Donald Trump has long wished to abolish. He frequently referred to this procedure as "chain migration."
5. Melania delayed her White House move on a calculated decision
Melania Trump notably postponed her move to the White House after Donald won. Despite her first justification being that she didn't want her then 10-year-old son to have to start at a new school amid the year, Pulitzer Prize-winning reporter Mary Jordan said in her book that the former model stayed behind to renegotiate her prenuptial agreement, per The Washington Post. She renegotiated her prenuptial agreement since it had supposedly "not been incredibly generous." Melania intended to ensure that her son, Barron, would have the same financial opportunities as Donald Trump's three eldest children, including a part in the family company and a sizeable inheritance.
6. Melania once lied about not having a nanny
Melania Trump has consistently maintained that she has never hired a nanny to assist with caring for her son Barron."I like to be hands-on. I think it's very important," she said to People in 2015. Her main priority, she maintained, was parenting Barron. "I am a full-time mom; that is my first job. The most important job ever," she said in a statement. But, in her 2020 memoir Melania and Me: The Rise and Fall of My Friendship with the First Lady, Melania's friend and confidante Stephanie Winston Wolkoff refuted Melania's claim, saying that Melania had assistance from her mother and other home staff members, per She Knows. Melania's assertion that she is nanny-free was refuted even by her spouse. "Yes, there is a young woman, someone who works with Barron," Donald told Page Six in 2015.
7. Melania has more influence than she shows
Melania Trump has often been quiet and let her husband Donald speak during their marriage, but it appears that she does have a lot of sway. Journalist Mary Jordan argues that Melania is significantly more powerful than what may be seen at first glance. In an interview with CBS Sunday Morning, Jordan discussed her book and said that her study dispelled several common myths. "She is smart, independent. She will decide what she wants to do and what she doesn't wanna do," Jordan said. "She's quite influential," Jordan said. "And I think people underestimated her, big time."
8. Melania likes to stay away from politics in public
Since Melania has seldom spoken about her political views in public, both before and after she became first lady, her political views remain obscure despite her four years in the White House. Before the election, in a 2016 interview with Harper's Bazaar, Melania outlined her reasons for choosing to keep her political opinions to herself. "I'm choosing not to go political in public because that is my husband's job," she said. "I'm very political in private life, and between me and my husband, I know everything that is going on. I follow from A to Z." Melania asserted that she even has many opinions that don't always align with her husband's. "I give him my opinions, and sometimes he takes them in, and sometimes he does not," she said. "Do I agree with him all the time? No."
9. Melania kept her distance from Donald Trump's indictment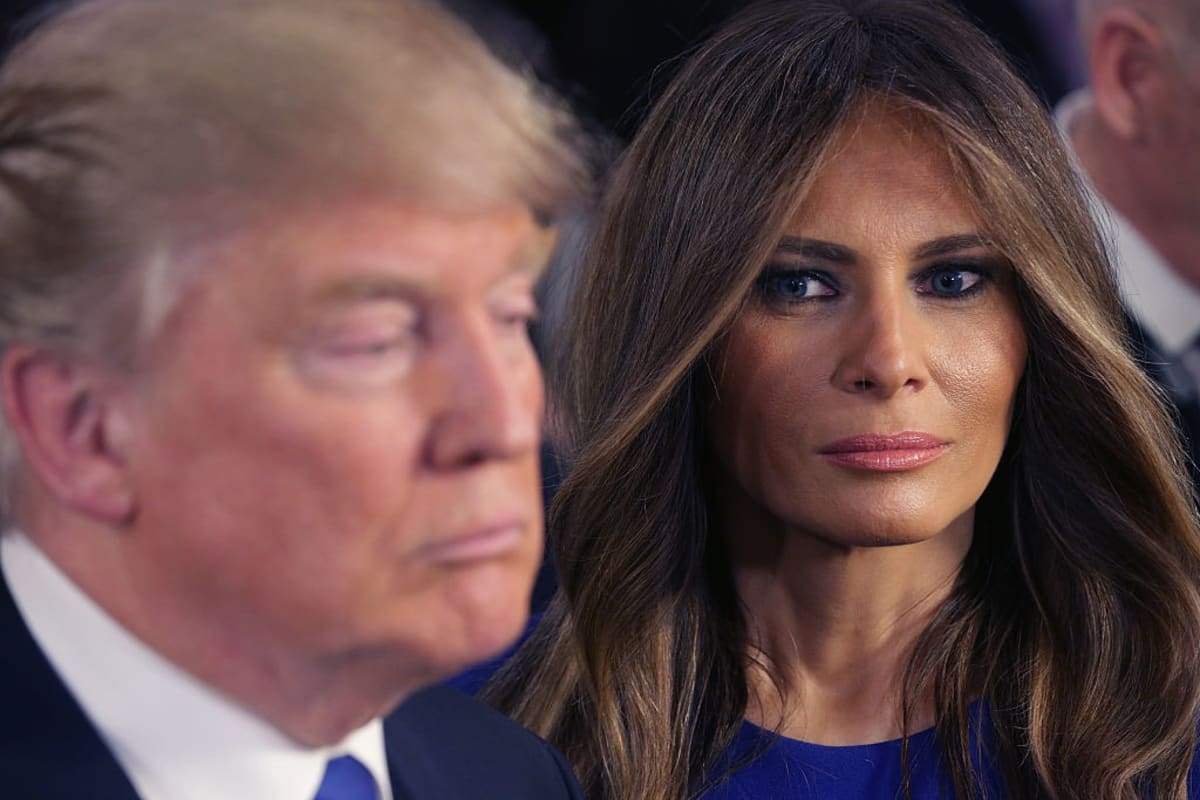 In April, as Donald Trump became the first president in American history to be charged and jailed on criminal charges, he entered a Manhattan courthouse accompanied by a team of attorneys — but not his wife. "Melania Trump's absence says everything," tweeted Michael LaRosa, the former spokesman for first lady Jill Biden. "Before Trump appeared in the doorway, I held my breath, waiting to see if the former first lady would be by his side, clasping his hand, and showing unconditional love and support," LaRosa wrote. "There would have been so much power in that picture." Stephanie Winston Wolkoff, Melania's friend-turned-enemy, said that her refusal to go to court with her husband and her silence about his prosecution spoke volumes. "I never expected to see her there," Wolkoff told Page Six. "Her silence is deliberate, it is her weapon of choice and her protective armor."
10. Melania Trump was only the second Catholic first lady
Melania Trump is only the second Catholic first lady in American history. Needless to say, Jacqueline Kennedy was the first, half a decade ago. Given Melania's ethnic background and the fact that Catholicism is the most common religion in Slovenia, where Melania was born, it should come as no surprise that she practices the faith. Melania hasn't publically talked about her faith, but in 2017 she showed it by reciting the Lord's Prayer to begin one of her husband's rallies.
More from Inquisitr
Trump Targets Judge Engoron's Wife After Gag Order Got Reinstated, Calls Her the 'Trump-Hating Wife'
Nikki Haley Calls for an End to 'Chaos and Drama' in a $10 Million Ad Campaign Dig at Trump