10 Blunders Donald Trump Made That Even His Biggest Supporters Couldn't Overlook Trigger Warning: This article contains themes of abuse that some readers may find distressing.
10 Blunders That Even Trump's Most Devoted Fans Couldn't Ignore
Also Read: Special Council Claims January 6 Events Were Just as Donald Trump 'Intended' Them to Be
Even the most committed followers of a public figure may occasionally have to deal with choices or actions in the political sphere that test their loyalty. Let's examine a few instances that caused even the most devoted followers of former President Donald Trump to momentarily doubt their commitment. These incidents, which range from public remarks to policy choices, highlight the intricate dynamics of contemporary politics, where even the most ardent supporters find themselves scratching their heads at certain developments.
1. Trump Suggesting Injection Of Disinfectant
Also Read: Liz Cheney Details Donald Trump's 'Dangerous Plans' In Her New Book, 'Oath and Honor'
During a daily briefing, then-President Trump raised eyebrows and caused widespread concern when he suggested that people infected with the coronavirus might benefit from receiving disinfectants intravenously. This shocking statement was made in response to a presentation on the impact of light and temperature on the virus given by Bill Bryan, the head of the Department of Homeland Security's science and technology division, per NBC News. Thinking about the possible advantages of exposure to light, Trump continued with his suggestion, "supposing you brought the light inside the body." Health professionals and officials quickly reacted to this proposal, which lacked scientific support and safety considerations, and advised against any such experimental treatments.
2. Trump's Access Hollywood tape
Also Read: Trump Claims He Asked Son Eric Trump Not to Testify as His 'Young Life' Has Been 'Unfairly Disturbed'
When the Access Hollywood Tape was made public on October 7, 2016, it sent shockwaves through the 2016 US presidential campaign. In this infamous video, TV host Billy Bush and then-candidate Trump had a disturbingly graphic discussion about women. Trump made offensive comments about how he treated women, most notably using the term "grab 'em by the p***y." The tape sparked strong political and public reactions when it was released right before the second presidential debate. Some Republicans distanced themselves from what Trump said, but others remained in his camp. Perceived as an "October surprise," the event significantly affected public sentiment, diminishing support for Trump; however, he went on to win the 2016 election. The recording reappeared in 2023 as part of a civil lawsuit filed by writer E. Jean Carroll, who charged Trump with sexual assault. Carroll received $5 million in damages after a jury found Trump guilty of defamation and sexual abuse on May 9, 2023.
3. The Government Shutdown
The 35-day U.S. government shutdown that occurred from December 22, 2018, to January 25, 2019, was the longest in the country's history. It happened when the former President and the 115th Congress could not agree on an appropriations bill for the 2019 fiscal year. This was during the administration of Trump. The main source of the impasse was Trump's demand for $5.7 billion in federal funding to build a wall between the United States and Mexico. A quarter of government operations were impacted by this shutdown, which left 800,000 employees across nine executive departments either furloughed or working without pay.
4. The Muslim Ban
Officially known as "Protecting the Nation from Foreign Terrorist Entry into the United States," Trump issued several executive orders starting on January 27, 2017, which together made up the Trump travel ban. It limited entry into the United States from several countries with a large Muslim population and was widely referred to as the "Muslim ban" by both its detractors and even Trump and his associates. A major source of controversy and legal challenges arose from this policy during Trump's presidency. But after taking office on January 20, 2021, President Joe Biden swiftly lifted all travel restrictions—apart from the one that forbade US citizens from visiting North Korea—signaling a change in immigration laws in the country.
5. Trump's DACA Reversal
Waves of shock were sent across the nation following Trump's decision to terminate the Deferred Action for Childhood Arrivals (DACA) program, which was created to protect young undocumented immigrants brought to the country as children, per The Guardian. This turnabout was a win for Steve Bannon and his base, but it also provoked a strong backlash. The move was denounced by several Republicans, state governors, business executives, activists, and attorneys, in addition to Democrats like Barack Obama and Joe Biden. The decision was viewed as politically and morally costly. It cast doubt on the future of almost 700,000 Dreamers, as these young immigrants are known; many of them are native to the United States and have never known any other country.
6. His Charlottesville Response
The way that Trump handled the Unite the Right demonstration in Charlottesville, Virginia, in 2017 provoked criticism and controversy. When he first spoke out against the "hatred, bigotry, and violence on many sides," he did not specifically name the white supremacist organizations that were involved. Defenses of this statement that followed, such as references to "very fine people on both sides," were heavily criticized for suggesting that white supremacist protesters and counter-protesters were morally equal. Trump faced harsh criticism and public scrutiny for the way he handled the situation, even after he later clarified that he wasn't referring to white nationalists and neo-Nazis, reports FrenzHub.
7. Efforts To Overturn The 2020 U.S. Presidential Election
Following his defeat by Joe Biden in the 2020 U.S. presidential contest, Trump launched an extraordinary and unprecedented attempt to overturn the outcome. He persisted in spreading fictitious allegations of voting machine manipulation, electoral fraud, and a worldwide plot to rig the results. With their hopes primarily focused on the Supreme Court, Trump and his allies attempted to contest the election results through several legal actions; however, none of the 63 lawsuits they filed were successful. Some of their strategies included spreading the notion that Vice President Mike Pence might decline to certify the results on January 6, 2021, and exerting pressure on state legislatures to alter the results or postpone the certification of the electoral vote.
8. Withdrawal From The Paris Agreement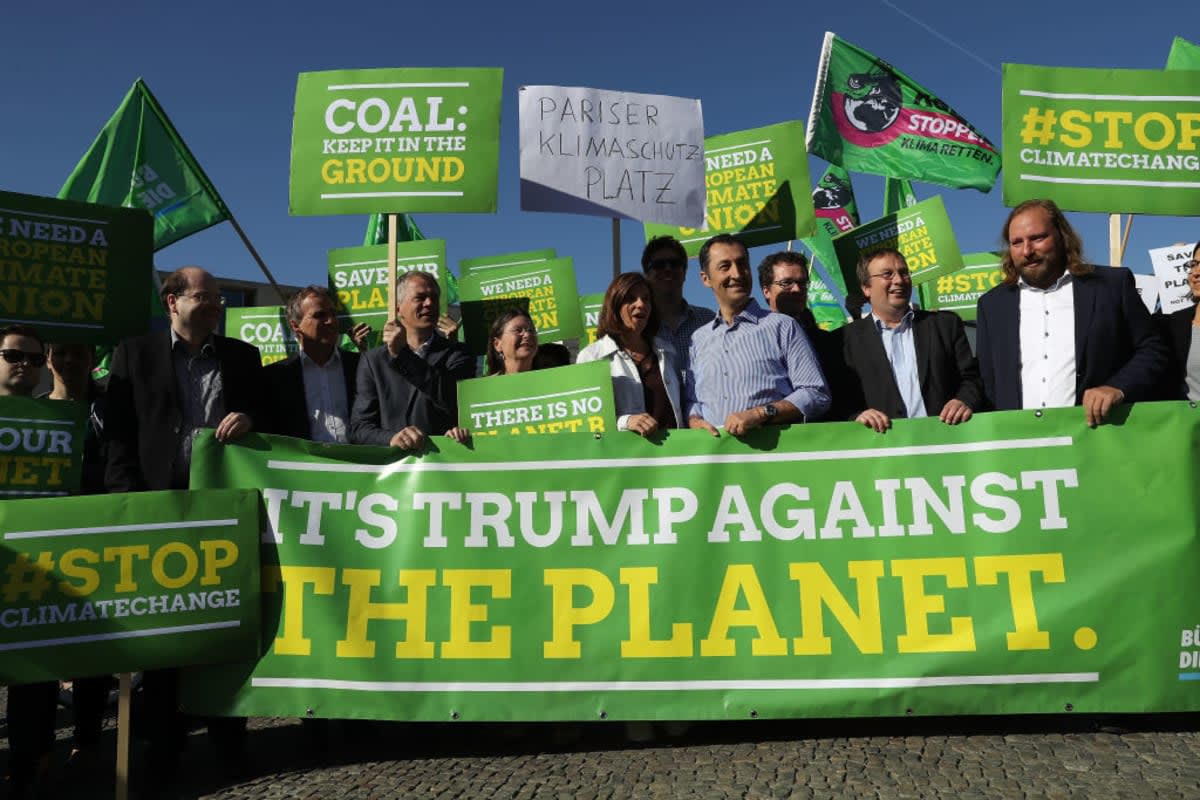 The United States' climate policy underwent a dramatic change on June 1, 2017, when Trump decided to pull out of the Paris Agreement. Some Republicans backed Trump's move, citing concerns about economic competitiveness and national disadvantage, but Democrats, environmentalists, businesses, and scientists strongly opposed it. The Agreement's withdrawal procedure took a year to finish, and on November 4, 2020—the day following the U.S. presidential election—it became formally effective. Trump's decision had an impact on carbon emissions, diminished U.S. financial contributions and participation in climate change research, and created a leadership void in the global climate arena. However, within days of taking office on January 20, 2021, President Biden moved to overturn this decision, reiterating the US commitment to global climate action by rejoining the Paris Agreement.
9. Trump's Views on Gun Rights
Speaking at the annual meeting of the National Rifle Association, former President Trump reiterated his firm support for Second Amendment rights and gun ownership, per NBC News. Declaring himself the most pro-gun president in American history, he promised to support the rights of gun owners should he run for office again in 2024. Trump played down the notion that tougher gun laws would decrease violence, pointing out that the real problems with the situation were more related to mental health, social, cultural, and spiritual issues than they were to firearms. He joined a chorus of Republican leaders who opposed gun control legislation, claiming that Democrats were pushing their extreme agenda over sensible safety measures for schools, which would not stop troubled people from attacking.
10. The Helsinki Summit
On July 16, 2018, in Helsinki, Finland, the Russia-United States summit, also referred to as the Helsinki summit or the Trump-Putin summit, was held. The meeting between Russian President Vladimir Putin and Trump, which was facilitated by Finnish President Sauli Niinistö, attracted a lot of media attention. There was a big commotion when Trump refused to acknowledge Russian meddling in the 2016 US elections during a joint news conference with Putin. Later on, he changed his remarks to blame the controversy on a "double-negative" misunderstanding. Despite being handled diplomatically, the summit drew criticism from both extremes of the American political spectrum.
More from Inquisitr
Hunter Biden Slammed by Prosecutors Over 'Meritless' Attempts to Subpoena Trump's Diaries
Trump's Lawyers Attempt to Delay The $250M Trial, Judge Engoron Strikes it Down: 'Nice Try'