Whoopi Goldberg of 'The View' Confronts Crew Member About Awkward On-Air Mishap Few people in the world of daytime television shine as brightly as Whoopi Goldberg, the iconic moderator of The View. Goldberg's candid moments on the show have left audiences in stitches and highlighted her unique charm as a television personality. During a recent episode of The View, Goldberg didn't hold back when she called out a crew member for causing an on-air blunder, reports The Sun.
Also Read: Fans Criticize 'The View' Host Whoopi Goldberg For Her 'Gross' On-Air Conduct
Goldberg welcomed viewers back from a commercial break on Monday's episode, which featured guest Henry Winkler but was quickly thrown for a loop. "... We are back here with Henry Winkler. Today- OK! See, you all like to this to me" she said with a smile. This lighthearted remark showed Goldberg's ability to deal with unexpected disruptions with grace and humor. "Is it my question?" co-host Sunny Hostin, clearly amused by the situation, asked.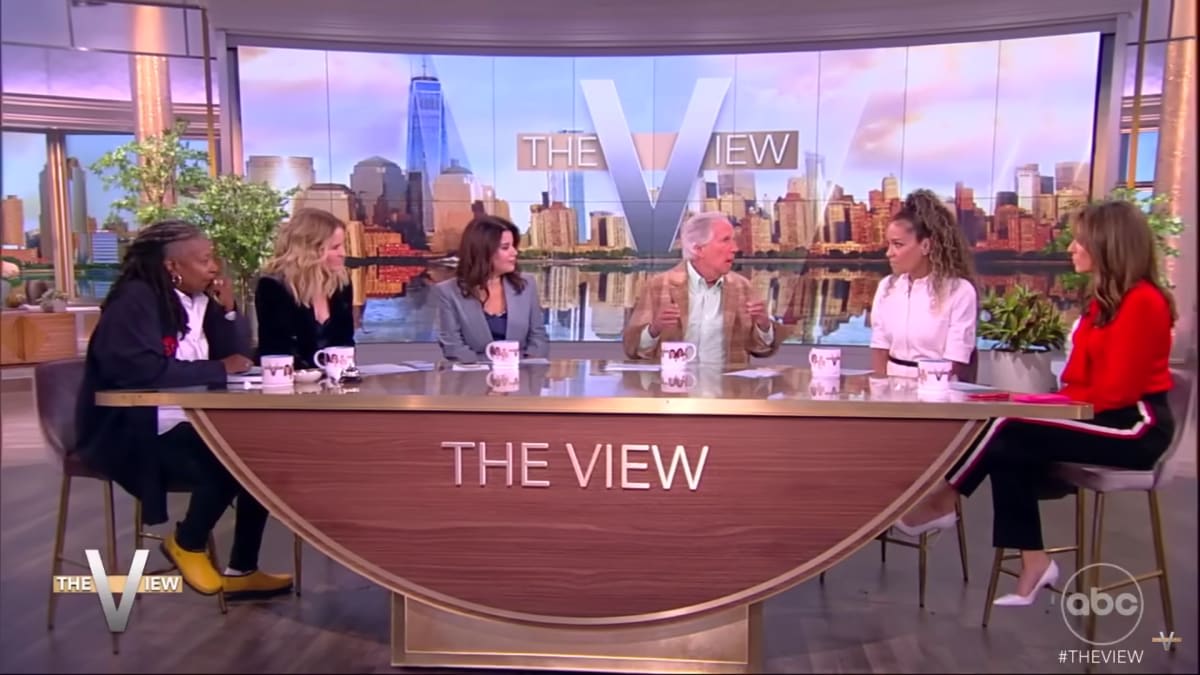 "Yeah, but they're giving me a whole other thing!" Goldberg replied. She was jokingly referring to the show's crew, who would occasionally throw in surprises to keep her on her toes. "Just to see if I'm awake!" she exclaimed. Hostin explained the situation to the audience, saying, "Something else was in the prompter but it's my question." This candid moment not only entertained viewers but also revealed the show's hosts and staff's camaraderie. This is not the first time Goldberg has had a joking exchange with The View staff. She had a memorable encounter with a show producer just last week when the hosts walked out from backstage to a different song than their usual theme song.
Also Read: 'The View' Host Whoopi Goldberg Made This Grim Remark About Donald Trump's Potential Re-Election
"Hello and welcome to The View," Goldberg greeted viewers with her trademark wit. She said, "We walked out to the Oscar-winning song Shaft by Isaac Hayes to honor the great actor, Richard Roundtree, who passed away at 81." "We will forever remember him as the big screen's first Black action hero, OK? "So, I want to talk about Shaft." However, before she could continue with the explanation, producer Brian Teta interrupted her, saying, "Whoopi, I don't think we should do that."
"Why?" Goldberg inquired, looking for clarification. Brian then mentioned the song Shaft by Isaac Hayes that was playing and joked, "He's a complicated man. Nobody understands him but his woman," he says, referring to lyrics from the song. Another producer joked, "You know that Shaft is a bad mother-." Among her co-hosts' laughter, Goldberg retorted, "Shut your mouth!"
Also Read: Here's What Whoopi Goldberg Said After Forgetting to Turn off Her Mic on 'The View'
Despite her animated and candid exchanges on the show, Goldberg has faced criticism for appearing "bored" during certain segments. Earlier this year, she kept a blank expression on her face and chose not to speak up during a panel discussion. She displayed her disinterest in the subject when she thanked the producers for transitioning to a commercial break by saying, "Thank goodness, we're going to break."
More from Inquisitr
'The View' Sara Haines Calls Out Whoopi Goldberg For 'Falling Asleep' On Live TV, Playfully Pushes Her
When Barbara Walters and Whoopi Goldberg Struggled Behind The Scenes of 'The View'