When Donald Trump's Verbal Attacks Indicated He Is Obsessed With Barack Obama There have been rumors for a long time that Donald Trump can't stop thinking about his predecessor, Barack Obama. Trump's rise from Apprentice TV star to GOP presidential contender rode a wave of Obama antipathy, a big element of which was Trump's repeatedly challenging Obama's citizenship and birth certificate, so it's safe to assume that he has given Obama a lot of thought.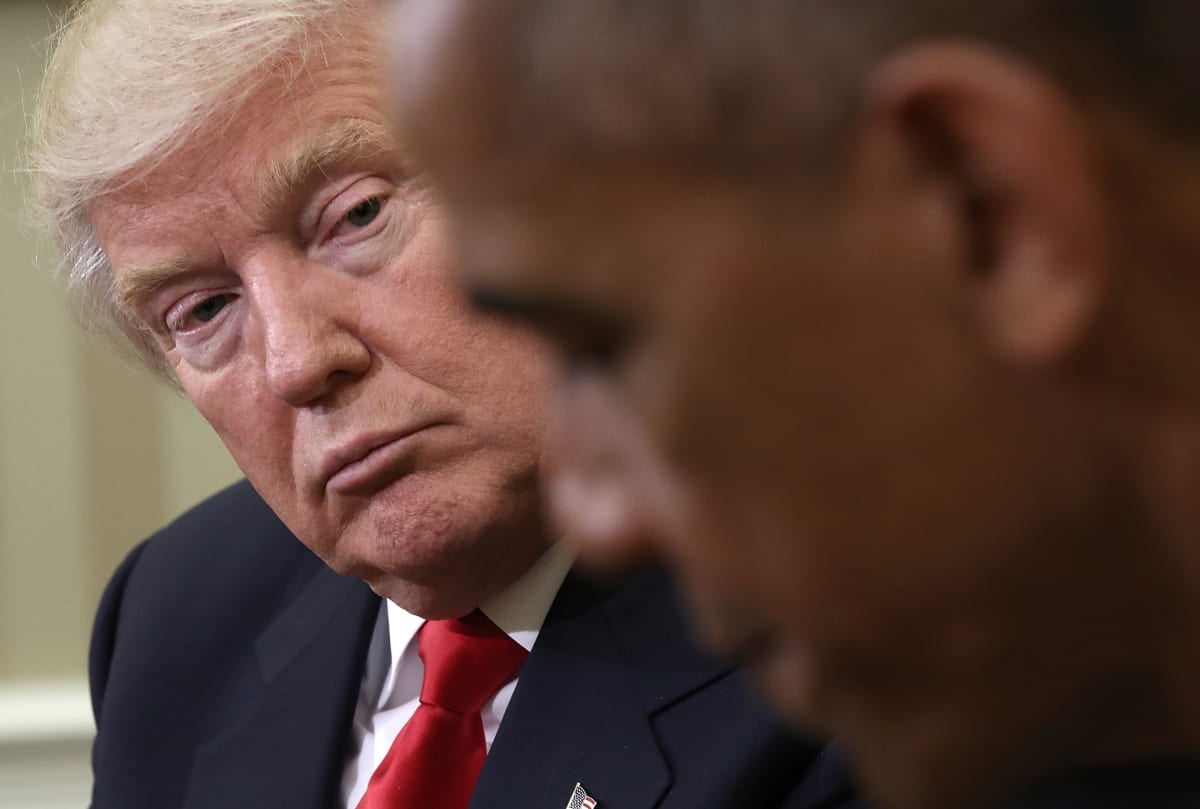 Also Read: Barack Obama is a Distant Relative of Brad Pitt, Angelina Jolie and Hillary Clinton Are Related As Well
According to The Guardian, the magnitude of Obama's inaugural throng and social media following, as well as the anti-intellectualism, racism, revenge, and primordial jealousy that accompanied them, are all examples cited for the obsession Trump displayed. Former Obama national security adviser Ben Rhodes once tweeted, "Trump's fact-free fixation on Obama dating back to birtherism is so absurd and stupid that it would be comic if it wasn't so tragic."
Despite Obama's 1961 birthplace in Hawaii, Trump cast doubt on his citizenship for years until declaring at a press conference before the 2016 race that he thought the first African-American president was born in the United States. With a few more lines after his speech unveiling his new hotel on Pennsylvania Avenue in Washington, Trump attempted to finish his longtime campaign to undermine the nation's first African-American president.
---
Obama: But I have to speak the truth. Which is these days it is just about every Republican politician seems obsessed with just two things, own the libs, hey, let's own the libs. And getting Donald Trump's approval. That is their agenda. pic.twitter.com/iDZrmBDIFQ

— Acyn (@Acyn) October 29, 2022
---
Trump has been one of the most outspoken critics of Obama's legitimacy as a citizen and religion for a long time. Trump threatened to send investigators to Hawaii to verify Obama's birthplace as part of his campaign to persuade him to reveal the full version of his birth certificate. The campaign aided the "birther" conspiracy theory that Obama was not born in the United States, and Trump even suggested that Obama's birth certificate may identify him as a Muslim. He said in an interview in 2011, "He doesn't have a birth certificate. He may have one, but there's something on that, maybe religion, maybe it says he is a Muslim. I don't know. Maybe he doesn't want that."
Also Read: 5 Recent Embarrassing Gaffes by Donald Trump in the Presidential Campaign Trail
There is a deeper animosity at play here than only political expediency. Trump has always looked determined to undo his predecessor's achievements, whether they be the Iran nuclear agreement, the Trans-Pacific Partnership, environmental laws, or the Affordable Care Act. Rarely has a new president seemed so intent on not only changing the country's course but deliberately destroying the infrastructure that existed before he took office.
Also Read: Joe Biden Once Referred to Barack Obama as a "Bright and Clean" African-American
Presidential historian Russell Riley remarked, "I've reflected back and simply cannot find another instance in recent American history where a new administration was so wholly committed to reversing the accomplishments of its predecessor." The Gettysburg College's Fielding Center for Presidential Leadership Study Director Shirley Anne Warshaw added, "Trump isn't doing anything that Obama didn't do. He is simply reversing policies that were largely put in place by a president of a different party. I have not seen any constructive bills in this vein that Trump has put forth. As far as I can tell, he has no independent legislative agenda other than tearing down. Perhaps tax reform."
More from Inquisitr
Fox News' Brian Kilmeade Defends Donald Trump's Biden-Obama Mix-Up, Claims It's a Strategic Move
Donald Trump Confused Barack Obama for Current President Joe Biden in New Hampshire Rally