Travis Barker Battles COVID-19 Amid Wife Kourtney's Sensitive Pregnancy and His Ongoing Blink-182 Tour In an unexpected turn of events, iconic Blink-182 drummer Travis Barker recently revealed a health problem that has not only cast doubt on his impending tour but has also forced him to isolate himself from his pregnant wife, Kourtney Kardashian. This news has left fans apprehensive about the tour's future and the couple's well-being.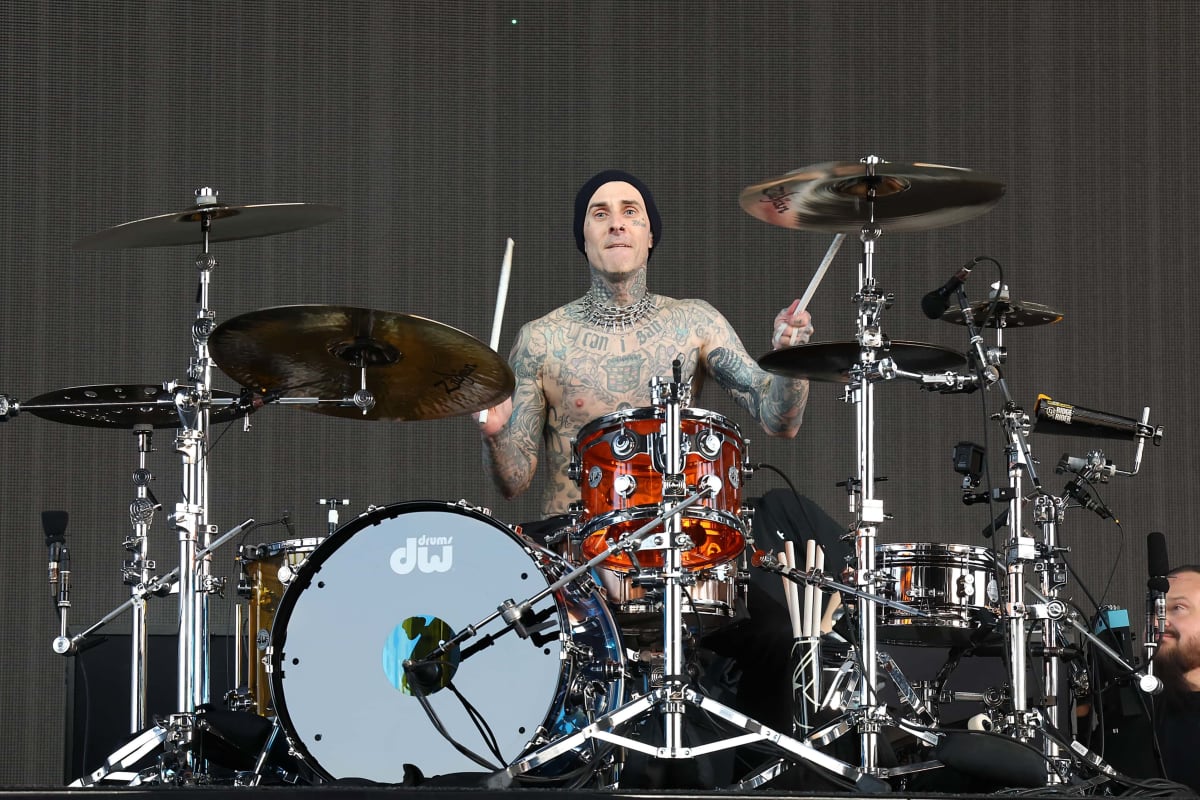 Also Read: Kris Jenner Faces Backlash for 'Toxic' Remarks About Kourtney Kardashian's Eyebrows
Barker, 47, is now traveling in Europe with Blink-182, who are preparing for their highly anticipated Rock Hard Tour. On Friday, however, the musician posted to Instagram to upload a photo of a COVID-19 test, which confirmed that he had tested positive for the virus. This unexpected turn of events has generated fears about not only his health but also the future of their current tour.
Barker's news is all the more affected by the fact that his wife, Kardashian, is currently pregnant. The Centers for Disease Control (CDC) has stated that pregnant women who get COVID-19 are at a higher risk of problems, making Barker's condition even more concerning, per The Sun. While Travis Barker confirmed his positive COVID-19 diagnosis, he chose to not reveal further about his health status. Blink-182 has yet to issue an official statement about the drummer's health or the potential impact on their current tour.
Barker had to return from the tour just a few weeks ago to care for his family, per Hello Magazine. The reason was critical because Kardashian was undergoing emergency fetal surgery to save their unborn child's life. Kardashian revealed some shocking news with her followers on September 6th, right after the band announced Barker would be taking a break. She shared a photo of herself lying in a hospital bed, clutching her husband's hand. In her post, she thanked her physicians for saving her baby's life and Barker for rushing to her side from the tour. Her mother was also acknowledged for her assistance during this trying time.
Also Read: When Kourtney Proposed to Be Khloe's Surrogate: 'Will Be the Oven for Her Bun if She Shall Need'
Kardashian added, "As someone who has had three really easy pregnancies in the past, I wasn't prepared for the fear of rushing into urgent fetal surgery. I don't think anyone who hasn't been through a similar situation can begin to understand that feeling of fear. I have a whole new understanding and respect for the mamas who have had to fight for their babies while pregnant. Praise be to God. Walking out of the hospital with my baby boy in my tummy and safe was the truest blessing."
Also Read: When Penelope Disick Felt Her Mother Kourtney Kardashian Was "Too Braggy" About Her Baby Bump
Barker resumed his tour on September 9th, after taking care of his family through this difficult time. On the same day, he broke his silence on Kardashian's health scare, expressing his gratitude for the successful surgery and thanking his supporters. He wrote, "God is great. I flew home for a life-threatening emergency surgery for our baby that I'm so grateful went well. I want to say thank you for all the support. Tour resumes Friday."
More from Inquisitr
When Kourtney Kardashian Was Criticized for Slapping Kim Kardashian's Friend Jonathan Cheban
Kris Jenner Upset by Kourtney Kardashian's Pregnancy Announcement; Kourtney Responds